Finding the best travel destinations is the best way to have fun and unforgettable vacation memories. Many tourists, ranging from local tourists to foreign tourists, choose Bali as the best tourist destination that must be visited. This is because Bali has various charms of beauty and uniqueness that can be enjoyed.
While on vacation in Bali, tourists will not feel bored because there are so many tourist attractions that showcase the beauty of Bali and must be visited. Of all these tourist attractions, one of the most popular natural attractions is the Yellow Bridge Nusa Lembongan.
Exciting Activities When Vacationing at the Yellow Bridge Nusa Lembongan
The existence of the Yellow Bridge Nusa Lembongan besides being a liaison between the two islands in the Nusa Penida sub-district of Klungkung, is also a tourist spot that is visited by many tourists. Although the province of Bali is quite small, it has a number of small islands that also offer a variety of beautiful scenery and have tourist attractions and recreational areas that must be visited by tourists.
These small islands can be your next destination and vacation spot, including the islands of Nusa Lembongan, Nusa Penida, Ceningan and Menjangan. To achieve this, sea transportation is needed, such as a fast boat or speed boat that can take tourists to their destination.
What is quite interesting is the existence of an island in the sub-district of Nusa Penida, Klungkung. Access between these islands can be easily achieved, from Nusa Lembongan island to Nusa Ceningan island it can be accessed via the yellow bridge that connects the two islands, while from Nusa Lembongan island to Nusa Penida you can use a motor boat or fast boat. .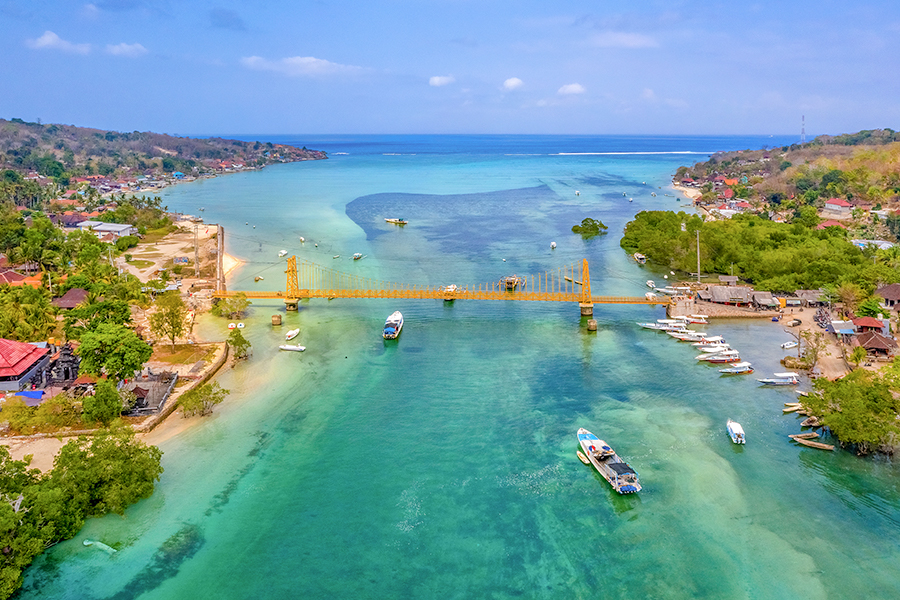 Interesting Things From The Yellow Bridge Nusa Lembongan
The main attraction of the island of Nusa Lembongan Klungkung is the beauty of its white sandy beaches and its underwater charm which hits and is popularly used as a place for diving and snorkeling. However, this small island has other attractions such as the Yellow Bridge which connects the island of Nusa Lembongan with the island of Nusa Ceningan. This connecting bridge can only be crossed by two-wheeled vehicles, so if tourists are on vacation to the island of Nusa Lembongan, Bali, they can also easily visit Nusa Ceningan by renting a motorbike around the fast boat dock, or even tourists can walk.
As the name implies, this bridge is yellow, with a wooden floor that is 100 meters long and 1.5 meters wide, looks unique and interesting, cannot be crossed by cars only motorbikes, its existence is quite old, including age, looks quite unique. In a modern era, let alone a developed tourism area, there are still many things that smell like old times. The existence of the Yellow Bridge that connects Nusa Ceningan and Lembongan is indeed very interesting, so many people who vacation on the island of Nusa Lembongan in Klungkung take the time to also visit the Yellow Bridge tourist destination, especially to reach various tourist attractions on the island, because it is very easy, because it is a tourist destination. a small island about 4.6 km long and 1-1.5 km wide.