Vacation in Bali Island
Bali is famous for a variety of beautiful and worldwide tourism. Everyone from all over the country can be entertained by the tourism that Bali has. One of them is shopping for tourism. Although, shopping is not always a primary purpose for those who are going to do vacation in Bali, but usually the desire to shop comes out in their last days in Bali.
Of course, entrepreneurs in Bali are already aware of it, so many attractive shopping places to visit are built. One of them is Seminyak Village.
Seminyak Village Mall
Seminyak Village is a resort with a variety of interesting places that are modern and showcases upscale beach areas in Bali. It has long been known as a shopping paradise. Its main streets lined with boutiques and galleries of international and local designers. This spot is a major concern as the only decent mall in Seminyak.
Seminyak Village Mall is filled with famous outlets for shopping, such as M Resort, Sensatia Botanicals, Buddha Wear, and Shakuhachi. Other well-known outlets include Koi Koi, Horikos South Bali Pearl, Sunbath Jewelry, Limkokwing Fashion Club, and The Wedding Shop.
All arcades in Seminyak Village are fully air-conditioned and are interconnected by elevators and escalators. There is a good mix of local and international retailers like famous fashion brands and designer boutiques such as MCM for luxury leather bags and clothing brands Farah Khan, Lily Jean, Milo Collezioni.
Food restaurants that you can taste are also widely available, including The Duck King, Tiger Palm, Darling Cafe, Wahrung, and Nitrogenie. This place will complete your culinary adventure in Seminyak. There are many choices of international class meals along Jalan Kayu Aya that you can try.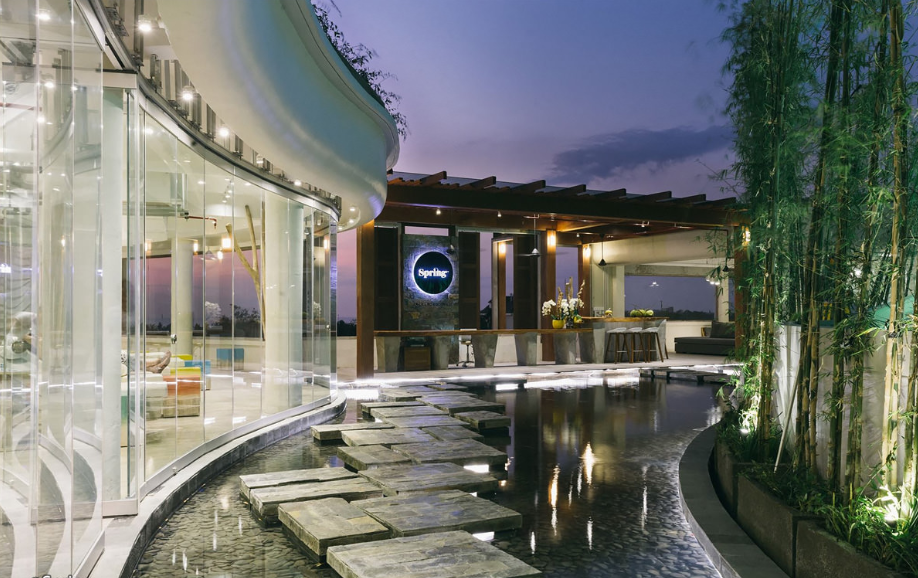 The Main Attraction of Seminyak Village
On the top floor of the Arcade is one of the special places, you will see an amazing view on a beautiful roof terrace, offering the charm of the waves and sunset in Seminyak.
Seminyak Village is also home to Spring Day Spa outlets, where you can enjoy pampering from head to foot and massaging your muscles after exploring Seminyak.
Besides Spring Day Spa, you can also come by to other fun places like Spring Spa, Toni & Guy Essensuals, and Vita Luxe.
Seminyak Village Visitor Facilities
Seminyak Village has a large and safe parking area, so visitors do not hesitate to put their vehicles there. Several other facilities are also provided in order to provide convenience and comfort for visitors. Such as toilets, ATM machines, free Wifi, Nursing Rooms, information centers, and taxi counters.
Location:
The location of Seminyak Village is behind Seminyak Square, the Badung Regency area.
Access:
If you start your journey to Seminyak Village from Ngurah Rai International Airport, you will need about 35 minutes by taking Jalan Sunset Road. From the road, Sunset Road continues to the Beraban road in North Kuta which will pass Kayu Cendana road until finally, it reaches Seminyak Village. The bus stops which available to be used are the Kura-Kura Bus route and the bus stop on line 3, they are the Kuta, Legian and also Seminyak lines.