WHY EDOGIN RESTAURANT AT THE MULIA BALI SHOULD BE YOUR GO-TO RESTAURANT FOR LUXURY JAPANESE CUISINE.
Edogin Restaurant at The Mulia Bali is one of the most famous restaurant, known for their luxury Japanese cuisine. With the philosophy of Japanese Culinary as their roots, Edogin Restaurant offers all the best dishes and services to your table. Located on the Promenade Resort level overlooking the tranquil Lake Mulia, Edogin Restaurant is available to serve approximately 105 people in total. The restaurant supplies a Teppanyaki table and a private dining room that is capable of accommodating approximately 10 people.
Edogin Restaurant is famous for its Teppanyaki, a Japanese style of grilling food on iron plates. With that style and some special ingredients, this restaurant gives the best taste of Wagyu Meat and some other dishes. While Teppanyaki is the most used style, Edogin Restaurant also offers other dishes with other cooking style like Tempura, Sushi and Sashimi, which are available every Thursday, Friday and Saturday of service. Edogin restaurant also offers choices from Japanese Ala Carte menu that includes variant of Sake, a Japanese green tea, and variant of International wine to quench your thirst. Moreover, the restaurant also provides classic selections that includes shabu-shabu and robatayaki.
However, when people talk about a tranquil restaurant, food is not the only criteria to use as a qualification. Hence, the beauty of the interior can be one of the additional values that is often overlook, yet important. Edogin Restaurant has a very warm environment interior. The usage of minimalist design makes the interior very serene and the combination with tropical aspects makes the place authentic. On top of it all, Edogin Restaurant is offers a direct beachside view. The experience of dining at Edogin might be able to give you a glimpse of taste and insight of Sakura Land.
SPECIAL OFFER
A. Teppanyaki buffet
Teppanyaki Buffet is a special event where you can watch a live cooking performance while eating in the Teppanyaki bar. Talented chefs from Edogin Restaurant will give a very satisfying and enjoyable show on cooking Sashimi, Tempura, Seafood, and Fresh Premium Meat. This is the main event of the restaurant, as well as one of the most selling value that differs from other restaurant. This show opens every Thursday to Sunday from 6.00PM to 11.00Pm.
b. Dine 4 Pay 2
For Teppanyaki Buffet, you can get a promo where you only pay 2 for 4 people. This promo is held every Saturday and Sunday from 06.00PM to 11.00PM. However, this promo cannot be applied to another section of menus such as Japanese Ala Carte.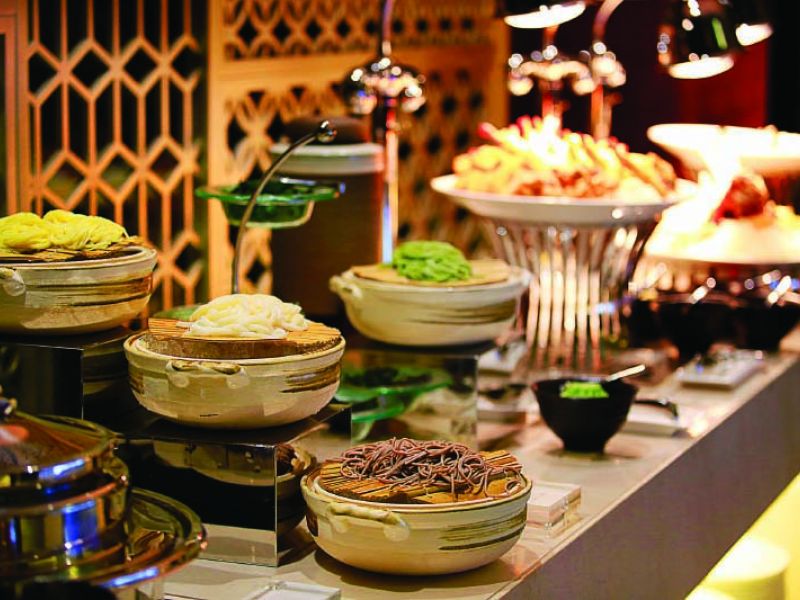 c. Dine 3 Pay 2
Another promo that might spark your odor is this Dine 3 Pay 2 promo. Same as the previous promo, you can get a promo where you only pay 2 for 3 people. However, this promo only applies for Teppanyaki Buffet bookings and only available every Sunday from 11.00PM to 03:00PM.
d. Weekday Feast (Dine 8 Pay 4)
This promo is a very suitable promo for huge gatherings that include a lot of people. Weekday Feast offers a promo where you only have to pay 4 for 8 people. However, this promo is only available during weekdays (Monday to Friday) from 11.00 AM to 03.00 PM.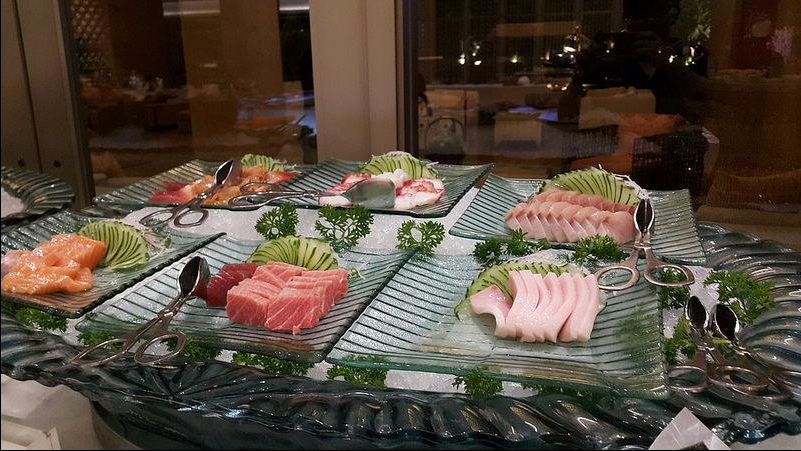 LOCATION AND ACCESSIBILITY
Edogin Restaurant is located at The Mulia Resort, South Nusa Dua, Sawangan Area, Nusa Dua, Benoa, South Kuta, Badung, Bali. Edogin Restaurant is located in a strategic location since it has an easy access to another tourist attractions such as Mengiat Beach, Pasifika Museum, Garuda Wisnu Kencana, Bali Pirates Bay, etc. From Edogin Restaurant to Mengiat Beach, it only takes approximately 3.7 km or 10 minutes car drive, and approximately 4.5km to Pasifika Museum. Moreover, the road from Edogin Restaurant to Garuda Wisnu Kencana Cultural Park, one of the most famous tourist attraction, only takes approximately 14 km or 30 minutes car drive. Also, If you wish to go to Pirates Bay Bali, it only takes approximately 5 km or 15 minutes car drive from Edogin Restaurant.