Vacationing in Bali and enjoying all its beauty in person is the dream of many tourists from all over the world. Bali is very popular among tourists because of all the beauty it has to offer. One of its beauty is created from its location which is surrounded by the sea with a stunning view.
But beauty is not the only thing that can be found on this island. Many popular tourist spots with all the fun things that make them a must-visit. One of them is the Circus Waterpark in the Kuta area.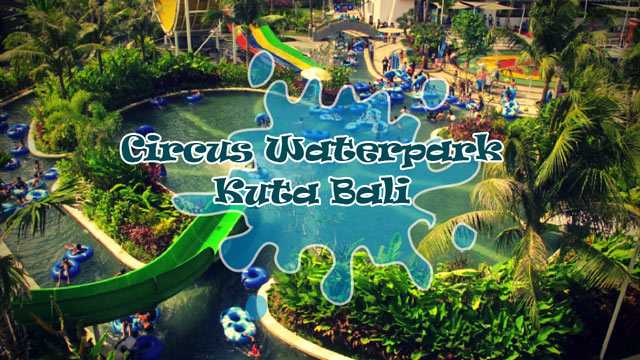 Fun Rides at Circus Waterpark Kuta
The presence of a number of man-made recreational parks such as the Circus Waterpark in the Kuta area can be a special alternative to feel a different atmosphere. The atmosphere of playing with family and children is the most anticipated atmosphere. Circus Waterpark Bali can be a special choice that has a variety of games, so a visit to this place is a special option that will never saturate.
What is available at Circus Waterpark Bali is able to take tourists enjoy up close and feel various sensations of play in this water park area. Bali does present beauty and exoticism, both with its nature, culture and also ancient relics. But this will be incomplete with the presence of recreational parks such as the Circus Waterpark Bali, because everyone's tastes in vacation are sometimes different, especially when traveling with children.
For this reason, Circus Waterpark Bali is here to be an ideal place for children and family tours in Bali. This waterpark provides a Kiddy Pool, which is a pool designed for children under 11 years of age. In this pool there are a number of games, making children's recreation more exciting, which will make the fun even more felt when playing with peers.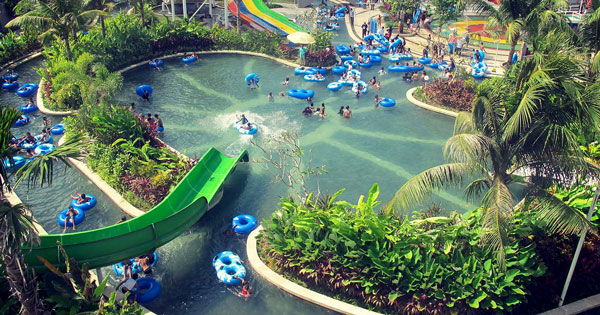 Other rides for children at Circus Waterpark Bali are available Slowly White Slide, Phinisi Boat, Falldown Basket, Mini Speed ​​Slider, Kiddezt, Mini Slider Tube and Water Plaza which are worth trying, besides the lazy river, which is an artificial river that surrounds this game area. A small river can be a place to relax while lazing on a water float. All the games available really spoil the child, who instinctively plays very high. Circus Waterpark Bali also provides tourist attractions with cheaper admission prices.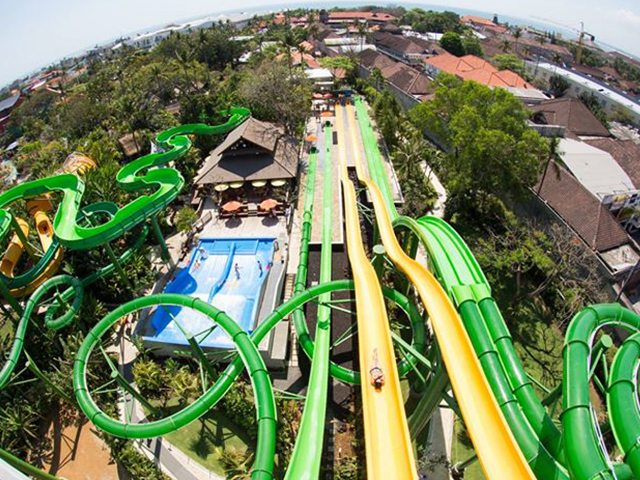 This waterpark also provides rides with a tense sensation such as the Spiral Journey through a track in a spiral tube and finally out and into a pool. Then there is the Wave Slider game, which is a wavy track that can spur the heart of the audience, then the most exciting thing is sliding at high speed in the Speed ​​Tube Spiral, which is sliding from a 10-meter high tower, twisting in a tube filled with water, the sensation is definitely exciting and fun. Olympic Pool is a special place for tourists who like swimming sports. Where this Olympic-sized swimming pool can try out their swimming skills.
Location
On Jl. Kediri, Tuban, South Kuta, Badung.
Entrance Ticket Prices for the Circus Waterpark Bali
Adult: IDR 150,000 / person.
Child (2-12 years): IDR 100,000 / child.
Children under 2 years: free
Open Hours
Monday: 10 am to 6 pm.
Tuesday – Sunday: 9 am to 6 pm.