If you are looking for luxurious and comfortable accommodation, there are many choices of places that can be used. However, Batu Jimbar Sanur VIlla offers more than just a taste of luxury and comfort. This villa is an extraordinary inn which is known as a favorite place to stay for foreign artists. Rows of famous names such as Mick Jagger, Sting, Yoko Ono, Jerry Hall, and others.
This villa offers an exclusive stay. They only provide 9 villa buildings that can be occupied by guests. Each building offers complete and luxurious facilities. In addition, you will also have direct access to enjoy the beautiful and clean stretch of white sand in Sanur. Plus, this villa offers an exclusive beachfront location in the Sanur area.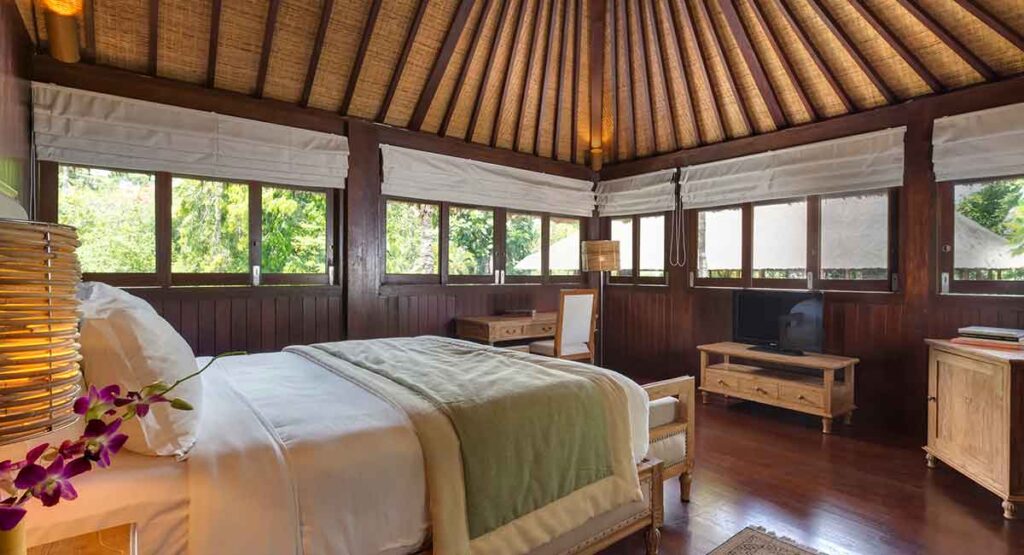 Complete and Luxurious Facilities at Batu Jimbar Sanur Villa
You can see the exclusivity at Villa Batu Jembar from the architectural design of the building. Here, you will find Balinese building designs that are so thick. The complete facilities provided make Villa Batu Jimbar an attractive place to stay for various holiday activities in Bali, including when on vacation with family or a romantic vacation.
The design of this building is made with a roof made of alang-alang, giving a traditional impression inside. In addition, you will also find a building called Lembu Balé. This building is a pavilion with two floors which is deliberately designed to be open. From the second floor of Lembu Balé, you can enjoy a calm atmosphere with a beautiful beach view.
You can also choose this villa as a place to do special activities. Moreover, Jerry Hall and her ex-husband, Mick Jagger, married at Villa Batu Jimbar. Meanwhile, the legendary singer, Sting, held a short concert during the night at Villa Batu Jimbar. With a myriad of historical moments, it's no wonder that the name of this villa was later pinned as the name of the beach, Batu Jimbar Beach.
When staying here, you don't have to worry about feeling comfortable. Each villa unit is accompanied by a large open swimming pool. The quality of the water in the swimming pool is also considered by the villa manager. In addition, the manager of Villa Batu Jimbar also provides other supporting facilities, in the form of a kitchen area complete with cooking utensils, two beds, and a tennis court.
Location of Batu Jimbar Sanur VIlla
Batu Jimbar Villa offers a very special location. You can find the magnificent and luxurious buildings of this villa along Sanur Beach. This strategic location makes it easy for guests to do various tourist activities. The easiest way to enjoy a vacation while staying at Batu Jimbar Villa is of course by spending time visiting Sanur Beach. Here, you can not only do various water sports activities, but also watch the beautiful sunset and sunrise views.
There are several other tourist attractions that you can also easily visit from this villa. The Seminyak area, which offers various types of entertainment, is only 15 km away. Meanwhile, Kuta, which is known as the most popular holiday destination in Bali, is approximately 17 km away. Access to Ngurah Rai Airport is also easy, only needing to travel about 15 km.