Shopping Attractions in Bali
Its beautiful natural environment makes Bali an island that is admired by people from abroad. All things that are owned by Bali, one of which is a tourist attraction in Bali has its own charm. Ranging from natural, cultural, culinary attractions to shopping attractions. The need for souvenirs for tourists vacationing in Bali, making a number of souvenir shops began to appear in Bali.
The presence of these shopping attractions can make it easier for tourists to find and get the desired souvenirs. Moreover, souvenir shops are generally located in strategic places that become the center of tourism, making it even easier to reach. One tourist attraction that is quite well known is named Agung Bali. Agung Bali shop gives a new nuance in shopping for souvenirs of Bali.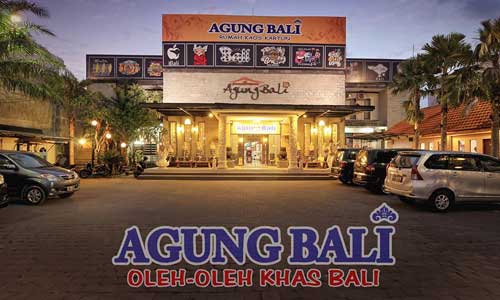 Agung Bali Shopping Place
Agung Bali has become one of the successful shopping place and already has several branches. Among them is a branch located in the Tanah Lot attraction, Sunset Road Kuta, until now Agung Bali opened another branch located in Legian. This proves that Agung Bali is a souvenir shop that is trusted by its customers.
Agung Bali has continued to develop since it first opened in 2003. In addition to being a trusted place, Agung Bali also offers goods at lower prices but with good quality. Moreover, the goods sold the one which have characteristics. From the beginning only had a 3 x 4 meter area, now it has an area of 1 hectare. What a rapid development!
Agung Bali Stores Branch
The location of Agung Bali in Tanah Lot is of course very strategic, every day, most of the travel agent scheduled a guest tour in Bali, and thousands of them visited the Tanah Lot tourist attraction and certainly did not miss shopping for Bali souvenirs especially T-shirts with the characteristic of Bali. After success in Tanah Lot, then open another branch at Sunset Road Kuta. It was located so strategically on the main highway that connects Kuta, Legian and Seminyak airports. Including the new branch in legian, there are many visitors every day because it is also close to the tourism center.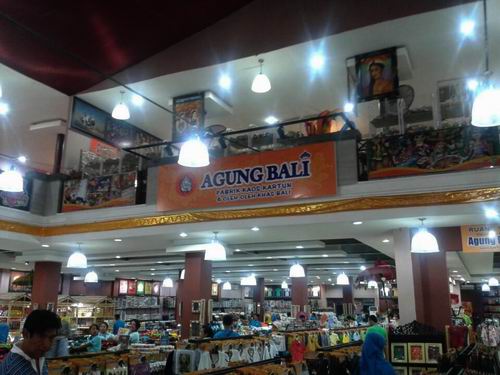 Agung Bali Products
Souvenir products are more dominated by selling T-shirts with cartoon images on clothes, becoming one of the hallmarks of Agung Bali products, so that it is also known as a house of T-shirts and Bali souvenirs.
Agung Bali carries goods that are self-produced which certainly has its own characteristics and uniqueness that is different from other stores. This is the thing that most visitors remember about Agung Bali. All T-shirt production results are done with an emphasis on quality, making good shirts with reliable personnel. Besides selling T-shirts that are designed as unique, funny and Balinese-themed cartoons, Agung Bali also sells various types of snacks such as nuts, dodol, milk pie and pia, as well as trinkets such as accessories and key chains, other souvenirs which every customers can find such as paintings, hats, sandals and bags.
Location
Jl. Sunset Road No.18, Kuta, Badung Regency.
Open Hours
Every day from 8 am to 10 pm.