Holidays in Bali will never end because there are many fun things to do. This island is a favorite choice of many tourists, both local and foreign tourists. Its natural beauty and uniqueness is one of the biggest attractions to attract many tourists to come on vacation to Bali. This island has even been nicknamed heaven on earth because there are so many pleasures to be had while on vacation in Bali.
Tourists who vacation in Bali will have many choices of places to visit. There are many popular tourist attractions that will greatly entertain many tourists, ranging from nature tourism, cultural tourism, to various other entertainment places. Of all of them, the most popular nature tourism is Panorama Point Jimbaran.
The Enchanting Beauty of Panorama Point Jimbaran
You can find various offers on the beauty of the beach on the island of the Gods in Bali nowadays, a place that was once hidden and rarely known by people, now gradually the information can be accessed easily, especially through social media.
For this reason, one of the beach attractions in the Jimbaran area that has escaped the attention of people, is now starting to be glimpsed by those who like adventure and anti-mainstream tourism, the place is known as Jimbaran Panorama Point or Honeymoon Beach.
Currently not many people know and this area is still empty of visitors, even though its location is close to Bali's tourism centers. The nature is beautiful and charming, the location of the hidden paradise of Panorama Point Jimbaran is located in Jimbaran, South Kuta District, Badung Regency, Bali.
Panorama Point Jimbaran Blue Sea Expanse
The two names really feel very fitting for the designation of this beach tourist attraction in Jimbaran Badung, the place is quiet and hidden, it is ideal to get a more private atmosphere like those who are at Panorama Point Jimbaran or their honeymoon.
Its beautiful and virgin nature is even more worthy of being called Virgin beach, when you are on this beach, as far as the eye can see you will be able to see the exoticism of the sea.
The expanse of blue sea with coral cliffs, as well as the green hills that surround it become a spectacular natural panorama, making it ideal to be called a Panorama point. Tired of crowds and need a new natural atmosphere, then Panorama Point Jimbaran can be a place to fill your holiday activities.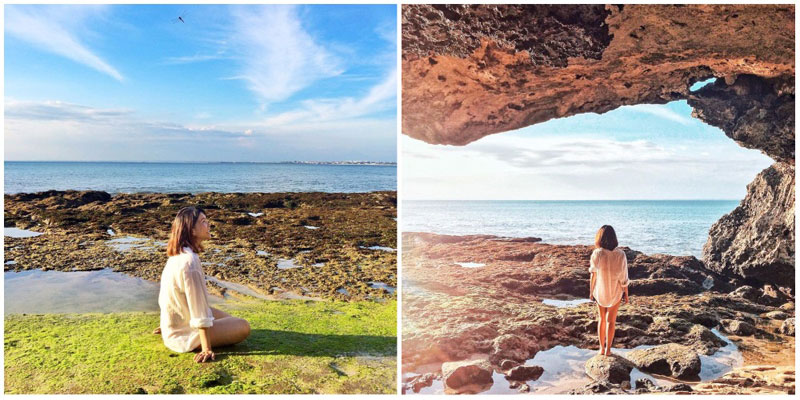 The Exciting Activities at Panorama Point Jimbaran
Panorama Point Jimbaran in South Badung, has become a new tourist attraction, becoming an ideal destination for anti-mainstream tourism enthusiasts and suitable for those who like adventure recreation, hunting for instagramable photos or those who like selfie photos.
From the top of the Jimbaran Panorana Point hill, which is directly adjacent to the sea, you can see the natural panorama perfectly. The characteristics of the southern Bali area with coral hills, you can see around it, including cactus plants that thrive in this area, making this coral hill look different. The natural atmosphere is calm, comfortable and peaceful in a beautiful and beautiful natural panorama, the wind feels fresh and the sound of the waves hitting the rock walls makes those who come to Panorama Point Jimbaran will feel at home for long.