Vacation moments in Bali are the things that many tourists look forward to the most. Starting from local tourists to foreign tourists eager to visit Bali and spend time on vacation. Vacationing in Bali will give you unforgettable memories. Many interesting things and beauty that should be enjoyed.
With all the beauty and uniqueness that exists, the island of Bali has earned the nickname "Paradise on Earth". Not a few tourists who want to have visited Bali want to come back again. Because there are so many interesting and popular attractions to visit. One of them is Bambu Indah Resort.
The Moment of Staying at Bali Indah Bamboo Resort
Bali does offer many things that can make tourists feel at home for long. Beauty, culture, art, and customs, places to eat, as well as accommodation that provides accommodation ranging from economy class to five-star luxury resorts. Finding accommodation in Bali with a unique concept is not difficult anymore because there are so many choices, especially easier internet access. Many hotels, villas and other types of lodging offer something different, a unique concept that will certainly give its guests a distinct impression.
Another unique offer from Bali, the name is Bambu Indah Resort. Bambu Indah Hotel is one of the unique resorts that is the target of local and foreign tourists. Carrying the concept of nature, this resort offers an unusual stay experience. There is a natural swimming pool surrounded by river rocks. The transparent floor allows visitors to clearly see the life under the fish pond.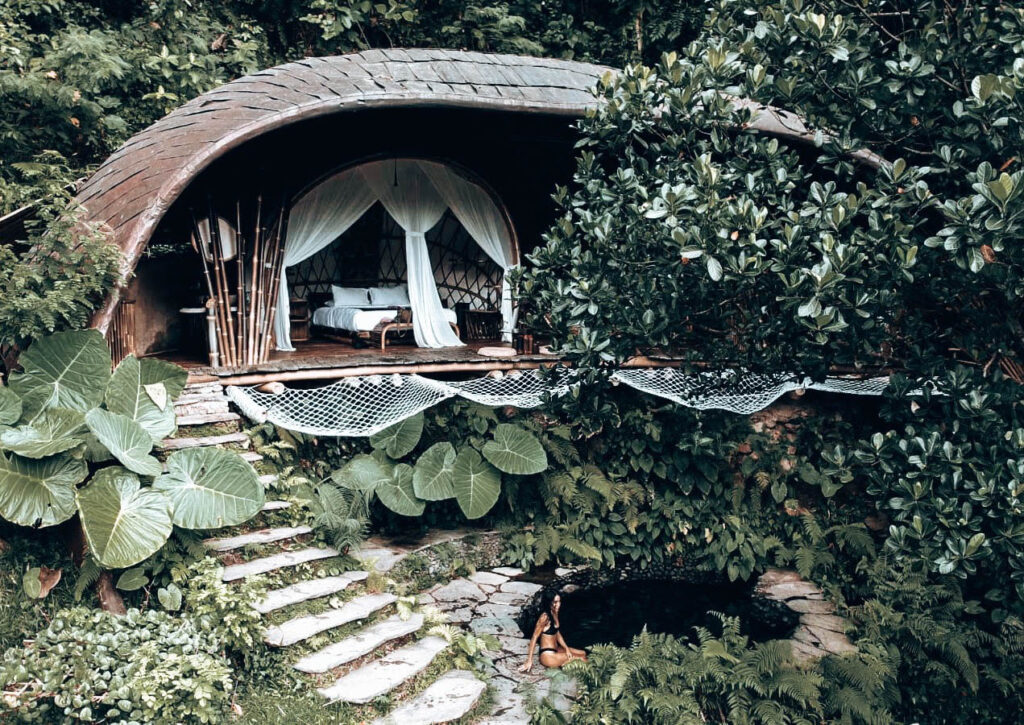 The Attractive Design And Best Facilities At Bali Bamboo Resort
The design of the building is unique, almost all of the buildings and interiors use bamboo as raw materials. Since it was built in 2007, the resort has continued to improve. The resort has also been nominated as the 15th most exotic hotel in the world. The restaurant at this resort carries the motto "Go local or go home". More than 95% of food comes from Indonesia. This resort also carries an environmentally friendly concept. The rest of the edible food is given to the community's pigs. Other waste that can still be recycled will be recycled and reused.
This resort has 11 residential categories, namely African House, Rice House, Ancient House, Yellow House, Elora House, Ancient Java, Swimming House, Sweet House, Shrimp House, Blue House, and Horse House. All have a traditional thatched roof, and are equipped with a shower, IDD telephone, safe, coffee and tea making facilities.
The Shrimp Room is built over a pool of water that contains various types of shrimp and fish. You can immediately see these fish under their feet swimming freely with clear glass panels as the floor. You will be treated to natural luxury while staying at this Bambu Indah Hotel. From the moment you open your eyes in the morning, you can see the expanse of rice fields and clear rivers flowing. In addition, every corner of this inn also offers instagenic spots.
Access to Bali Bamboo Resort
Located on Sayan Ridge, 15 minutes southwest of central Ubud in Bali, the resort is surrounded by the stunning Ayung River, verdant rice fields and Mount Batu Kau. You will find shops, Ubud Market and Ubud Palace around 6 km from the villa. Monkey Forest is about 10 km from the villa and Ngurah Rai International Airport Bali is about 1 hour 15 minutes driving.