Vacationing in Bali is the most important thing that many tourists look for. Both local tourists and foreign tourists will love to visit the island of Bali because of all its beauty and uniqueness. All of these things can entertain, even provide unforgettable memories for most tourists.
There are many fun activities to do while in Bali. One of them is to visit various interesting and popular tourist objects. Starting from natural attractions, cultural attractions, culinary attractions and various other interesting places. An interesting place that is worth visiting is the Dream Musem Zone Bali.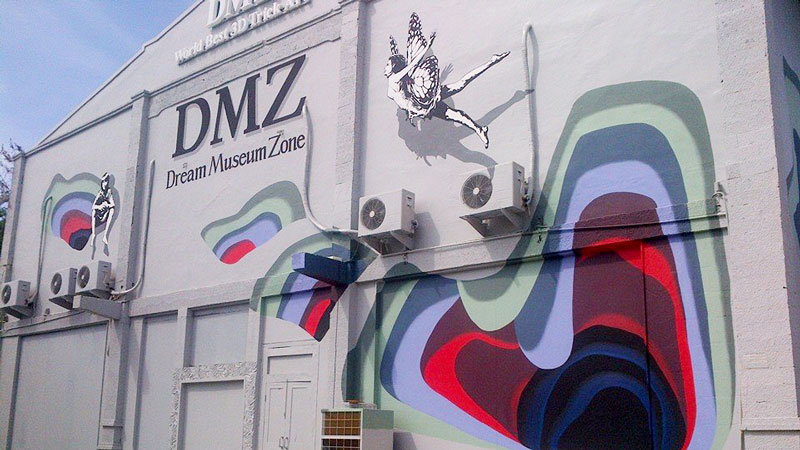 The Interesting Things from Dream Museum Zone Bali
DMZ Bali (Dream Museum Zone) is an indoor photo studio featuring a three-dimensional painting gallery. Visitors to the Dream Museum Zone can take pictures with certain expressions or styles that match the background of the 3D painting. In the photos, visitors who take pictures will be seen blending with the background of the painting.
The Dream Museum Zone Gallery offers a large selection of 3D paintings, a total of 120 paintings with different painting categories or themes. 3D painting themes are available in 14 categories ranging from contemporary, Egyptian, aquarium, safari, renaissance, 18+ areas, sports, Indonesia, dream garden, big & small, Venice, Korean Pavilion, glow zone, and lastly, Jurassic Park. All paintings offer illusion effects, and illusion tricks are produced not only in paintings but also in lighting effects.
Dream Museum Zone is managed by experienced staff in their field. Most of them have experience running three-dimensional illusion art exhibitions in Korea. No wonder DMZ Bali also has branches in China and a number of other countries.
The Interesting Things From Dream Museum Zone Bali
After you arrive and enter the Dream Museum Zone Bali, the first thing you will see are boat paintings such as the Italian Venetian area, the Egyptian desert area with a pyramid background, areas in Indonesia such as the Prambanan temple, as well as 3D paintings of the Amazon forest. Apart from nature and architectural themes, there are also parody themes of famous paintings. Like the Mona Lisa painting, which can be seen with his hands sticking out of the painting while carrying a basket of fruit, and the Van Gogh painting, which still uses soap foam to shave his mustache using a brush.
In addition to renaissance paintings, there are also animal themes such as zebras which look like they're running out of painting frames and there is a water hose that sprays water on the zebra's body. There is also a 3D painting of a milking cow, a white shark coming out of the water, a giraffe, and a lion drinking water from the frame.
3D painting themes about the island of Bali are also available, such as the theme of the Goa Gajah temple in Gianyar, and the Leak Icon that comes out of the hole in the wall.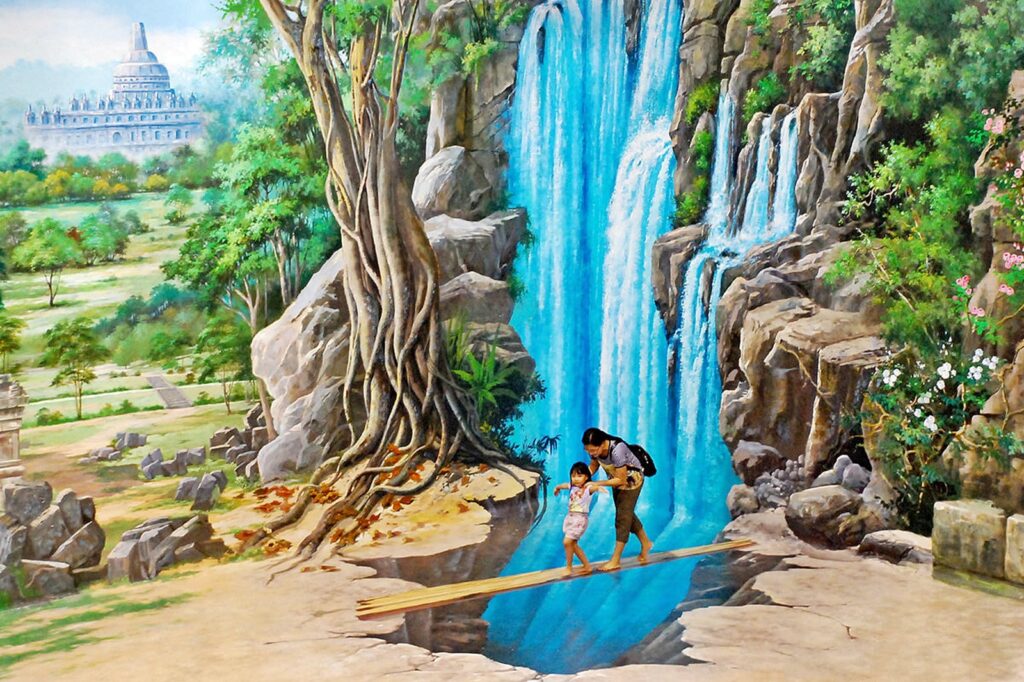 Ticket Prices Of Dream Museum Zone Bali
Before you visit Dream Museum Zone Bali, keep in mind that the Museum is open from 9 a.m. to 10 p.m. The entrance ticket costs IDR 100,000 per person for domestic tourists. Meanwhile, foreign tourists are charged a ticket fee of around IDR 165.00. Children under the age of three are not charged an entrance fee or free.