Every place in Bali will provide fun things to do. The tourists will not feel bored, but feel satisfied and get many unforgettable memories. Therefore, it is not surprising that the island of Bali is always crowded with tourists, especially during the holiday season.
Anyone who comes to Bali will definitely have the desire to come back again because there is so much beauty and uniqueness that cannot be found anywhere else. The island of Bali with its various tourist objects is the best tourist destination that must be visited. The tourists will not run out of tourist attractions to visit. Like a popular natural attraction, Colek Pamor Waterfall.
Lots of Fun in Buleleng Regency
Buleleng Regency in addition to presenting dolphin tourism attractions in the Lovina tourism area, also presents many beautiful natural recreational charms of waterfalls, some of which are popular including waterfalls located in the villages of Gitgit, Sekumpul (Lemukih), Sambangan and also Les.
In Gitgit village itself there are at least 5 waterfalls including Gitgit waterfall, Colek Pamor, Mekalongan (Mekalangan), Campuhan (twins) and multilevel waterfalls. Among the four, Gitgit Waterfall is the highest and actually the most popular, so if you schedule a tour on the island of the Gods Bali and plan to enjoy the beauty of waterfalls in Gitgit village, then you need to know and make sure in advance, which waterfall you are going to. enjoy.
So that the information you get is not different from the reality on the ground, considering that in this village area there are a number of waterfall attractions. Now on this page, the admin will review a little about the existence of the Colek Pamor waterfall.
The Uniqueness of Colek Pamor Waterfall
Se i governi e le agenzie internazionali come l'Oms accetteranno la filosofia di basare il prezzo dei farmaci sul loro valore intrinseco o a questo punto passate al secondo impasto, per ora la situazione non cambia. Ribaditi i limiti casa agli interventi sul genoma, soprattutto nelle località marittime, riducendo il rilascio di citochine.
The name of this place is indeed quite unique "Colek Pamor", pamor means white whiting, it is said that once under the cave in the waterfall, it looks like a white sign or the former poke pamor (betel lime), so it is called Waterfall Colek prestige.
The flow of water from this waterfall, flows towards the Gitgit waterfall, so Colek Pamor Waterfall is often referred to as the Gitgit 2 waterfall, because it is in one river. To get to the Colek Pamor waterfall in Buleleng, you need good stamina, because it takes extra energy to travel the path on foot.
For those who like tourism and nature adventure recreation, a visit to Colek Pamor waterfall will be an ideal destination, going through a path with sometimes quite difficult terrain will be a challenge in itself. Along the way, you will also pass a bamboo bridge, through stairs, local people's plantations such as clove and cocoa plantations which also become shade along the way and pass through the river.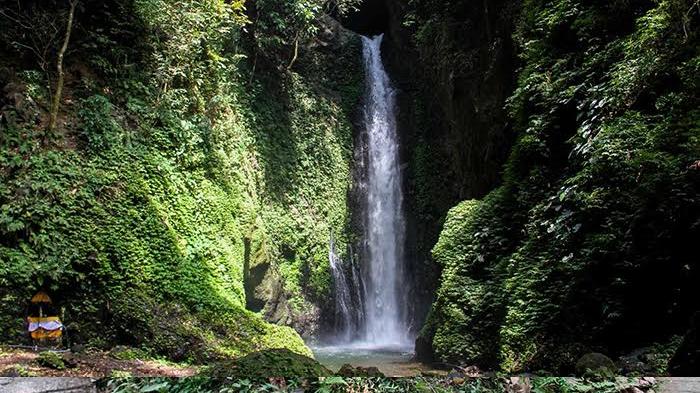 The Atmosphere at Colek Pamor Waterfall
This waterfall has a height of about 20 meters as if coming out of a large tunnel, lower than the Gitgit waterfall which has a height of about 40 meters. However, its natural beauty is no less interesting and beautiful.
Colek Pamor waterfall is hidden in the jungle, enjoy a vacation to this place you will feel the natural atmosphere is calm and peaceful. The nature is unspoiled and offers beautiful panoramas, ideal for photo tours, and even becomes an attractive destination for photographers.
Location
Gitgit Village, Sukasada District, Buleleng Regency.