Nusa Dua is one of the many tourist attractions in Bali. The cultural element with the authenticity of the place makes anyone amazed by this region. Not only cultural elements and tourist attractions, several restaurants offer a variety of interesting treats with good views, one of which is Arwana Restaurant Nusa Dua.
Actually, Arwana Restaurant Nusa Dua is still part of The Laguna Resort & Spa Nusa Dua, Bali The luxury Collection. Besides, this restaurant offers interesting places when you visit it.
Arwana Restaurant Nusa Dua Design
Overall, Arwana Restaurant has two of the best spots to enjoy their menu dishes, namely indoor and outdoor areas. For the indoor area, this area is dominated by white and brown with dim lighting. Selection of the element of dim light is considered appropriate. Precisely because the dim light is able to create a romantic atmosphere at night.
This room has a minimalist interior design, there are no decorative elements or wall displays that look excessive. Tables and chairs are neatly arranged throughout the room. The candle lamp placed in the center of the table looks very beautiful. In front of it is an open kitchen with entertaining chefs acting, as if watching a cooking show on television, but in the form of live acts.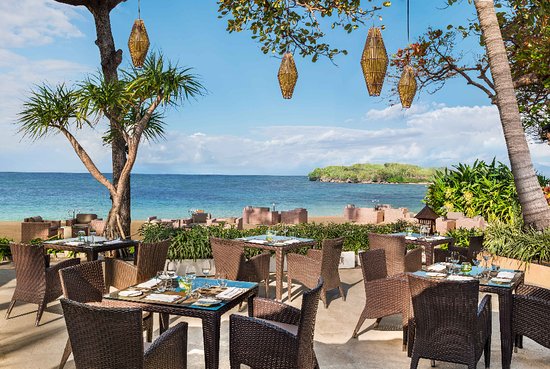 want to find another spot that is no less cool than the spot above? There is an outdoor area that has a wide direct sea view. Because, Arwana Restaurant is located right on the beach overlooking the Indian Ocean.
Besides being able to see the beauty of the sea, you can see the beauty of the sunset at dusk. When it gets late, this place turns into a romantic place that has a cool touch. Rattan tables and chairs are neatly arranged with minimal lighting from rattan lanterns and candles on the table.
It feels right to bring your partner to sit in this spot. The romantic atmosphere provided can make your dinner feel intimate and you will feel comfortable talking, just giving compliments or eating while looking intently at your partner.
Not only that, you can book private chairs and tables with your partner to add a romantic impression. The chairs and tables will be set in white. Then there will be curtains like making room for the two of you to talk with a high level of romance. White sand, white curtains, private tables and chairs facing the direct sea are the perfect mix of your romantic dinner.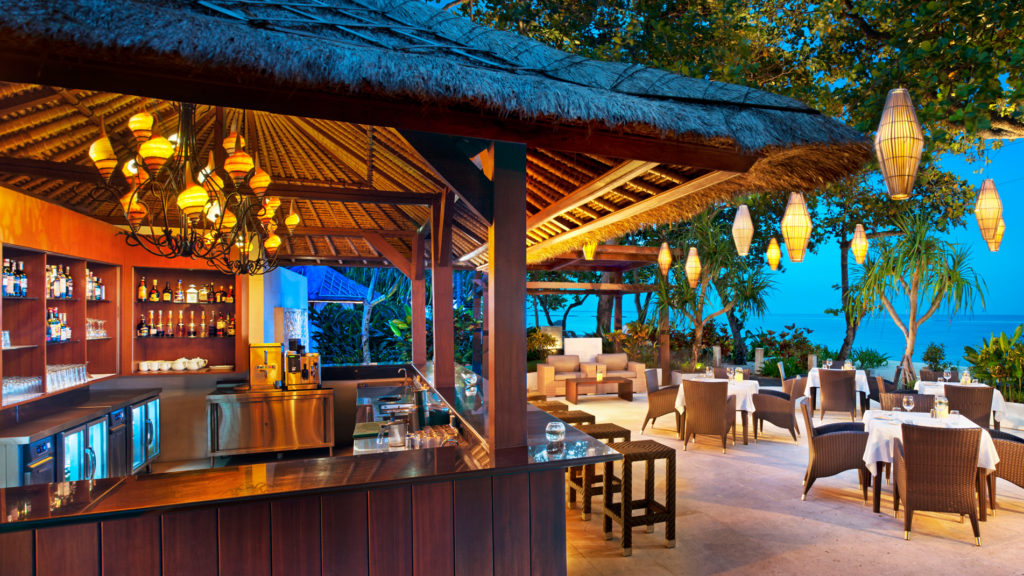 Menu Choices at Arwana Restaurant Nusa Dua
The menu served is international food and seafood. Prices start from IDR 250.000 for one portion of the menu you order. For drinks, there are wines of the highest quality and others with glass prices starting from IDR 110.000. In addition, there are still many nio alcohol drinks that you can order, such as coffee and tea.
You don't need to think about visiting Arwana Restaurant for long. You can immediately go to Nusa Dua, Benoa, South Kuta, Badung Regency, Bali. Enjoy the sensation of eating with an amazing view!