The Tjampuhan Hotel and Spa was founded in 1928. At its inception, the hotel served as a retreat for members of the royal family. As a retreat for members of the royal family, of course this hotel offers a luxurious atmosphere. Moreover, the architectural design of this building is made in a timeless traditional style.
You can also find a leafy atmosphere typical of Ubud at this Tjampuhan Hotel and Spa. In addition, the hotel employees provide service of the highest quality. No wonder, even though it is labeled as a three-star hotel, this place is a favorite place to stay for celebrities and various world figures.
The Best Accommodation at Hotel Tjampuhan and Spa
This three-star hotel offers three types of rooms for its guests. Each room has been equipped with various facilities. In addition, the traditional room design makes guests feel at home for long and feel the atmosphere like being at home when they are in the room.
The choice of three rooms is a Superior room, a Deluxe room, and the last one is a bungalow called Walter Spies House. As an exclusive place to stay, Walter Spies House is only available in one unit. This bungalow was once the residence of the famous German painter, Walter Spies, and until now its authenticity is still maintained.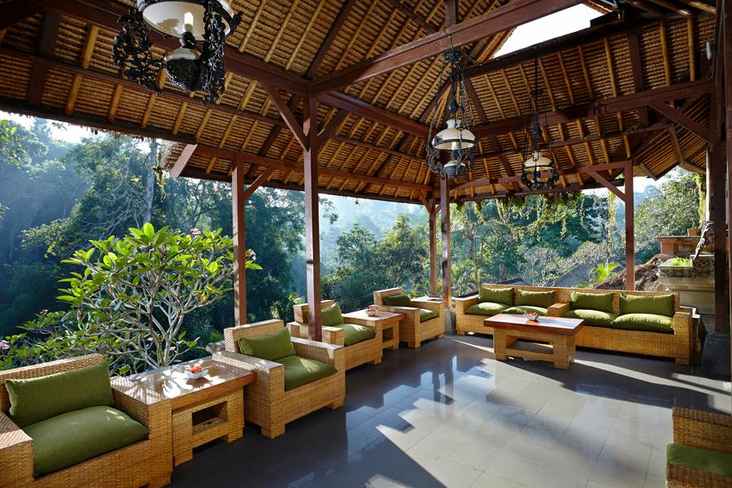 Enjoy Luxurious Facilities at Tjampuhan Hotel and Spa
When staying at the hotel, you also don't have to worry about the completeness of the facilities that have been prepared by the inn. Here, there are various facilities that provide a comfortable space to relax. Especially if you include people who like to linger in the pool.
The hotel has prepared an outdoor swimming pool with a size large enough. If you want a different atmosphere, you can also choose a hot tub as a location to relax. Accompanied by the atmosphere around the hotel which is filled with shady trees, relaxing by the pool is something that many guests do.
Location of Tjampuhan Hotel and Spa
This hotel has a strategic location, located on Jalan Raya Tjampuhan PO Box 198, Gianyar. From this location, you will also find various interesting tourist attractions. If you want to feel the natural atmosphere, you can go directly to Campuhan Hill which is located right behind the hotel.
At Campuhan Hill, you can see the existence of a natural hill with a distinctive view. Tourists often spend time in this place by cycling or just walking. In addition, there are also several museums such as the Antonio Blanco Museum and the Neka Art Museum. Both museums can also be reached easily from the hotel.
If it's still incomplete, you can also feel the typical rural atmosphere by walking through the rice fields around the residents' hotel. Taking pictures in the middle of green rice fields will be an effective way to relieve fatigue.