The island of Bali is never empty of tourists. This beautiful island is always crowded with tourists from abroad and local tourists. Especially when the holiday season arrives, many tourist spots will be full because many tourists come to have fun and make good memories.
The Shore Restaurant itself is a restaurant within the Hilton Bali Resort complex, located in Nusa Dua. This area does promise a romantic scenery. You can get a panoramic view of the very popular Nusa Dua Beach, but its beauty is well preserved.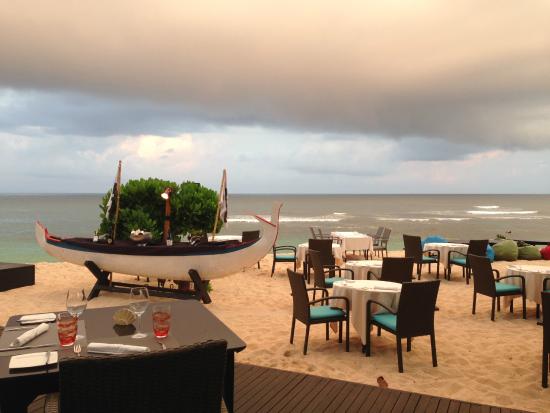 The Most Romantic Restaurant on Nusa Dua Beach, The Shore Restaurant Bali
When visiting The Shore Restaurant, you have the opportunity to enjoy the beauty of Nusa Dua Beach more closely. The restaurant building is also quite spacious, with 3 floors that can be occupied. The three floors are able to offer a unique and different atmosphere from one another. However, the three floors still offer a romantic beach atmosphere.
On the first floor, you have the opportunity to dine alfresco. The first floor is presented by The Shore Restaurant with an alfresco theme. This al fresco theme is made by placing chairs and dining tables without any wall coverings. Choosing a location on the first floor is perfect if you come to the restaurant when the weather is sunny.
Next, you will find a room that is no less interesting, namely with a semi-open theme. Its semi-open design offers an atmosphere that is no less pleasant than an alfresco. Well, the third floor also provides an exciting place to relax. You will find a rooftop floor, complete with a swimming pool.
You can enjoy the beachfront view at this restaurant anytime. This restaurant provides lunch and dinner facilities, open from 11 am to 11 pm. The menu they have is also varied. You can find the lunch menu when you come at 6 pm. If it's past 6, it's time to enjoy dinner.
Luxurious And Delicious Culinary Servings At The Shore Restaurant Nusa Dua
This luxury restaurant in Nusa Dua has a very large capacity for visitors. Here, you can find rooms that can accommodate as many as 170 people. With its large enough capacity, The Shore is perfect if chosen as a party location. In fact, you also made the right decision if you chose this place as the location for your wedding ceremony.
The choice of food that can be eaten at this restaurant is also varied and guaranteed to be delicious. In addition, they present Chef Clinton Webber to lead employees in the kitchen area. Menu options that can be ordered on average are typical Mediterranean menus made with seafood as the main ingredient. As a complement, this restaurant also provides fresh cocktails or mocktails.
Location of The Shore Bali Restaurant
The presence of The Shore Restaurant is an attractive choice if you want to enjoy a romantic meal with your partner in Bali, right? If you want to spend time eating here, you can go straight to the restaurant in the BTDC Nusa Dua area. For a romantic dining experience, you can choose to visit in the afternoon or evening.