Enjoying vacation time in Bali is something that many tourists do. Both local tourists and foreign tourists will love to vacation in Bali. So much beauty and uniqueness that can be enjoyed. The various tourist objects in Bali are no exception, revealing their beauty.
Starting from natural attractions, cultural attractions, culinary attractions and much more. Every tourist who visits will get satisfaction and an unforgettable vacation experience. One of them is when visiting the tourist attraction The Coral Garden Menjangan.
Underwater Paradise, The Coral Garden Menjangan
Bali is famous. So many travelers and backpackers or just foreigners have been there and returned many times to Bali. If you are one of them, Seminyak, Kuta, Ubud, Canggu, and Karangasem are not new places for you. You've probably been there many times, and are you bored? Feeling enough is normal for a human being, but if you feel you have explored all the places in Bali, even to the remotest, there are many hidden places in Bali. This area is rarely visited by tourists no matter how beautiful the place is.
Are you already interested? If you're interested, but have no idea where to go, The Coral Garden is a great choice for your first experience. You can swim with wild turtles and other sea creatures there.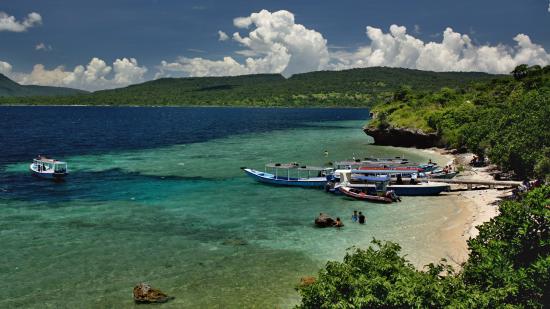 The Interesting Things About The Coral Garden Menjangan
The sea on Menjangan Island, West Bali, is very clean. The waves are so calm and this Coral Garden has various spots for snorkeling. It is ideal to see the beautiful expanse of coral reef forest with its colorful ornamental fish.
The Coral Garden is one of the most rich and biodiverse areas in Menjangan. If you are lucky enough, you may run into a blacktip shark! The majestic coral reefs at The Coral Garden also house various types of clown fish hiding in the anemones (white, green and blue). Meanwhile, the number of small fish and crustaceans that surround the coral reefs will continue to "annoy" you for hours. Keep an eye on the depths of the sea, as sometimes big fish also cross the tip of the reef, including reef sharks, tuna and stingrays.
Coral Garden is accessible to divers of all levels. This place is also ideal for underwater photography.
Access to The Coral Garden Menjangan
Karang Park is located in Menjangan. Unfortunately, there is no place to live in Menjangan because the island is uninhabited and is part of the West Bali National Park nature reserve. Mid to high end resorts can be found on Bali's northwest coast near the West Bali National Park and Pemuteran area.
Boats depart from Pemuteran every day to serve diving and snorkeling tours to Menjangan. It is recommended to rent private transportation or shuttle bus. You have to hire a travel agent to visit Menjangan and a snorkel guide is highly recommended for inexperienced visitors who want to try snorkeling.
For diving lovers, diving on Menjangan Island promises a very memorable experience. There are at least 10 favorite dive spots, including Coral Garden, Mangrove Point, Underwater Cave, Dream Wall, Bat Cave, Secret Bay, Anchor Wreck, and Eel Garden.