There are many beauty and uniqueness that can be found and enjoyed by many tourists on the island of Bali. Many make this island one of their favorite tourist destinations. The island of Bali has a variety of interesting tourist objects that must be visited. Starting from nature tourism, cultural tourism, culinary tourism and various other entertainment places that present the beauty and uniqueness of the island of Bali. In each tourist attraction there are also many interesting and fun activities to do, such as paragliding on Timbis Hill.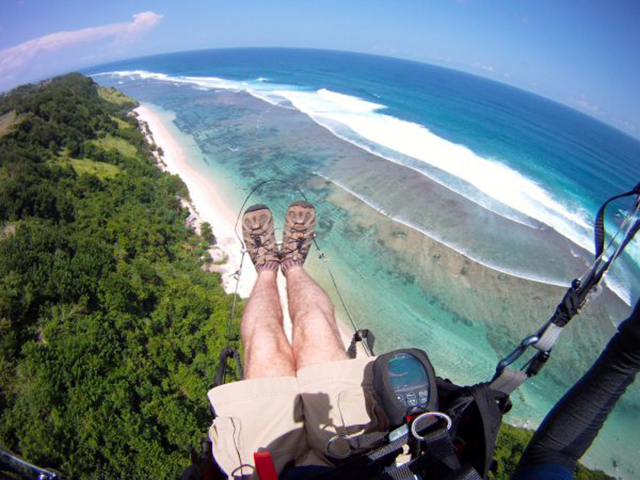 The Beauty of Paragliding Attractions in Timbis Hill
Paragliding or paragliding on Timbis Hill in Kutuh village, South Kuta, is one of the extreme adventure tourism activities that is now increasingly being recognized by domestic tourists. This adventure tour in Bali provides an exciting, cool experience and a real challenge to test your guts, unlike other adventure tours such as rafting, surfing, ATV rides, off road, trekking or rock climbing, Odyssey Submarine submarine tours and various watersport activities in Bali. Tanjung Benoa. so popular and famous, and now it's time to try paragliding as the next challenge.
Paragliding tourism in Timbis hill is actually not a new activity anymore. Timbis Beach, located in Kutuh Village, also has stunning natural beauty including its white sandy beaches. In 2008 it was used as the venue for the Asian Beach Games, followed by 42 participating countries competing in 18 sports and one of them was paragliding, and Timbis beach was used as a landing site for paragliding. Since the event, Timbis Hill has become increasingly popular among lovers of extreme paragliding.
In Bali itself there are several paragliding tourist attractions, but Timbis Hill is the most popular adventure tourist spot, even this place can be one of the tourist attractions in Bali to relax and enjoy the spectacular natural beauty of the surroundings. The area in the Timbis hill area is quite wide and flat, has a hill height of about 110 meters above sea level, and a hill cliff that is directly adjacent to the Timbis beach below, the wind gusts are also quite supportive of paragliding. activities here.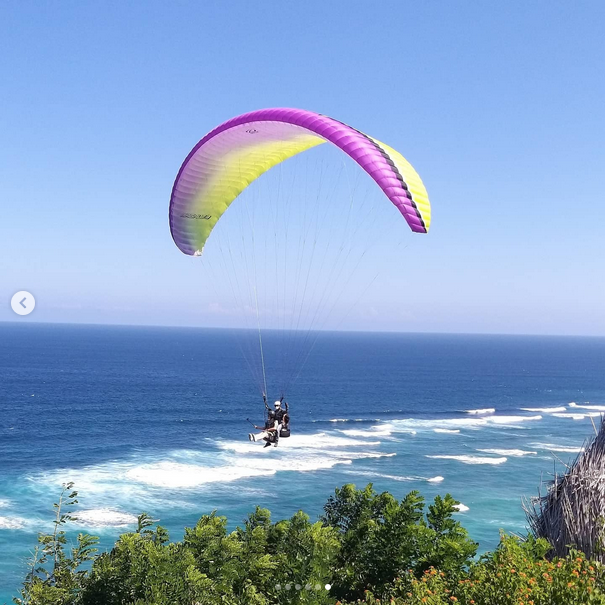 Holiday Atmosphere in Paragliding in Timbis Hill
The thrilling paragliding sensation is indeed very suitable for those of you who are lovers of extreme adventure tourism, this tourist activity is not only for those who are experienced, but also for those who are still beginners, for those who are experienced can ride and control paragliding themselves. . However, for beginners, they can ride a paragliding (tandem) pilot, the pilot himself is behind, so that tourists can freely enjoy the beauty of the surrounding natural scenery. This sport is always exciting and fun to enjoy, can hone and stimulate adrenaline.
Flying over Timbis Hill you will be treated to a variety of beautiful and amazing natural scenery, with its beautiful nature wrapped in blue sea framed by white sandy beaches and fortified by beautiful Timbis hill cliffs. There are also a number of villa buildings such as small villages adorning the rock cliffs in this area, especially in the afternoon, the beautiful sunset when flying at a height looks more dramatic. A number of temples which are sacred places for Hindus look beautiful in the air, such as Geger Temple, Melang Kelod Temple, Barong-Barongan Temple, Penyekjekan Temple and Gunung Payung Temple.
Location
Located between the beach attractions Pandawa Beach and Gunung Payung beach.