Vacationing in Bali is not long enough. Therefore, many tourists come to Bali during the holiday season. Many tourists, both local tourists and foreign tourists come to Bali to spend time and make beautiful memories. There are many tourist attractions in Bali that can be visited to spend time and make unforgettable memories. Like when you were at Ingka Restaurant Bali.
The name Ingka Restaurant Bali itself may be easy to remember. Ingka means a plate made of woven palm leaf bones which are still widely used by Balinese people. Besides having a memorable name, what can certainly make visitors remember Ingka Restaurant is the interior of the room and the taste of the menu served.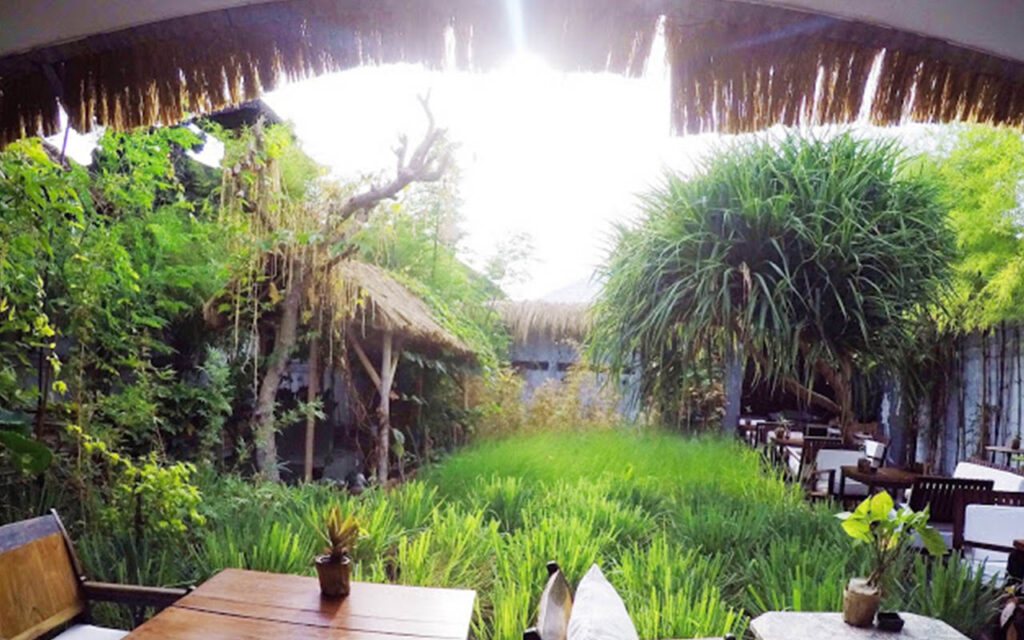 Ingka Restaurant Bali Has Beautiful Interiors
Ingka Restaurant Bali is a comfortable and cool place to gather. The interior applies a funky industrial concept. The roof is elevated and equipped with large windows that allow wind and sunlight to enter freely into the room. There are various unique decorations such as lights, photos, and other unique knick-knacks.
The room is dominated by black, white, gray, and brown. Make the atmosphere in the room so warm and contemporary. It is divided into two areas, where there is an indoor area located in the main room and an outdoor area located at the back.
In the indoor area (which is the main room) there are tables and chairs for dining and there is a bar. In the outdoor area located in the backyard, the atmosphere here is quite pleasant. In this area you will find a garden with greenery, making those in the area feel like they are in a beautiful village.
In addition to offering a comfortable and beautiful place, the menus offered here also have a delicious taste. The menu offered varies from Balinese cuisine, Indonesian cuisine to western cuisine. You can choose the menu according to your taste.
Main Delicious Menu of Ingka Restaurant Bali
For those of you who are big fans of Indonesian cuisine, Ingka Restaurant serves a variety of dishes, such as Nasi Goreng, Ayam Penyet, Chicken Betutu, Tipat Tjantok, Tipat Pecing, and Rujak Kuah Pindang. There are even mixed rice options, such as the Vegetarian Mixed Rice and the Special Mixed Rice.
For those of you who want to try the Asian menu, there are Seafood Laksa, Tom Yum Goong, to Phat Thai Prawn. Pasta fans will also be pampered here, with various types of pasta dishes such as Carbonara, Marinara, and Chicken Florentine.
There are many other delicious menus that you can get here. In addition to food, as a complement to fresh and healthy drinks, Ingka Restaurant is also available, such as coffee, tea, healthy juices, and others.
Healthy Green is a healthy smoothie blended with kale, oranges, pineapple and other ingredients. Guaranteed a glass of Healthy Green will increase your energy. There are others such as Tropical, Infused Water, Iced Cappuccino, and other drinks available here.
Location of Ingka Restaurant Bali
You will definitely not regret being at Ingka Restaurant Bali, you will feel at home because you are pampered with a complete and delicious atmosphere and dishes. The average menu price is under IDR 100,000. so you can taste delicious dishes without having to spend a lot of money.
Ingka Restaurant Bali is located at Jalan Mertanadi number 80, Taman Mertanadi Environment, Kerobokan Kelod, North Kuta, Badung, Bali. The restaurant will start operating at 08.00 am – 11.00 pm