Holidays in Bali are a moment that many tourists look forward to. Both local tourists and foreign tourists will love to vacation in Bali because there is a lot of beauty and uniqueness that can be enjoyed. Starting from its natural beauty, unique culture to a variety of exciting activities that can be done. All of which can make for the most beautiful and unforgettable holiday memories.
All forms of beauty and uniqueness can be realized in every tourist attraction in Bali. Starting from natural attractions, cultural attractions, culinary attractions and various other exciting places. Travelers will not feel left out for choices of exciting and popular places to visit. One of them is Ice Cream World Bali.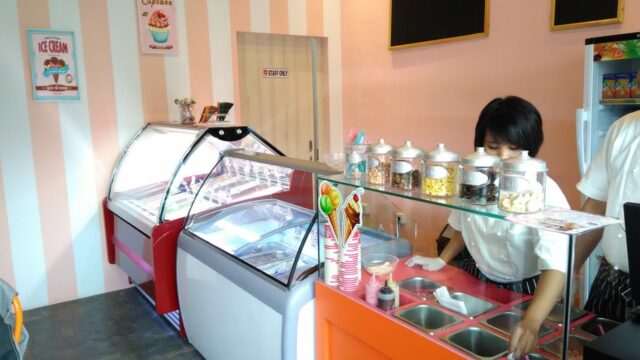 The Fun of Being At Ice Cream World
Vacations to Bali, there are new tourist attractions that offer a variety of different tourist activities, so this tour to the island of Bali will never be boring. Like the presence of Ice Cream World Bali, the tourist spot which was just opened on February 13, 2018 offers a sensation with a colorful atmosphere of joy in the world of ice cream. The location of Ice Cream World Bali is on the edge of the main highway by Pass Ngurah Rai Denpasar, close to tourism centers in South Bali such as Kuta, Nusa Dua, Jimbaran and in the same direction as Ngurah Rai Airport Bali.
Ice Cream World Bali may not be so popular with tourists, because it is a new and contemporary tourist spot in Denpasar, this newest tourist attraction in Bali not only provides ice cream that is liked by all people, especially young people, but also provides a number of an imstagramable selfie photo spot, so that it will complete the wishes of millennials who like selfies. On this page, a complete description of Ice Cream World Bali will be packaged along with information on addresses, ticket prices and opening hours, so that tourists can then arrange tour events in Bali to this newest tourist spot in Denpasar.
The Best Photo Spot in Ice Cream World
Ice cream is certainly not foreign to tourists and being a dessert made of milk and cream, this food is almost in demand by almost all circles, especially teenagers. For this reason, Ice Cream World Bali provides a different offer, not only being able to find cafes that provide a variety of delicious ice cream and gelato flavors, but also various indoor selfie photo spots with ice cream nuances, this is certainly a new recreation place that can be enjoyed by everyone. can't be found anywhere else on the island of Bali, except for the same ice cream cafe in Jogjakarta.
There are a number of selfie photo spots at Ice Cream World Bali designed in rooms with different themes, some of which are ice cream and donut spots or rooms, plum murals, giant ice cream spots, a pool full of chocolate miniatures, a room with bananas, a pool rice balls, ice cream sticks and many others that tourists are free to choose as photo spots. So visiting Ice Cream World Bali is synonymous with photo tours, so pay attention to the fashion and acting of tourists to get the best pictures.
Location
By Pass Ngurah Rai Pedungan Highway, South Denpasar, Denpasar.