Tasting traditional Balinese culinary on the Island of the Gods is quite common. That is the case if you want to find halal traditional food. However, what if you have the opportunity to enjoy the experience of dining in the style of Balinese royalty? There is a restaurant in Bali that offers this kind of experience, the name is Gabah Restaurant Bali.
Gabah Restaurant Bali is a luxury restaurant located within the Ramayana Kuta Hotel complex. You will feel luxurious atmosphere when visiting this 4-star hotel restaurant in Bali. The luxurious atmosphere is so harmonious with the delicious and classy dishes they offer. However, before heading here, make sure to prepare a large enough budget.
Aristocratic Menu At Gabah Restaurant Bali
There are 2 special menus that are the signatures of Gabah Restaurant Bali. The two menu packages are Royal Kingdom Feast and Royal Baruna. The two menus are set at a price of Rp.698 thousand and Rp. 998 thousand, respectively, with portions for 4 people. The menu that you can get on this package is so varied.
On the Royal Kingdom Feast menu, Gabah Restaurant Bali provides 22 menus that are commonly eaten by the Balinese royal family. You will find menus in the form of fish satay, grilled chicken, or traditional Balinese soup. Not to forget, you will also get various types of seafood on this royal menu package.
The way to serve the Royal Kingdom Feast menu at Gabah Restaurant Bali is also very special. The menus will be arranged on a shelf made of bamboo. Besides that, you will also get special entertainment when you eat this special meal. The entertainment is in the form of kulkul, a traditional Balinese musical instrument made of bamboo.
The Royal Baruna menu is no less special than the Royal Kingdom Feast menu. Through this menu, you will find a variety of dishes, mostly seafood. Moreover, Royal Baruna, according to Balinese beliefs, is a menu that is often used as an offering and a form of gratitude to Baruna who is none other than the figure of the sea god.
Like the Royal Kingdom Feast menu, the Royal Baruna package is also presented in a very special way. According to the theme, the presentation of the menu will be offered in a container that is deliberately shaped like a fisherman's boat. That way, you will feel the atmosphere of the Balinese sea float ceremony which is a form of gratitude to Dewa Baruna.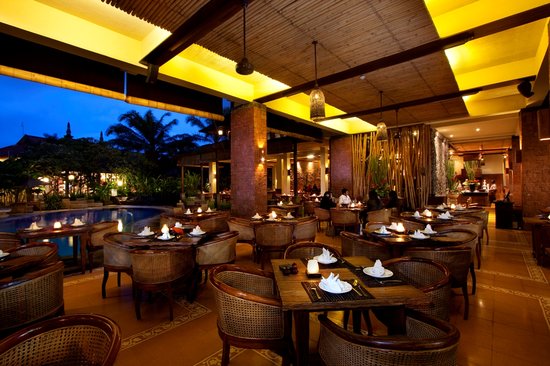 Location and Accessibility
Apart from the two special menu packages, Gabah Restaurant Bali also provides another line of menus that are no less delicious. You can try Indian specialties such as vegetable samosas, butter chicken, or fish saagwala. There is also a vegetarian menu which is specifically served for those of you who are reluctant to eat meat. Not to forget, Gabah Restaurant also has Balinese specialties.
You can find Gabah Restaurant Bali in the Ramayana Hotel complex in Kuta which is located at Jl. Bakung Sari, Kuta, Bali. This restaurant provides a menu not only for breakfast, but also for lunch and dinner.