Getting to know Balinese culture is one of the fun activities while on vacation to this island. Who does not know the island of Bali? This favorite tourist destination for tourists, both local and foreign tourists, is very popular. Starting from its natural beauty, unique culture, historical places to other fun places. Anyone will get an unforgettable holiday experience.
When vacationing on the island of Bali, tourists will not run out of choices of tourist attractions to visit. A place that becomes the entertainment of many tourists where a variety of fun activities can occur and make the most beautiful vacation period. One of them when visiting the Besakih Temple Historical Tour.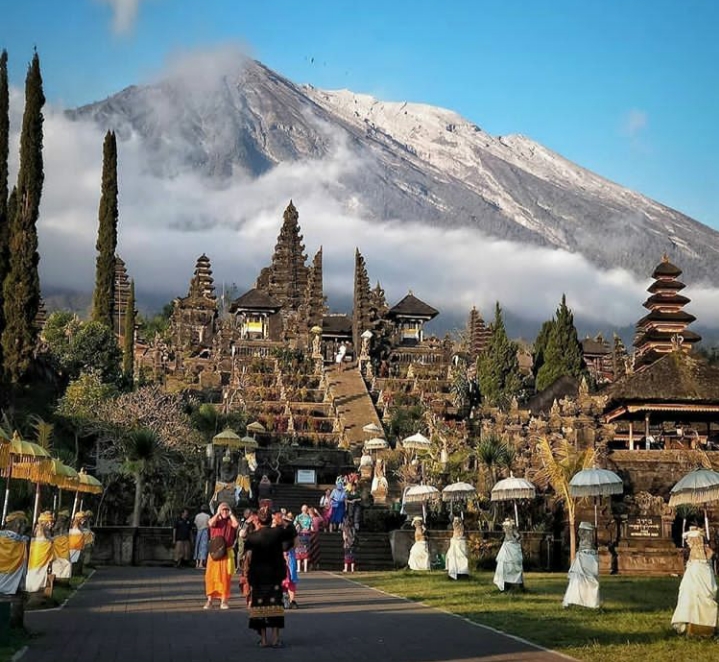 Getting to Know the Historical Tour of Besakih Temple
Besakih Temple, apart from being a place for Hindu religious activities in Bali, is also a tourist attraction on the island of the Gods, Bali, which is popular in the East Bali area or the Karangasem Regency area. As a center for Hindu religious ceremonies, this temple has the most dense religious ceremonial activities.
So if tourists are vacationing on the island of the Gods, Bali and want to visit the Besakih Temple tourist attraction in a series of tours, and want to know about religious ceremony activities as local culture here, then ask for information from travel agents or drivers who happen to serve tours, because at certain times There is a series of religious ceremonies at Besakih Temple.
During major religious ceremonies, every temple building in the Besakih temple complex will be beautifully decorated, with a strong spiritual feel. Pujawali or piodalan at Besakih Temple is held regularly once a year during Purnama Kedasa (around April) which lasts for 3 weeks, then the Panca Wali Krama ceremony every 10 years, and Eka Dasa Ludra every 100 years.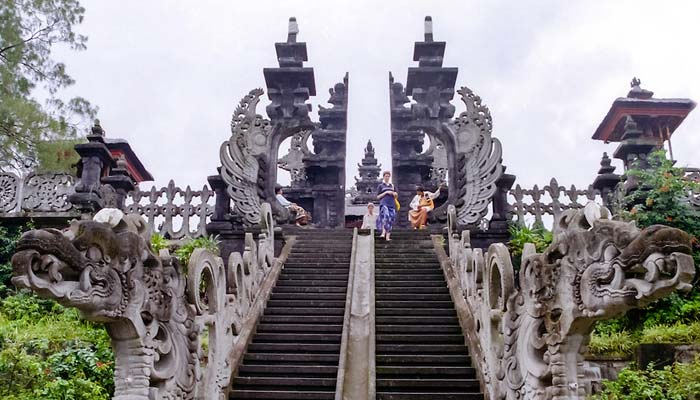 The Meaning of Besakih Temple Historical Tour
Besakih Temple in Karangasem is a place or complex of sacred buildings, and cultural heritage from the ancient Balinese era in the past, as the center of Hindu temples in Bali, was once proposed as a world heritage site. Located at an altitude on the western slopes of Mount Agung, so in addition to the view of the Besakih temple, the surrounding natural scenery also looks beautiful in its natural air.
For those who like tourism or adventure recreation such as climbing Mount Agung, besides the start point from the Pasar Agung temple, tourists can also start a recreational trekking trip to the highest peak of Mount Agung from Besakih Temple, and in the meantime, after Mount Agung erupts, mountaineering is closed and still waiting. the mountain is conducive to climbing purposes.
As is well known, Besakih Temple is the largest temple on the island of the Gods Bali, because it is large with a large complex of buildings, often referred to as the mother of the temple on the island of the Gods (mother temple), its existence as a tourist attraction in Bali is well known among domestic and foreign tourists. . Because this temple in Karangasem is a popular tourist spot, tourism service providers always package Besakih tourist attractions in tour visits in Bali in the Besakih Tour package. This tourist spot in East Bali can be an alternative tourist destination besides beaches in Bali and offers a different natural atmosphere.