Vacation is indeed a moment most awaited by everyone. Therefore, of course, many people are looking for activities or vacation spots where all the good memories can happen there. So that the moment of vacation becomes a moment where every tourist is looking for the best tourist destination and the island of Bali is one of the choices of popular tourist destinations visited by many tourists.
Many beautiful and fun things can be found and done in Bali. Like visiting a tourist attraction on this island. The island of Bali is so famous for its enchanting natural scenery. This is natural because the island is surrounded by a vast and beautiful ocean. Therefore, one of the most famous tourist objects in Bali is the beach tourism object, such as the Virgin Beach.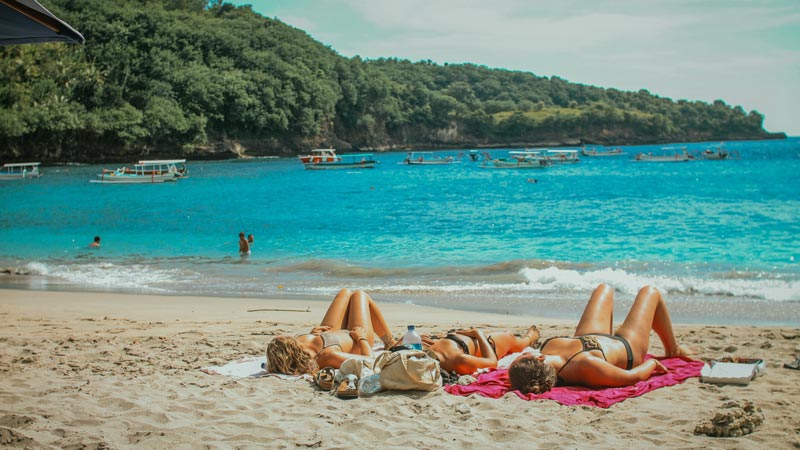 The Enchantment of the Beauty of Virgin Beach
Virgin Beach is located in the Karangasem area which is one of the beaches that must be visited. Even though Virgin beach is located somewhat hidden, this beach is very popular with tourists, especially those in the Karangasem area. Therefore, Virgin Beach is often one of the tourist attraction options provided in vacation packages.
The thing that attracts many tourists to visit Virgin Karangasem beach is because of the location of the beach which is hidden and still natural. As a result of the location of the beach which is hidden and far from tourist attractions in southern Bali, Virgin Karangasem beach has a rather calm atmosphere and is far from the density of tourists. Therefore, tourists who have frequent holidays to Bali are more inclined to visit hidden beaches in Bali, one of which is the Virgin Karangasem beach.
Virgin Karangasem Beach has white sand with fine grains and is very clean. In addition, seawater is very clear bluish. What concerns tourists when visiting Virgin Karangasem beach are most of the activities of tourists who sit back, lie on the beach while reading, eating, and having a massage.
This beach also has quite calm waves, so tourists can enjoy surfing activities too. Make sure every tourist who wants to surf is used to doing it and always take care of safety.
Perasi Karangasem Beach as Virgin Beach
The name of this white sand beach among tourists is better known as virgin beach Karangasem because its location is still isolated. However, among local Balinese people, the virgin beach of Karangasem is more familiar with the title of Perasi Karangasem beach.
Therefore, tourists who want to have a vacation to Perasi Karangasem beach, using a car rental service, should say your destination is Perasi Karangasem beach. The reason is, many local Balinese people are not familiar with the name Virgin Karangasem beach.
Every tourist who wants to visit this beach only needs to pay IDR. 10,000 / person only. With that price, it is considered very cheap and commensurate with the beauty and serenity that you will find on Virgin Beach beach.
Location
Virgin beach is included in the eastern Bali region, its address is on the Perasi beach road, Perasi Village, Karangasem District.