The island of Bali is touted as an island of paradise. This is because of all the beauty that surrounds this island. One of them is Nusa Penida. Therefore, do not be surprised if Nusa Penida is one of the recommended tourist attractions to visit.
Many cafes are currently adopting modern room designs to accommodate consumer needs. One of the successful cafes in Bali with this modern concept is Two Fat Monks Denpasar. Two Fat Monks Café is currently becoming one of the most popular hip cafes in Denpasar.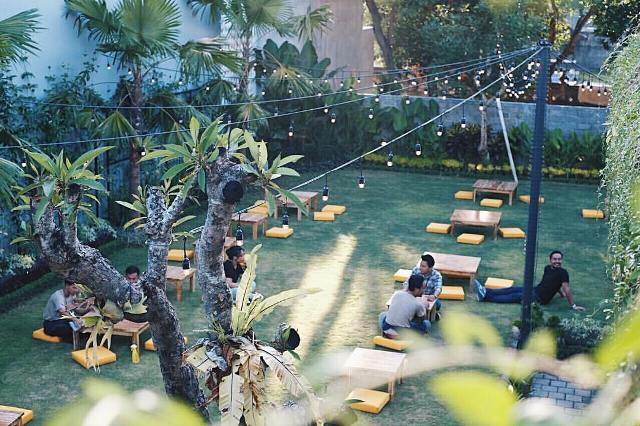 Enjoy the Holiday Atmosphere at Two Fat Monks Cafe
To attract customer visits, Two Fat Monks has a cool interior design. They deliberately use Asian interior and exterior designs. Moreover, the full name of this cafe, Two Fat Monks Asian, does use Asian appendages.
One way to bring Asian elements to the cafe space is to use a bar area design that is similar to a boat deck. Not the ship deck that they used to make reference to, but the deck of a Chinese ship that had anchored on the island of Bali in the 9th century.
The vintage element in the bar area is getting thicker with the use of wood combined with iron. Even so, this cafe is also trying to present modern technological sophistication through the use of sophisticated equipment.
Not only that, the instagramable vintage atmosphere at Two Fat Monks Denpasar also strengthens the vintage elements in the room. Moreover, they use furniture products that can give the impression of being in the 1920s.
Indoor And Outdoor Atmosphere At Two Fat Monks Cafe
Diners can choose to enjoy good food from the cafe in indoor or outdoor areas. The outdoor area in this cafe is no less interesting than the interior. Here, you will find a large garden area accompanied by beautiful greenery.
The open garden area inside the cafe is also accompanied by an atmosphere that is no less instagramable. You can take advantage of this open space when the weather conditions are sunny. Moreover, the outdoor area is equipped with beautiful chandeliers and pillows to relax.
This cafe is also very suitable if used as a place to relax with children, you know! As proof, the cafe manager provides a gazebo area accompanied by children's games. Not many choices of rides. However, this game vehicle can be used free of charge until satisfied.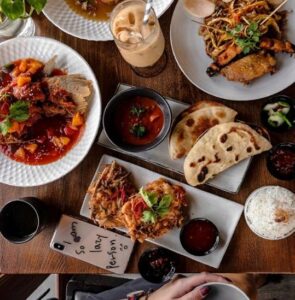 Rows of Asian Typical Menus at Two Fat Monks Denpasar
The menu that you can order while relaxing at Two Fat Monks is mostly Asian food. However, you can still order local specialties and European food while you are here. Menu choices that you can order include processed duck, pork-based foods, burgers, and so on.
The location of Two Fat Monks is also very affordable and strategic so it's easy to reach. The address of this cafe is at Jalan Letda Tantular Number 7 Renon. So, you can use this cafe as a means of gathering with your family or it can be used as a meeting point with clients.