Garuda Wisnu Kencana or better known by the people in Bali as GWK is one of the attractions that must be a tourism destination. GWK tourist attractions are located in one of the cities in Bali, namely the city of Jimbaran. This location is very close to Ngurah Rai airport. The duration of the trip from Ngurah Rai airport to the tourist attractions of GWK can be taken within 15-20 minutes in a state of smooth traffic. GWK attractions are very famous in Bali which makes this place always crowded with foreign and local tourists. That is because of the beauty of the GWK park itself and various cultural activities those are able to amaze the tourists who visit there. But the main attraction of this GWK is the statue of Garuda Wisnu Kencana itself which stands in the middle of the park.
The History and The Meaning of GWK Statue
GWK is actually a giant statue built in the middle of a park that has an area of ​​64 hectares. GWK statue has a height of 121 meters with a weight of 3000 tons and reportedly this statue beat the height of the Statue of Liberty, New York, which is only as high as 93 meters. Even the statue of GWK became the second tallest statue in the world after the statue of the Spring Temple Buddha in China as high as 153 meters. A statue that shows an eagle riding by Lord Wisnu. Based on the beliefs held by Hindus, Lord Wisnu who has a role in maintaining and protecting all God's creations. Then the statue of Garuda as a symbol of freedom and service and the Kencana which means gold. So this statue is called Garuda Wisnu Kencana which has a meaning of the protector of the universe.
The idea of ​​building a GWK was conveyed by an artist named I Nyoman Nuarta in 1990 and approved by President Soeharto in 1993. However, due to the economic crisis the construction stopped and then continue operated in 2013. Until finally on August 4th, 2018 the statue of GWK successfully completed after 28 years of waiting.

GWK General Information
Since the inauguration of GWK by President Joko Widodo on September 22nd, 2018, this place is increasingly crowded by tourists. GWK could be visited starts at 8.00 a.m. until 10.00 p.m. There are 2 type of entry tickets fee. Which are foreign prices amount IDR150.000 per person and local prices amount IDR125.000 for adults and IDR100.000 for children. There is an additional ticket fee to get into the GWK statue amount IDR200.000 per person.
The ticket prices are much more expensive than other tourist objects entry tickets in Bali. But it is worth the satisfaction that can be obtained. Because GWK presents many arts and cultural performances.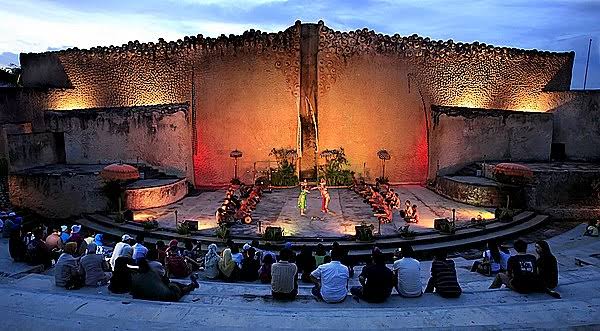 The List of The Event & The Venue Performance at GWK
At Amphitheatre:
Barong & Keris Dance : at 10.00 a.m. – 10.40 a.m.
Bali Dance Performances : at 11.10 a.m. – 11.50 a.m.
Barong, Kera, Rangda Bali Dance Performances : at 2.00 p.m. – 2.40 p.m.
Bali Dance Performances : at 3.00 p.m. – 3.40 p.m.
Kecak Dance Performances : at 6.30 p.m. – 7.15 p.m.
At Jendela Bali:
Rindik Instrument : at 11.00 a.m. – 3.00 p.m.
At Street Theatre, Plaza Wisnu, Lotus Pond:
Bali Cultural Parade : at 4.10 p.m. – 5.20 p.m.
Kecak Dancer Parade : at 6.00 p.m. – 6.20 p.m.
At Street Theatre:
Joged Bumbung Dance : at 5.30 p.m. – 6.30 p.m.
At The New Beranda Restaurant / Jendela Bali
Music Acoustic Performances : at 7.00 p.m. – 9.00 p.m.
GWK Loop Facility
This facility is a Shuttle bus that will take the tourists around the large statues in the middle of the GWK cultural park. The ticket prices amount IDR20.000 per person.
GWK Souvenir Shop
There are many souvenir shop in GWK. Souvenir Shop and Bali Art Market are one of the shop that are popular.
According to this writing, can be concluded that there are many things that is fun can be obtained from visiting GWK. It would be feel real if you come into directly!