The Beauty of Beach Attraction
Bali and all the amazing things in it make this island's name known by foreign countries. So many tourists from all over the world are found in all areas of Bali. One area that is visited by many tourists is the Nusa Dua tourist area. This area is a strategic area where many tourist attractions are ready to be visited by tourists.
One of the attractions in Nusa Dua which is a famous place even a favorite place for tourists is Tanjung Benoa beach. There is no tourist who is not flattered by the beauty of the scenery that is one of the tourist attractions of this beach.
A Short History of Tanjung Benoa Beach
Before this beach developed into a beach tourism area, it was once a fishing village whose livelihoods residents as fishermen. However, the development of Tanjung Benoa beach became a tourism area, making most of the residents' livelihoods change either as hotel employees or as owners of tourism businesses. At present, almost all of the seaside areas are transformed into hotel areas.
Tanjung Benoa Beach Tourism Attraction
Tanjung Benoa Beach is a very famous vacation spot as the location of the best marine tourism activities. One of them is water sports activities. Therefore, almost every day Tanjung Benoa Beach is never empty of tourists.
However, it does not mean that water sports are the only activity that can be done on this beach. Many of the tourists who do other activities such as a relaxing walk on the beach, sitting relaxed while enjoying the beauty of the beach scenery.
The beauty of beautiful white sand and calm sea waves is one of the attractions of this beach. Those make tourists feel comfortable and very close to nature. Surely the view of the sunset will be the most awaited sight for tourists who visit.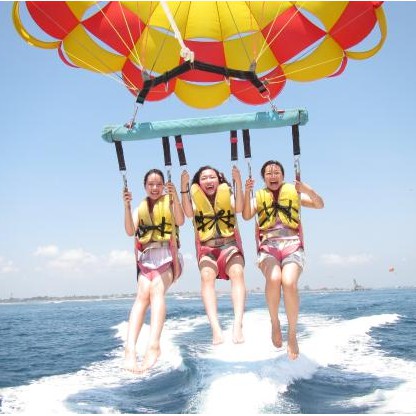 Water Spot Activities
But however, water sports are the most interesting and popular activity for tourists. Many tourists call this beach as a center for marine tourism activities and a paradise for water sports. Besides being a water sport activity, also because there are many water sports service providers that support this activity.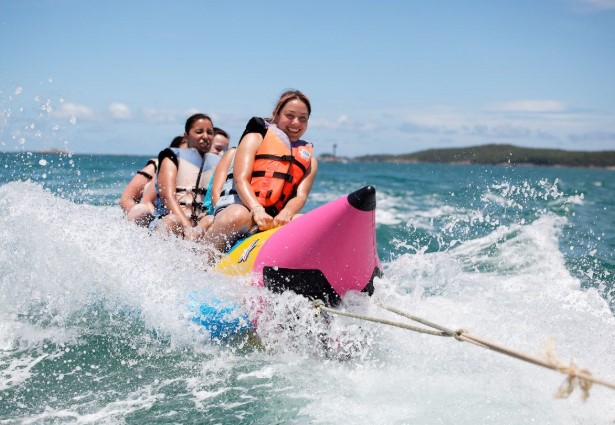 This beach also has very calm sea waves with an average depth of 6 meters. From the north end to the south end of this beach there are lines of companies providing water sport activities with a variety of vehicle options.
Facilities that are available such as parasailing, jet-skiing, banana boat, fly fish, snorkeling, and tours to Penyu Island. So that this one tourist spot becomes the most recommended place to visit. Certainly, tourists, especially children, will love this place.
Location
Tanjung Benoa Beach is located on the southeastern tip of the island of Bali, precisely in the district of South Kuta.
Access
To get to Tanjung Benoa Beach if taken from Ngurah Rai airport takes 35 minutes. Even then, if the road is not congested. But in reality, the state of the road is never congested, especially during the holiday season. Therefore, it is recommended to use the Bali Mandara toll road.