Bali Culinary Tourism Objects
Bali is an island with thousands of surprises. Starting from the natural beauty, cultural uniqueness, to stunning tourist attractions. The tourism object starts from natural tourism objects, cultural tourism objects, shopping objects, and culinary attractions.
One of the attractions that are highly sought after by tourists is the Standing Stones Restaurant! Restaurants with a seaside atmosphere are indeed common in Bali because there are so many restaurants like that. It is just that the Standing Stones Restaurant offers something different. Not just an ordinary seaside atmosphere, but also enhanced by the concept of this restaurant.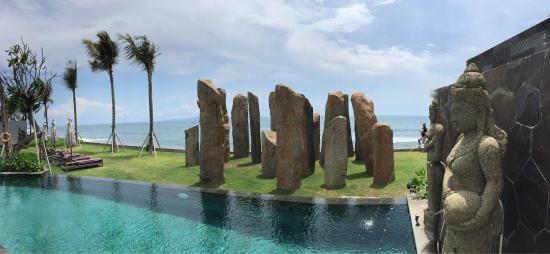 The Attraction of Standing Stones Restaurant
The Standing Stones Restaurant is part of The Royal Purnama Hotel. Where this restaurant is located in the Gianyar area. The restaurant that comes with the concept of a truly open dining venue offers a truly different romantic culinary experience. Instead of eating food in a closed area, tourists can also enjoy food with a beautiful beach atmosphere. Especially with large rocks arranged like Stonehenge which is the concept of this restaurant. Besides that, a large and clean swimming pool also complements the beauty of the beach view.
Seeing all the things that this restaurant has is perfect to be one of the instagramable choices. Because this restaurant has an interesting impression. Especially in the garden area, the place where the row of giant stones stood. This stone placement is between the swimming pool and the beach area. The visitors can cross the room between the rocks and spend a moment to take some beautiful photos. In addition, tourists can relax in the swimming pool area while enjoying the beautiful beach views with clean white sand and stunning blue sea.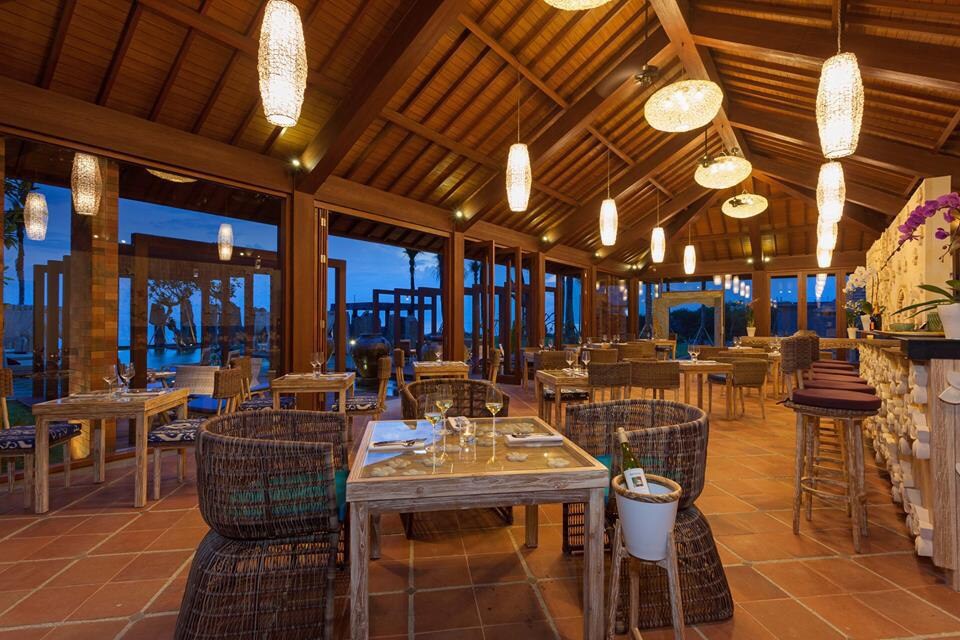 Standing Stones Restaurant Menu
Not only limited to offering a beautiful view, but this restaurant also offers a variety of interesting menus and certainly delicious to taste. Starting from the traditional menu of Indonesia, Japan, and Europe. The main ingredients used for cooking also vary. The tourists have a lot of food choices using duck, pork, chicken, fish and various types of fresh vegetables.
For the price of the menu can be obtained with a fairly cheap price variation. Such as a processed pork belly menu for IDR 155,000. Then the duck breast menu with a price of IDR 210,000 to vegetarians such as Balinese salads, fajitas, aloo gobii with each price range of IDR 50,000.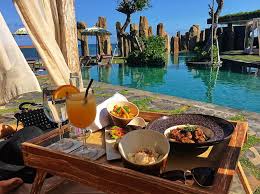 A la carte set menu can also be found in this restaurant. However, this menu option is pegged at a much more expensive price where a fresh lobster set menu containing lobster salad, lobster bisque soup, ravioli, provencal, and fruit strudel is pegged at IDR 990,000. Every tourist who wants to enjoy culinary in this restaurant is required to make a minimum order of IDR 200.00 per person. This policy is enforced using food vouchers that cannot be exchanged for money. However, the average menu purchase that occurs for two people can run out of more than IDR 500,000.
Location
This restaurant is located on Jl. Purnama Beach, Sukawati, Gianyar.