The island of Bali offers a lot of fun and entertainment that can be enjoyed by tourists visiting Bali. Its beautiful natural scenery and sustainable cultural uniqueness never fail to amaze tourists. So it is only natural that many tourists from abroad come to Bali to spend vacation time.
Bali also provides many supporting facilities for every tourist who travels to Bali. One of them is the existence of a hotel as a place to stay. Starting from ordinary hotels to luxury hotels. In the Nusa Dua area, there is a luxurious and famous hotel called Hotel St Regis Resort.
St Regis Resort Hotel Luxury Design
Hotel St Regis Resort is a hotel that provides luxurious accommodation facilities which are a favorite of tourists. In fact, this hotel was once occupied by the King of Saudi Arabia, King Salman when he came to Bali. Not only a king but also his entourage to stay at this luxury hotel.
Not just a luxurious accommodation facility, but Hotel St Regis Resort also has a unique architectural design and a strategic location. It is said to be strategic because the location of this hotel is very close to other tourist attractions in Nusa Dua.
The atmosphere of the Grand & Luxurious Regis Resort Hotel
Every tourist who stays at Hotel St Regis Resort will feel the atmosphere like being on a private beach because the location is also close to the beach. You could say this hotel is a beachfront hotel that is perfect for tourists who like a beachfront view.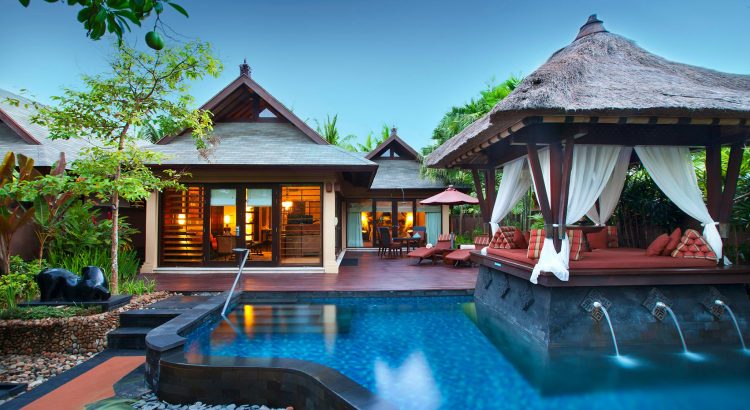 With the situation, this beachfront hotel can create a variety of water activities such as swimming, snorkeling, and sunbathing. This hotel also has a private swimming pool with a special look. The swimming pool is provided with two jacuzzis and a sun deck that tourists can use to relax. Even snacks are provided to be enjoyed while relaxing by the pool surrounded by various green trees.
Hotel St Regis Resort provides 2 types of swimming pools, namely pools for children and adults. This allows tourists to have a comfortable family vacation. Not just a children's swimming pool, but also a children's learning center area which is complete with various entertainment facilities. These facilities help children to learn many things such as cooking, playing music and dancing.
The hotel also has various private restaurants. The tourists can try the local food menu that has a delicious taste. Some of these restaurants are Kayuputi, Boneka, Dulang, Gourmand Deli, King Cole Bar, and Vista Bar. Each restaurant has a different atmosphere.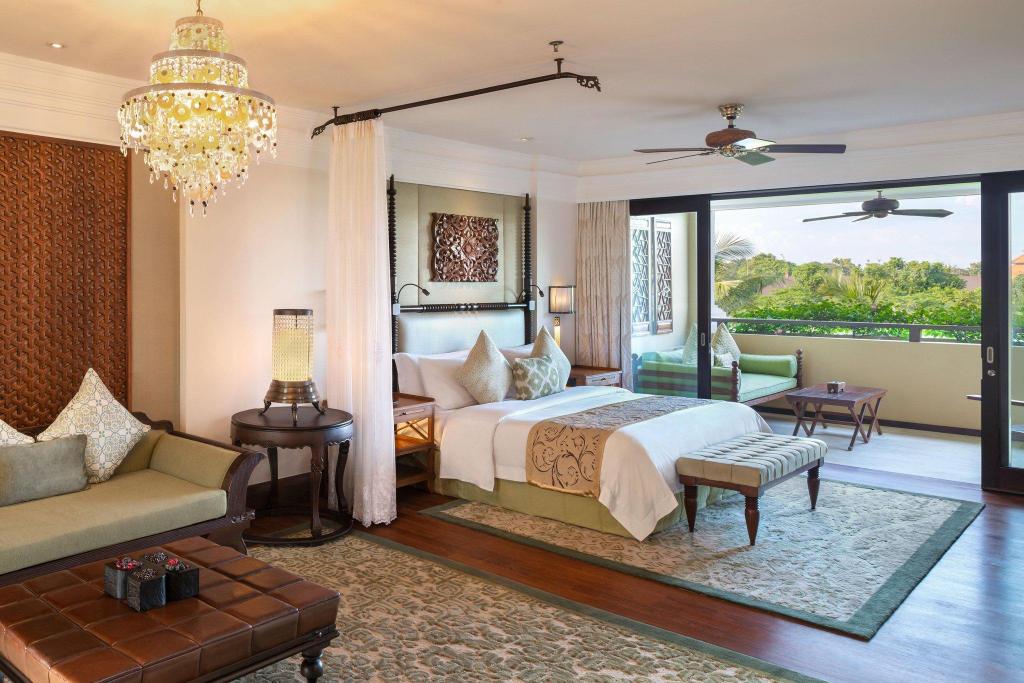 St Regis Resort Hotel Room Types & Rates
By staying at the Hotel St Regis Resort, tourists can choose one or several rooms from a total of 123 rooms provided with luxurious interior designs. Starting from the St Regis Suite, St Regis Ocean View Suite, to the Grande Astor Suite. All of these rooms have an area, from 92 square meters to 374 square meters.
If you want a room that is more spacious and has more privacy, you can choose to stay in a villa. Gardenia Villa has a size of 131 square meters with one bedroom in it. Meanwhile, The Strand Residence has more capacity, up to six people. Each room provided starts from IDR 8 million per night, while the villa room rates reach IDR 16 million per night.
Location
This luxury hotel in Bali is located in the tourist area of Nusa Dua.