No need to worry for all of you who loves Italian food but currently having vacation in Bali, because Bali has many Italian restaurants. One of the Italian restaurants in Bali that is highly recommended for those of you who happen to be in the Seminyak area is the Settimo Cielo Seminyak Restaurant.
Once in front of the Settimo Cielo Restaurant Seminyak, the name of the restaurant is emblazoned on a long chair in the outdoor area. The outdoor area is not too big, there is only one table with a long wooden chair and a few other chairs. But before entering this outdoor area, you will be greeted with a papn that reads' Indonesia Tatler Best Restaurant 2016.
Luxury Interior Design of Settimo Cielo Restaurant Seminyak
From outside here you can see the selection of glass as a building material. Passing a wooden walkway that forms a road, you can start exploring the indoor area of ​​Settimo Cielo by passing through the glass doors.
Inside, it turns out that glass still dominates the restaurant. For example, like a roof made of glass. For the table, they chose a square wooden table with four green chairs in the middle. For the right and left sides, it is used for visitors who come in groups. Namely with the use of a long table and a long sofa and several white single chairs.
On the right, you can see a bar table with a few bar stools. Above there are ornaments hanging around the table. For the walls, Settimo Cielo – Rustic Refined Italian uses decorations in the form of paints that are painted abstractly so that they look very beautiful.
The classic impression was successfully conveyed by the rustic interior design they used. You can also feel a natural impression when you are in the middle of Settimo Cielo – Rustic Refined Italian. A chic, intimate and modern space is the perfect blend of this restaurant.
Menu Options of Settimo Cielo Restaurant Seminyak
The menu served is a menu of classic Italian dishes. For example, fresh home-made pasta, country pizza with gourmet toppings, delicious imported steaks, salads, seafood and so on. Italian drink lovers will be very grateful to be at Settimo Cielo – Rustic Refined Italian because they serve delicious cocktails and wines. And don't forget the Italian coffee served with freshly baked cake. Enjoy the sensation of being in Italy.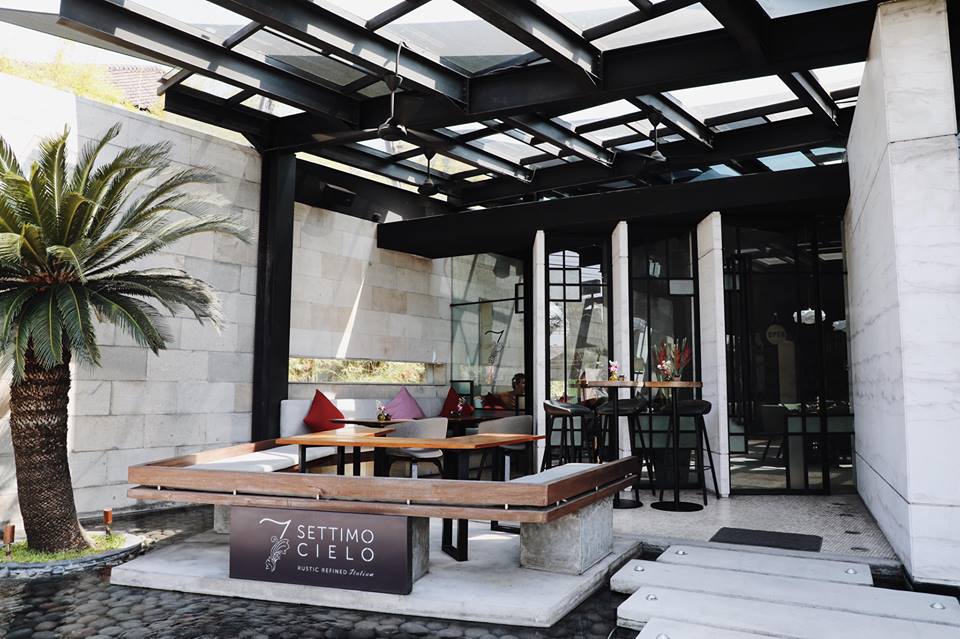 Location and Accessibility
Settimo Cielo Seminyak Restaurant is located on Jl. Pangkung Sari No. 10X, Seminyak, North Kuta, Badung Regency, Bali. Open 7am to 11pm. Provides breakfast to dinner menu. If you are at Ngurah Rai Airport, from the airport to Settimo Cielo – Rustic Refined Italian it will take about 31 minutes or about 12 km. Use the Route from BAndara turn left onto Jl. By Pass Ngurah Rai.
Then turn right onto Jl. Sunset Road, turn right onto Jl. Raya Kerobokan. Turn left onto Jl. Beraban and turn right onto Jl. Pangkung Sari and turn left onto Jl. Pangkung Sari. Not far from there, you can find Settimo Cielo – Rustic Refined Italian.