While on vacation in Bali, the most popular activity to do is visit tourist objects that show a wide natural view. All tourists from abroad have heard and even acknowledged the charm of Bali's natural beauty. Both local tourists and foreign tourists choose Bali as a tourist destination that must be visited.
Many beautiful and fun things can be done in Bali to create the best vacation experience. The island of Bali is located close to the Indian Ocean, so you can imagine the beauty of the Indian Ocean that can be enjoyed. By visiting tourist attractions such as the Sandy Bay Beach Club, all tourists can relax while enjoying the beautiful views of Sandy Bay Beach Club.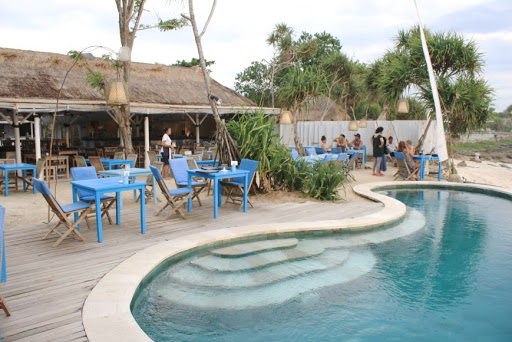 Enjoy the Beauty of Sandy Bay Beach Club
Sandy Bay Beach is precisely located in Lembongan. This beach club offers a vacation atmosphere at a beachside bar. With a beautiful view, this beach club is the best beach club in Nusa Lembongan Island. Not only beautiful scenery, but there are still many things, in fact almost everything in the Sandy Bay Beach Club has a view that can satisfy visitors.
One of the beauties at the Sandy Bay Beach Club that you can enjoy is the beautiful beach view. With views of the blue ocean and gray sand beaches along with rocks, it really adds to the exotic impression of this beach itself. However, please note that the beach at this beach club is not suitable for swimming activities.

The Comfort Of Being At The Sandy Bay Beach Club
This beach club with its exotic natural views has two areas, namely indoor and outdoor. Kurai furniture and tables available on this beach are made of wood which looks minimalist and cozy. It should be noted, for every visitor who chooses an outdoor space and relaxes on one of the beach chairs to be able to enjoy this view, there will be an additional fee.
The Sandy Bay Beach Club architecture is dominated by table and chair furniture. Even though there is an indoor area, visitors don't need to worry because it uses a semi-open concept. The visitors can enjoy the cool beach breeze. For the beach area, visitors can do various activities, such as walking on the beach, sunbathing. The facilities provided by the Sandy Bay Beach Club are a swimming pool. For every visitor who wants to swim will not be charged extra.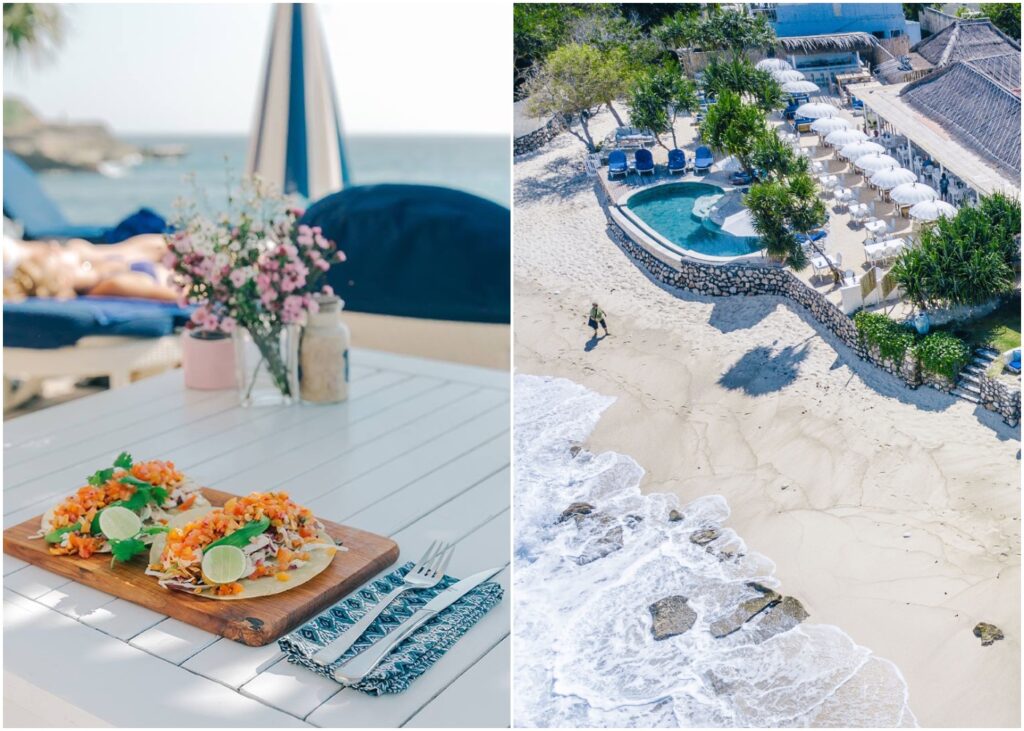 Menu Options At Sandy Bay Beach Club
Sandy Bay Beach Club also provides a variety of menus. All the menus that are owned by Sandy Bay Beach Club are very diverse, from heavy meals, light snacks and various drinks. The menu offered also has various types, namely international, Asian and local food types. Visitors can also order a package menu with 2 menu choices.
Heavy food choices provided by Sandy Bay Beach Club include goat fried rice, Balinese mixed rice, duck confit, seafood platter and many more. For drink menu choices, there are cocktails, mocktails, ginger tea, lemon tea, cappuccino, fresh juice variants, and others. While the light snack menu has banana splits, pancake creepes, tacos, ice cream and so on. One portion of food and drink is only around Rp. 100,000.
Location
Located near Mushroom Beach, about 15 minutes from the beach which is the crossing spot to Nusa Lembongan.
Open Hours
8 am to 11 pm.