The holiday period is the most awaited period by many tourists. Tourists who like sightseeing will definitely be busy looking for the best tourist destinations to visit. Bali is often the choice of tourist destination! Lots of beauty and uniqueness that can be enjoyed while on vacation in Bali. Starting from its natural beauty, unique culture, to various fun places to visit.
Bali has a wide selection of popular tourist attractions to visit. These tourist objects often reveal the natural beauty and unique culture that attracts Bali. Many local tourists and foreign tourists who enliven the tourist attraction. One of them is New Kuta Green Park, the best hangout place.
Recreational Attractiveness In Bali
Recreational places in Bali, provide various options, such as beach tours, lakes, terraced rice fields, or mountain climbing. In addition to natural tourism, artificial recreation parks are no less interesting, such as the existence of New Kuta Green Park which is located on the Uluwatu highway, Pecatu village, South Kuta District, Kab. Badung Bali. Located in the Pecatu Graha area which has an area of ​​400 hectares, in the area besides the New Kuta Green Park water park there are also golf courses, condominiums and hotels. The location is one lane with the Dreamland beach tourist attraction.
New Kuta Green Park offers a playground with various water rides, very suitable for families, especially tourist attractions for children. This water park has an area of ​​about 5 hectares, ready to provide the best offer for children and families to enjoy various water rides at lower prices than other water rides in Kuta. New Kuta Green Park is a modern water play facility that provides a playground for children or babies as well as for adults.
Enjoying the Best Rides at New Kuta Green Park
In the Kuta and South Kuta areas, there are several waterparks or water parks that offer various games and prices, such as the popular ones, namely Waterboom Park, Circus Waterpark Bali, Nirmala Waterpark Unggasan and now New Kuta Green Park. Bringing a new feel to this list of artificial amusement parks. This water park at Pecatu Graha offers its own and different sensation, especially paying attention to all the details of the game, especially for toddlers, even for babies, a swimming pool is provided, so the place is not only suitable for adults, but can be an ideal tourist park for children. – kids too.
The rides at New Kuta Green Park are very well designed, so that visitors who enjoy them don't feel bored, such as for children besides the children's pool there is also a slide for children, water spills from large buckets and showers so that the day can be fun. . For teenagers, adults and challengers, of course, the three water slides are the most enjoyable, such as the Rajawali and Rangkong slides at a height of 10 meters, tourists enjoying the slides on the big pipe, and the Merak slide with wavy slides. at a height of 8 meters. meters like a peacock's tail.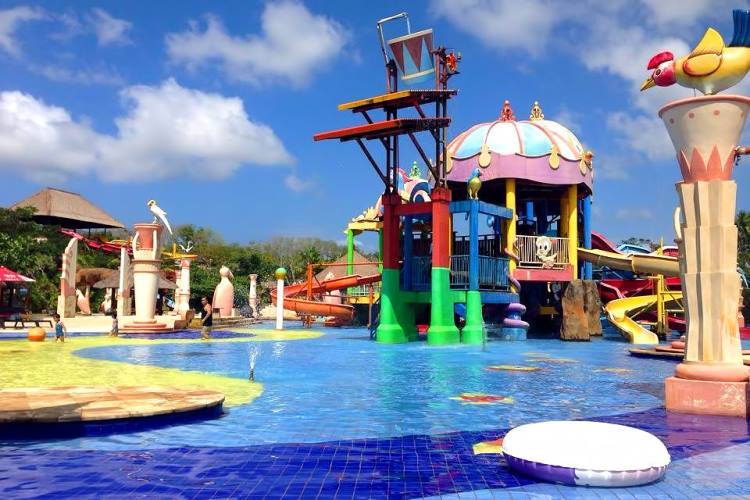 The Cheap Entrance Tickets To New Kuta Green Park
When compared to other places, the entrance ticket to this water park is quite cheap, especially with the number of rides provided is quite a lot, here is the price of the entrance ticket to this water park;
Adults: IDR 90.000/pax
Children: IDR 65,000/pax
Children under 80 cm tall: free
Location
Uluwatu, Pecatu, South Kuta, Badung toll roads.