Currently, vacation to Bali becomes a trending for every tourist both local and foreign tourists. There are many tourists who want to come and enjoy firsthand all the beauty, uniqueness, and other fun things.
Bali has many amazing attractions. Not only attractions but also accommodation with all the facilities that are guaranteed to satisfy the tourists who visit. Like lodging accommodations in the form of hotels. Ranging from simple hotels to luxury hotels. In Bali, there is one luxury resort called Munduk Moding Plantation Resort & Spa.
The Villas of Munduk Moding Plantation Resort
Munduk Moding Plantation Resort & Spa offers a luxury and privacy of a resort. While at this resort, besides having a comfortable rest, guests can also enjoy the beauty of northern Bali. Not limited to its natural beauty, but also can enjoy all the luxurious facilities and classy services of Munduk Moding Plantation Resort & Spa.
Munduk Moding Plantation Resort & Spa is a resort that exposes the beauty of nature in the coffee garden area. Guests will be able to feel the atmosphere of a stay that is privacy, relaxed, and also far from the crowd.
This resort not only provides a spa, but also some interesting choices villas. The villas also offer views of the hills which are so extraordinary. It has large glass panel doors that will let guests see the view from inside the villa.
Some of these villas have an area of ​​around 55 m2 with tropical hardwood parquet floors in the bed and living area, Sulawesi cream marble in the bathroom, a king-size bed, and a sofa. Not only that, but each room will also offer various facilities, such as flat-screen TVs, bathrobes, slippers, toiletries, and many more.
Not only villas that have complete and luxurious facilities, for suites too. The room has wooden and marble floors in the bathroom. The suites have a large terrace where you can relax while enjoying coffee and tea there.
Munduk Moding Plantation Resort
The attraction of this resort is not only from the villas and suites. Especially in the resort itself has a famous swimming pool that is an infinity pool with a length of up to 18 meters. If you are in this pool will make guests feel the sensation of swimming among the clouds. Relaxing while swimming accompanied by a spectacular view will certainly create an exciting and enjoyable vacation experience.
This resort also has a building with a unique design built from bamboo. The combination of bamboo structure with eight meters high and alang-alang roof but still has a modern interior. One of them is the building at the Spa. The spa is the right place to release all the fatigue. The therapists will treat tourists, pamper them with the scent of flowers, and give massages.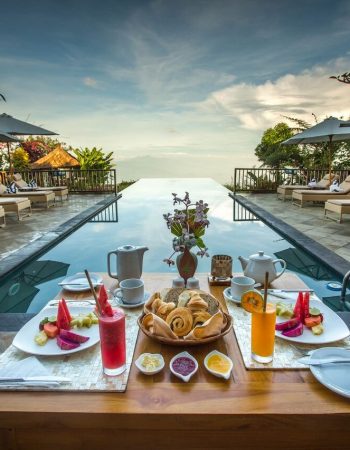 Vacation in this place will be even more fun if guests visit the coffee plantations in Munduk Moding Plantation Resort. Where the coffee that you enjoy at the Munduk Moding Plantation resort is derived from this coffee plantation. You can visit their modern coffee processors and roasters and learn all about coffee.
Munduk Moding Plantation Resort Room Prices
For the price Room rates offered by Munduk Moding Plantation start with a price of around IDR 1,800,000 per night
Location
Jalan Asah Gobleg Banjar Dinas Asah, Gobleg Village, Banjar Buleleng District, Singaraja.