Ubud Tourism Region
Bali is indeed a part of the Indonesian island which is famous for foreign countries. Many of the areas in Bali are well-known tourist attractions. One of them is Ubud. Because Ubud Bali offers a unique art, culture and natural beauty. In addition, Ubud also offers a variety of interesting types of tourist attractions to visit and holiday activities that are not less interesting. Most places in Ubud also become a favorite place for tourists.
Monkey Forest is one of the favorite places in Ubud. Even though they have never visited this place, surely tourists will immediately be able to guess from its name, that this place is a place where tourists can see monkeys.
Monkey Forest Tourism Object Ubud
Monkey Forest tourism object is one of the tourist attractions in Ubud that seems very iconic and represents the overall Ubud tourist attraction. So that this tourist attraction of Ubud has become one of the places that must be visited!
Monkey Forest is basically a protected forest area. Inside the Monkey Forest, there is also a sacred temple of Balinese Hindus named Pura Dalem Agung Padangtegal. The original name of the Ubud monkey forest attraction is the Mandara Wisata Wenara Wana, but better known as the Sacred Monkey Forest Sanctuary.
Monkey Forest Place is also a place with fresh air because in this place has many towering green trees. The trees can be seen from the parking area.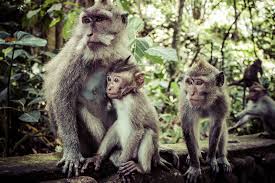 The History of Monkey Forest Ubud
The Balinese Hindu community established this Monkey Forest place with the aim of carrying out their religious principles. Namely Tri Hata Karana which consists of three principles that must be lived in order to obtain happiness. Therefore, the Balinese Hindus also want to make this place as a location to be able to maintain human harmony with the environment.
In addition, this place was established as a means of conservation of the monkeys and trees. Where previously it has been said that in this place there is a temple named Pura Dalem Agung Padangtegal. The temple is a place to hold a special ceremony at the temple which is held in honor of the animals or called by the name of Tumpek Kandang.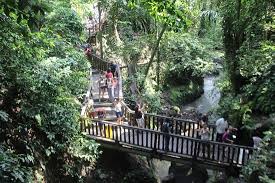 Price of an Entrance Ticket
To be able to enter this place, tourists need to pay an entrance ticket. The entrance ticket has 2 different prices, which are IDR 80,000 per adult and IDR 60,000 per child from ages 3 – 12 years.
Parking Ticket Prices
In addition to the entrance fee there is also a vehicle parking fee of IDR 2,000 for the first hour per motorcycle and IDR 5,000 for the first hour per car. However, for the next hour only IDR 1,000 is charged for the motorcycle and IDR 2,000 for the car. Quite cheap for things that can be found in this Monkey Forest.
Open Hours
Opening hours of the monkey forest attractions in Ubud, from 08:30 am – 6:00  pm Bali time, the last time to buy a ticket is at 5:30 pm. The best time to visit the Sacred Monkey Forest Sanctuary is at 2:00 p.m. Because most of the monkeys are full of food that feeds by the manager of the Sacred Monkey Forest Sanctuary. This makes the aggressive nature of the monkeys slightly reduced.