This island has been known for its beauty and uniqueness. Many tourists are fascinated by its beauty and uniqueness. Therefore, it is not surprising that the island of Bali is enlivened by many tourists from abroad. In fact, there are many interesting and popular tourist objects, one of which is Mengiat Beach.
Many activities can be done while on vacation at Mengiat Beach. Anyone who goes to this beach will get the warmth of the sun, as well as beautiful sea views. Therefore it is not surprising that this beach has become very popular. Many tourists visit Mengiat Beach just to have fun and make good memories. Both local tourists and foreign tourists will feel satisfied after playing at Mengiat Beach.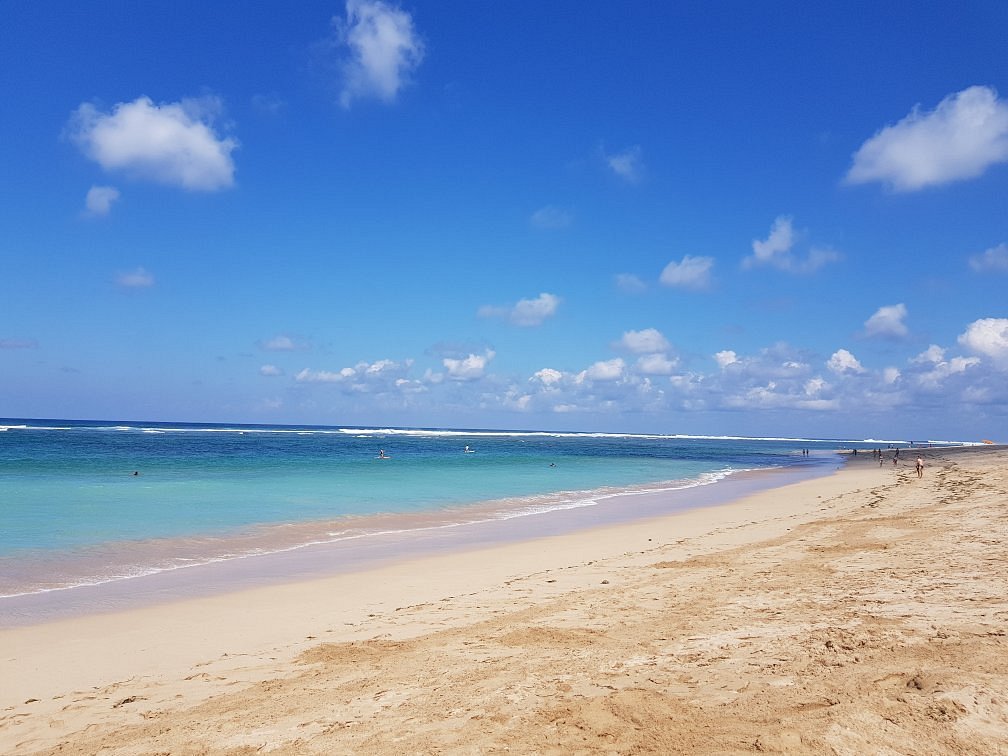 The Enchantment of the Mengiat Beach View of Nusa Dua
The natural tourist attraction of Mengiat beach is one of the beautiful natural charms on the island of the Gods, especially the Nusa Dua tourism area, the beautiful nature of the beach makes it a destination for elite tourists who stay in the area.
This popular tourist area in Nusa Dua is the Indonesia Tourism Development Corporation (ITDC), which was previously called BTDC, is indeed a luxury resort area located on the white sand beach of Nusa Dua. Nusa Dua Beach stretches from North to South next to Tanjung Benoa. One of the beautiful and amazing beaches in the Nusa Dua tourism area is the Mengiat beach tourist attraction, while several hotels or resorts that are close to Mengiat beach include Inaya Putri Bali and Ayodya Resort.
This Mengiat beach natural recreation area offers a different natural atmosphere, besides being beautiful it is also quieter, so it is perfect for filling your holiday activities, be it a vacation with your family or your honeymoon partner.
Popular White Sand Tourist Places in Bali, Mengiat Beach
Mengiat Beach in the Badung area is not very popular, but its beauty can be compared to other beaches in Nusa Dua which are located at the end of Peminge Beach road, ITDC Nusa Dua area, north of Geger beach.
Mengiat Beach tourist attraction in Nusa Dua Bali, clean white sand, stretches wide facing east, so that it offers a perfect view of the sunrise or sunrise in the morning. If you like photo tours, or are photographers, you can create a spot for photo hunting. Mengiat beach sea water is clear and only with small waves, so this natural beach recreation area is indeed quite ideal for bathing, canoeing or snorkeling. An ideal place as a place for vacation activities with family and children.
There are many things you can do at this tourist spot in Badung, you can relax on the white sand, enjoy the beauty of the natural sea scenery with a peaceful and calm natural atmosphere. Mengiat Beach will give you a new recreation area that is comfortable, quiet and more private.
Location
Nusa Dua, South Kuta District, Badung Regency.