Bali is one of the tourist destinations visited by many tourists. Not only limited to local tourists but also foreign tourists. Because of so many interesting tourist attractions in Bali. Each of the attractions in Bali explained the natural beauty and the unique cultural community.
Not only offers interesting activities on the mainland, but also underwater activities which are now becoming quite popular. Like Seawalker in the Sanur beach area of ​​Bali.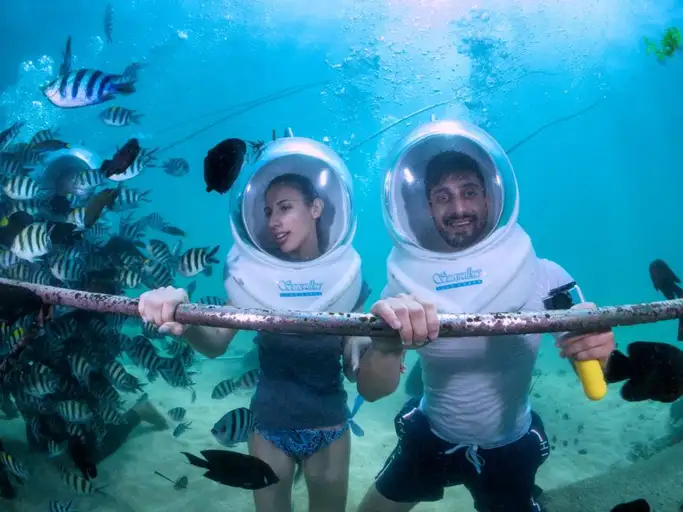 Marine Walk or Ocean Walker
Seawalker or also known as Marine Walk or Ocean Walker is a tour that invites tourists to walk on the seabed for 25-30 minutes. Of course, this kind of activity will be an adventure and exciting experience for tourists.
The best time to do Seawalker tour activities is in the morning where the weather is not too hot and the air is cooler. In addition, sea Seawalker is very clear which makes tourists can see the beauty of the underwater with more leverage.
The sensation of Marine Walk
Many tourists are interested in trying this marine tourism. Moreover, this tour is located in Sanur Region which is famous for its marine tourism which is popular and more interesting than other Regions. Not only local but also foreign tourists make this underwater walking activity an exciting adventure that must be enjoyed.
In addition, marine tourism has a strategic location that is affordable from tourism centers such as Kuta, Nusa Dua, Canggu, Denpasar, and also Sanur. So Seawalker in Sanur is indeed more popular than in other places.
Every tourist who wants to do this activity does not need special expertise, just need to be brave to try this activity. Therefore, this activity is also suitable for children aged 9 years and above.
Marine Walk Facilities & Activities
This activity is classified as safe to do also because it has supporting facilities. Where every tourist who wants to enjoy walking on the seabed or Seawalker will wear a waterproof helmet. The helmet is designed in such a way that it is adjusted to the size of the user, flowed with an oxygen hose so that the Seawalker participant can breathe like being on land. It also provided a waterproof camera that tourists can use to take beautiful photos.
To follow the Seawalker tour in Sanur, tourists will be given directions and special instructions from the Seawalker operator staff, such as communication codes while under the sea. From Mertasari Sanur beach, tourists are invited to take a boat to get to the pontoon (floating dock) Seawalker in the middle of the sea, it takes about 3 minutes to get to the pontoon in the middle of the sea, where Seawalker activities take place, all equipment is fully available here, be it complete waterproof helmet and also oxygen that is flowed through the hose.
After the equipment is used, tourists will be invited to guide or guide Seawalker down the steps to the bottom of the sea. Seawalker activities or ocean walkers in Sanur last about 25-30 minutes with an average depth of diving at a depth of 6-8 meters.
Location
This Seawalker activity is located on Mertasari Sanur beach, precisely the beach in front of Puri Santrian Hotel.