Every pleasure in Bali can be enjoyed with ease. Even then the tourists do not need to spend money to pay for entrance tickets to enjoy all its beauty and uniqueness. This is what makes tourists feel at home and happy on vacation in Bali. So that is the reason the island of Bali is never empty of tourists, both local tourists and foreign tourists from abroad. In fact, many tourists make the island of Bali a priority tourist destination of choice.
There are many exciting activities that can be done while on vacation in Bali. One of them is visiting tourist attractions in Bali. Starting from nature tourism, cultural tourism, and other exciting places. Everything is guaranteed a lot of exciting activities that can be done. Like when visiting Mara River Lodge.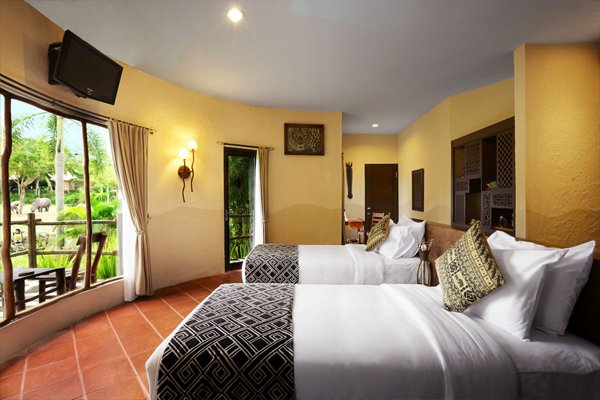 Facilities Provided At Mara River Lodge
There are several room options provided by Mara River Safari Lodge Bali. Each room offers a different atmosphere for guests, from the Swala Deluxe Room on the ground floor with direct views and overlooking the free roaming animals or the Tandala Suite (Tree House Suite) located on the second floor with a balcony designed and built. overlooking the wild where the animals are.
Alternatively, there is the Twiga Suite which is located on the second floor next to the Tandala Suite. The balcony in the Twiga Suite room is designed and built overlooking the wild nature and the Kaifuru Family Room overlooks the swimming pool. The stay rate is of course adjusted to the uniqueness of the atmosphere provided, ranging from 3 million – 5 million per room per night.
Not only Tsavo Lion Restaurant, Mara River Lodge also provides other facilities to complete your day and holiday needs such as Round Trip Airport Transfer, Doctor on Call, Kiboko Pool & Café, BBQ grill Nkuciro, Laundry Service, Wheelchair, and 24-hour room service. . Isn't that interesting?
Interesting Activities At Mara River Lodge
Mara River Lodge Bali is located in the Bali Safari and Marine Park area, which means you can access Bali Safari, enjoy holidays with wildlife there more easily. Mara River Lodge and Bali Safari Park together offer you a new tour, helping you enter the wild and live with these wild animals.
While in the vicinity of the Bali Safari and Marine Park, you and your children can occasionally feed the wildlife. Your vacation will be more exciting and complete if you don't miss Safari Night. Night Safari or Bali Safari Night is a tourist activity held at Bali Safari at midnight such as Safari Walk, Night Safari Journey Trip, and Fire Dance Show.
Location & Accessibility
Mara River Safari Lodge Bali is located on Jalan Bypass Prof. Dr. Ida Bagus Mantra, Gianyar, Bali. This African nature-themed inn offers complete facilities to support guests' comfort along with special services. Vacation locations close to this area are Tegallalang Rice Terrace, Bali Zoo, and Kemenuh Butterfly Park.