Vacation is the moment most awaited by many people, especially tourists who like to travel. Many tourists will look for the best place as a tourist destination to spend vacation time and make unforgettable moments. Bali Island is a popular tourist destination visited by many tourists, both local and foreign tourists.
Finding a place to relax while enjoying delicious dishes is certainly not difficult in Bali. Various cafes and bars are spread across Bali, Lazy Cat Café is one of them. Spending time at Lazy Cat Café to eat and relax certainly won't make tourists bored. Serving a delicious menu and a fun and comfortable appearance make Lazy Cat Café a must-visit.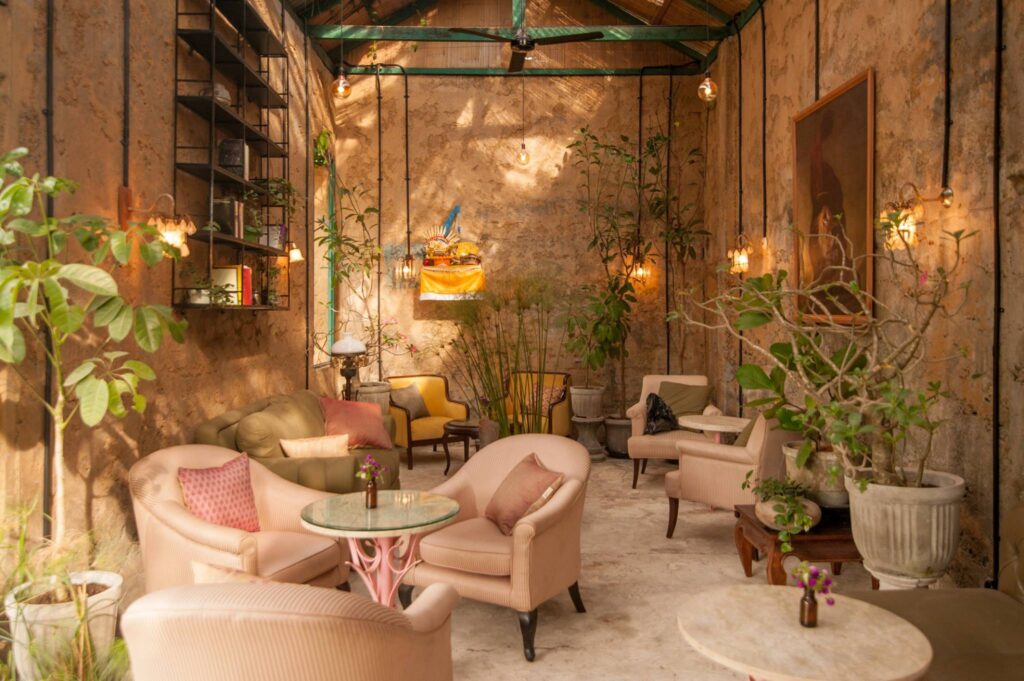 The Best Interior Design of Lazy Cat Cafe Ubud
The interior designer is architect Alexis Dornier and formerly ROCK. Mixing industrial bohemian with chic décor and vintage art. For those of you who come to visit, don't miss taking pictures at this cafe.
Lazy Cat Cafe Ubud has a unique interior with a classic and gothic style. Indeed, this cafe does not have a large size, but it is quite minimalist and does not give the impression of being cramped. Inside the walls are cream-colored and look both luxurious and classic.
Plus a high roof and directly connected to the roof. The dim yellow chandelier will make anyone who visits feel comfortable and feel at home. Plus a large mirror view makes it comfortable.
A wooden table with a soft peach sofa chair or an army green long sofa. There is also greenery inside the cafe which makes this cafe suitable for relaxing and spending time reading a book or chatting casually with friends.
On the 1st floor, you will find a bathroom with a unique cat-shaped mirror. You probably see this mirror a lot in your friend's posts on social media. On the wall next to the stairs is a collage of tattoos which are also instagenic.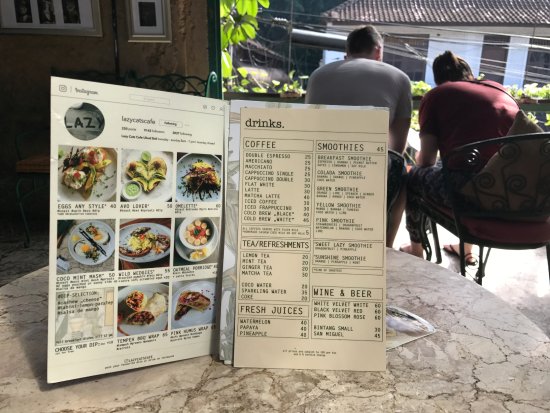 Enjoy Delicious Dishes at Lazy Cat Cafe Ubud
Lazy Cat Cafe Ubud's menu is unusual, it's all vegetarian and beautifully presented on plates. There are many mainstay menus at this cafe, including carrot soup and hummus wrap, vegetable kebabs, tortillas, veggie burgers, and many more.
Meanwhile, there is also a snack that you must try, namely zucchini canapes as your casual snack choice. In addition, there are many other snacks that are certainly healthy. All food and beverage menus are self-made or handmade. The ingredients used are local fruits and vegetables. The price of each menu is very cheap and pocket friendly.
Location of Lazy Cat Cafe Ubud
Lazy Cat Cafe Ubud is located at Jalan Raya Ubud no.11, Ubud, Gianyar, Bali. Open every Tuesday to Sunday, from 08:00 to 22:00. The location is easy to find, which is on the same street as the Blanco Museum. This cafe is located on the second floor while the first floor is only a bathroom.
Visiting Lazy Cat Cafe Ubud is great fun if you come with friends or a partner. This comfortable and quiet place is perfect for chatting casually while enjoying light healthy snacks.