Eating vegetables and fruit is never boring. By visiting KYND Community Cafe, you will have a healthy and delicious dining experience. Located amidst the hustle and bustle of Seminyak, KYND is a vegan cafe ready to pamper you with its dishes. Spending time at this KYND Community Café will not make tourists regret, but will get a wonderful culinary experience.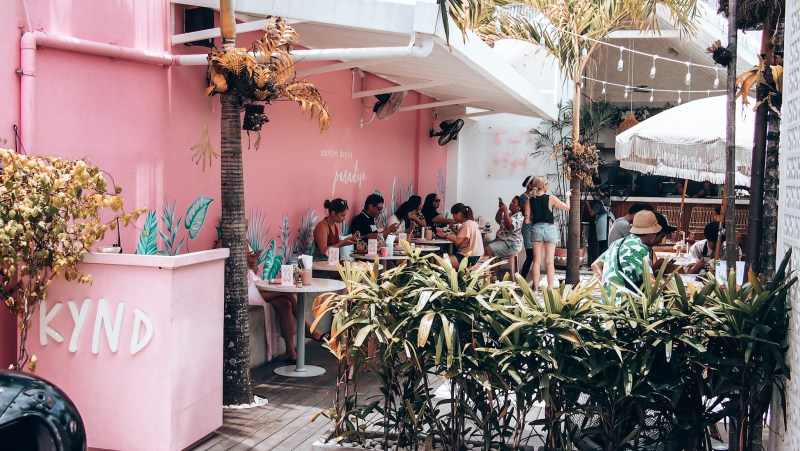 The Beauty of KYND Community Cafe
This place has an artistic design which is divided into indoor and outdoor areas. The walls of the KYND Community building are decorated with tropical murals. And the outdoor area also has pink walls with tropical murals that you can use as photo backgrounds. Similarly, every table is decorated with flowers.
Because it has a quite unique design, the KYND Community is arguably one of the most Instagramable places. In addition to providing a healthy and delicious menu, KYND also sells various interesting souvenirs that you can buy and become a collection or keepsake.
KYND Community Restaurant Healthy Menu
Offers a variety of delicious and healthy menus with ingredients that are still fresh and of course high quality. The menus served include smoothies, salads, fresh sump juice, waffles, milkshakes, and other menus.
There are various kinds of smoothies served from fresh fruit. One of them is Tropical Sunrise which is a combination of strawberry, mango, dragon fruit, spirulina, and coconut water mixed with pineapple and orange. Or the Green Ninja smoothie bowl menu. Green Ninja is a blend of banana, mango, spirulina, hemp, maca powder, coconut water, spinach and mint.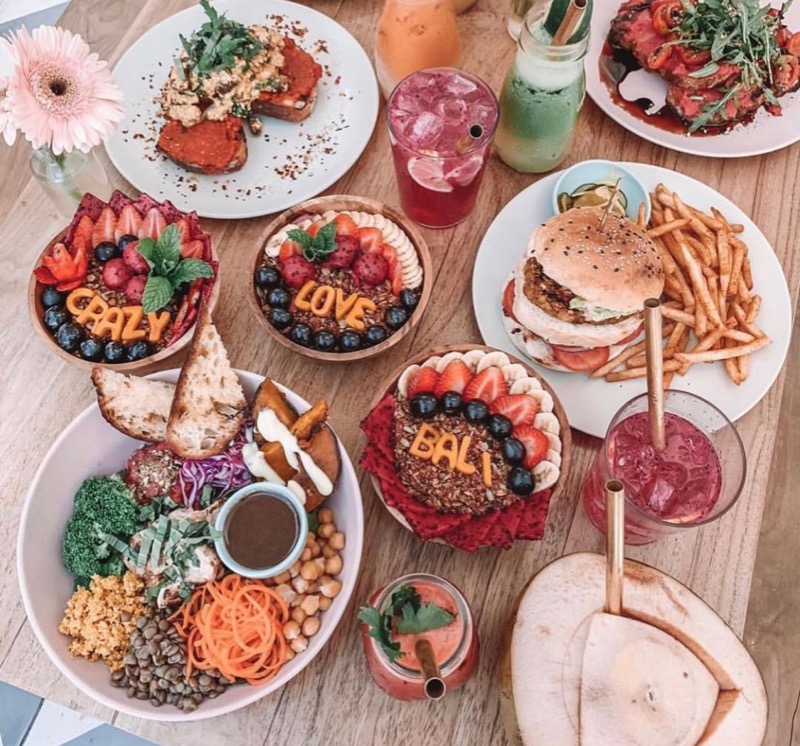 As your breakfast menu, try the Breaky Salad which is spinach, rocket, assorted tomatoes, broccoli, onions, seeds, roasted pumpkin, garlic mushrooms, vegan chorizo ​​with bright mustard dressing and sourdough pesto.
In addition, there are also fresh dishes from smoothie bowls served by the KYND Community, one of which is Berry Tropical. Berry Tropical is a smoothie bowl in the form of frozen dragon fruit mixed with banana, mix berry, coconut water, complete with tropical fruit topping and homemade granola.
For those of you who are waffle fans, there is a waffle dish in the form of a Dream Boat that you can order. This Dream Boat is a waffle served with coconut ice cream, maple syrup, strawberries, berry compote, and sweet dukkah.
There are many more healthy and delicious dishes that you can enjoy at KYND Community Café. KYND also serves a variety of coffees such as espresso, long black, piccolo, macchiato, and many more. Iced coffee is also served here, you can order Iced Peppermint which is an espresso shot with peppermint oil and coconut milk. You can also find tea, milkshakes, juices and coconut water here.
Location and Accessibility
The various dishes available at KYND Community Cafe are priced from IDR 25,000 – IDR 77,000. With that price, you can already get delicious and healthy menus.
For those of you who are interested in tasting the various menus available at KYND Community, just go to the location on Jalan Raya Petitenget, No. 12X, Kerobokan Kelod, North Kuta, Badung Regency, Bali. KYND operates from 6.00 – 17.00.