Bali is an attractive tourist destination and the most awaited by tourists to visit. How not, if a lot of fun things can be found in Bali. Starting from the beautiful natural scenery, cultural uniqueness, to all forms of attractions and accommodations as a means that can be enjoyed by every tourist.
Accommodation is one of the important things that must be sought by every tourist when engaged in Bali. One form of accommodation is lodging like a hotel. In the Nusa Dua area, there is a luxury inn called Holiday Inn Resort Bali Benoa.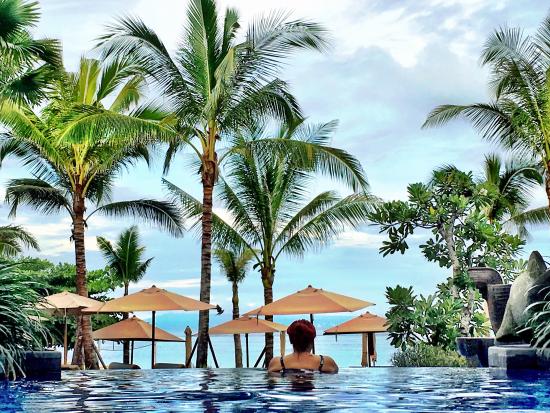 Design Hotel Holiday Inn Resort Bali Benoa
Holiday Inn Resort Bali Benoa is a luxurious accommodation located close to Nusa Dua Beach. The hotel has an atmosphere that displays a tropical inn with the beauty of the sea and its natural surroundings.
The hotel has an elegant minimalist architecture building with a touch of contemporary modern. Where the paint on the wall is chosen based on the appearance that can give the impression of wide and magnificent and wood material as a balcony fence that makes this resort look more luxurious. In addition, the atmosphere at this hotel makes the guests who stay can feel comfortable by spending their vacation time.
This luxury hotel is famous for its swimming pools, which have 4 swimming pools. Where the first pool is a pool that is devoted to children. This pool is equipped with water slides and buckets. The other 2 pools face the beach and the lagoon pool right in the middle of the building. All swimming pools are decorated here with a mini garden with one tree by the pool.
Hotel Facilities Holiday Inn Resort Bali Benoa
The hotel is also equipped with a SPA called Tea Tree Spa. This spa is one place that must be visited. Where the service from head to toe will be obtained evenly. Some of the services that guests can enjoy are massages, facials, body wraps, and body scrubs. Only by making a reservation, guests can relax in this SPA.
In addition to the Spa, there is also a Market Market, cafe, and restaurant owned by this luxury resort that has a menu of international food mainstay. The menu can be served as breakfast, lunch, and dinner. For children, kids meals are also available according to customer requests. Nudi Beach Club, a poolside bar that provides a bartender drink menu and light snacks that will accompany the guests' afternoon.
Room Options At Holiday Inn Resort Bali Benoa Hotel
It is true that this hotel has 4 floors with 171 guest rooms. Each room has a private balcony with chairs for relaxing. The room design looks cozy and minimalist in white painted with blue wall hangings.
The facilities available in each room unit include air conditioning, TV, Wifi, DVD player, working desk, telephone, fridge, and others. While the bathroom is equipped with a rainfall shower, bathrobe, hairdryer, and toiletries.
All rooms face the lagoon pool. You who want to stay at this luxury resort must prepare a budget of Rp. 1,340,000 per night.
Location
Jalan Pratama No.86, Tanjung Benoa, South Kuta.