The island of Bali is currently a popular tourist destination. Many tourists, both local and foreign tourists, make Bali a place to spend their vacation time with their loved ones. Many beautiful things that can be found in Bali are one of the factors supporting the popularity of this island.
Many tourist objects can be used as a vacation spot while in Bali. Starting from natural attractions, cultural attractions, culinary attractions, to shopping attractions. In Bali, there are many shopping centers that sell various kinds of Balinese goods that can be used as souvenirs. One of them is like this Hawaii Bali shopping center.
The Atmosphere of the Hawaii Bali Shopping Center
In Bali itself, there are various shopping places for souvenirs, both in the form of traditional markets and modern markets. Some traditional souvenir markets in Bali such as Sukawati Market, Guwang Market, and many more are popular. Meanwhile, the modern market itself is very famous in Bali, one of which is Hawaii Bali.
With the presence of a modern souvenir market such as Hawaii Bali, it provides a different appearance which is certainly more comfortable than the traditional art market. Along with the increase in tourist visits to the island of Bali, it is one of the factors for the rise of modern markets that provide various kinds of Balinese goods for sales, such as handicrafts, trinkets, and various clothes characterized by Balinese areas.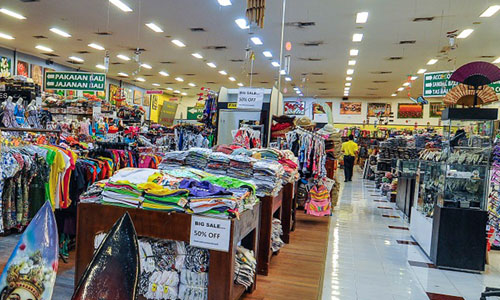 Bali Modern Hawaii Market
With the presence of this modern Hawai Bali market, adding to the line of souvenir shops in Bali so that tourists will have no trouble finding a market that sells the items they are looking for. Especially when shopping in this modern market, tourists certainly don't need to bother haggling. Especially in Hawaii Bali, all the prices of goods have been pegged at ideal prices and can be a recommendation for every tourist shopping.
The location of Hawai Bali is indeed quite strategic because its location is very easy to access with its position on the main highway to the airport so that every tourist who has finished vacationing can stop by for a moment to Hawaii Bali to buy souvenirs to be brought home.
The Most Complete Shopping Center in Hawaii Bali
Hawaii Bali also has a very comfortable building with air-conditioned rooms, as well as services provided by friendly employees. Besides that, Hawaii Bali also provides all items in a neat order so that potential buyers can find the items you are looking for easily. In Hawaii, Bali itself, apart from garment products such as sandals, women's bags, and wallets, as well as several other Balinese handicrafts such as walls, statues, wood carvings, knick-knacks, and masks, all are provided in full. So it is only natural that the Hawaii Bali shopping center is a must-visit souvenir shopping center.
Not only buildings and goods for sale, but Hawaii Bali also has complete facilities. Starting from parking that is money, toilets to places to eat. All items sold in Hawaii Bali have quite affordable prices with professional service. Even Hawaii Bali also has a hotel called Hotel Hawaii Bali which is located next to the shop.
Location
At Jalam By Pass Ngurah Rai, No. 28 X Tuban, Kuta.
Open Hours
9 am to 10.30 pm