The Attraction of Omnia Dayclub
For the attraction of what this Omnia has actually should be no question about. Because it will be seen once entering the Omnia Dayclub area. Namely The Cube. The Cube is shaped like a crystal box with a very large size. This place is above the Bar where the location of the Bar is above the infinity pool. It's a beautiful and unique sight to see.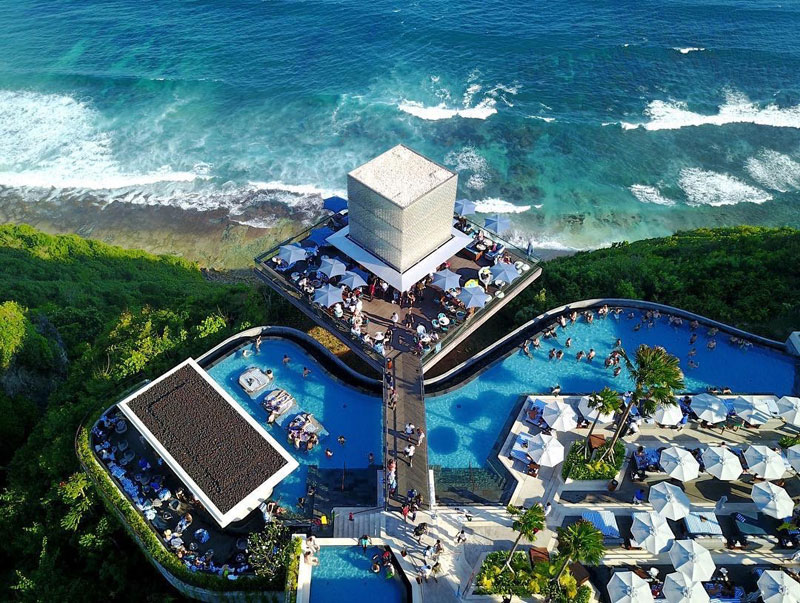 In addition to the spectacular location of the bar with its unique architectural form, Omnia Dayclub also provides an equally beautiful view of the Indian Samuda which is an icon of this place. This place is also accompanied by a choice of very music which sounds great. Every corner of Omnia Dayclub Uluwati creates a great spot for taking pictures.
Omnia Dayclub Terms & Conditions
Omnia Dayclub has several requirements that must be met if you want to go inside. The first requirement is only every visitor who is at least 21 years old permitted to go inside. Omnia does a strict check by asking for a visitor's identity card. Then, there are some items that are prohibited from being brought into the Omnia Dayclub. Among them are food and drinks from outside, selfie sticks, drones, may only carry a cellphone or a GoPro camera for taking pictures. Then others that not allowed to bring such as a tripod, a float, sweets and suitcases. If you need to bring a suitcase, it must be left at the reception and there will be charge for IDR 100,000 / suitcase.
Besides that, Omnia Dayclub also making rules on the dress code. Every visitor is required to dress according to the specified dress code when visiting the Omnia Club. Such as wear proper swim suit when swimming in the main pool, and wearing smart casual clothes such as jeans, t-shirt, and shoes when eating.
Omnia Dayclub also determines the price of entrance ticket on weekdays for IDR 200,000 / person and on weekends for IDR 250,000 / person. But at certain events, prices can be higher than normal prices and can change at any time.
Food & Beverage at Omnia Dayclub
Of course the price of food and drinks at Omnia Dayclub is set at a price that is not cheap and will be additional charges to services and a tax of 21%.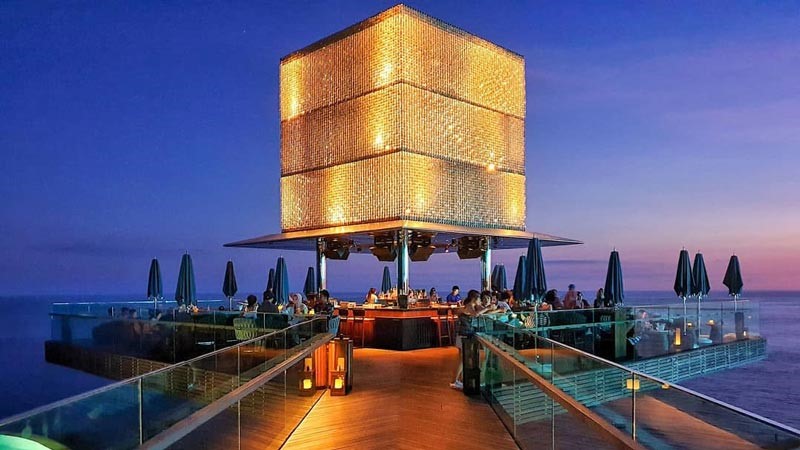 VIP Price
Not all areas can be occupied by visitors. Because there are some areas that will incur additional costs. These are the VIP area with the following price conditions:
– Small Bungalow (15 people): IDR 8,000,000 ++
– Large bungalows (20 people): IDR 10,000,000 ++
– Small Cabanas (15 people): IDR 3,000,000 ++
– Large Cabanas (20 people): IDR 10,000,000 ++
– Daybeds (4 people): IDR 3,000,000 ++
– Dance Floor Sofas (8 people): IDR 6,000,000 ++
– Main Deck Sofas (6 people): 4,000,000 ++
– DJ Sofa (8 people): IDR 5,000,000 ++
– The Cube Sofas (8 people): IDR 4,000,000 ++
– The Cube Daybeds (2 people): IDR 1,500,000 ++
If the number of people exceeds the specified capacity, there will be an additional price of IDR 500,000 / person.
Location
OMNIA Dayclub Bali's address is on Jl. Belimbing Sari, Banjar Tambiyak, Pecatu Village, Uluwatu.
Open Hour
Omnia Day Club Uluwatu is open every day, except on Nyepi days. While opening hours weekdays and weekends are different.
Weekdays, Monday-Thursday: 11:00 – 22:00.
Weekend, Friday, Saturday, Sunday: 11:00 – closing time adjusts to the event.
For Sake No Hana restaurants, open daily from 12:00 – 22:00.