Its location on Sunset Road Kuta, makes Hotel Golden Tulip Jineng Resort a choice to stay that offers comfort. Not only offering a very strategic location, this 4-star hotel also promises a luxurious stay experience and friendly service from the hotel staff.
Seeing the architecture of this luxury hotel building, you will also feel its uniqueness firsthand. At the front, you can see a dome-shaped building that seems to be the hallmark of the hotel. The building is located not far from the swimming pool and can be seen from various parts of the hotel.
The dome-shaped building is actually a building that takes the form of a lotus bud. This building is the core building of the Golden Tulip Jineng Resort. Here too are various facilities that ensure the comfort of hotel guests.
Golden Tulip Jineng Resort Facilities
Not only a combination of a strategic location and a unique building shape, this hotel provides its guests with complete facilities. As mentioned, it has a swimming pool which is located not far from the main building. This pool comes with a large outdoor design and is an attractive choice for relaxing.
Furthermore, the hotel provides a fitness center that guests can take advantage of. For guests who have a vacation to Bali and stay at this hotel with their children, there's no need to worry. The hotel has a playground that can be a filler for your little one's holiday.
For comfort while on vacation in Bali, this 4-star hotel also provides spa services which they call Dedari Spa. Not to forget, in the lotus bud-shaped building area, you can also find yoga facilities.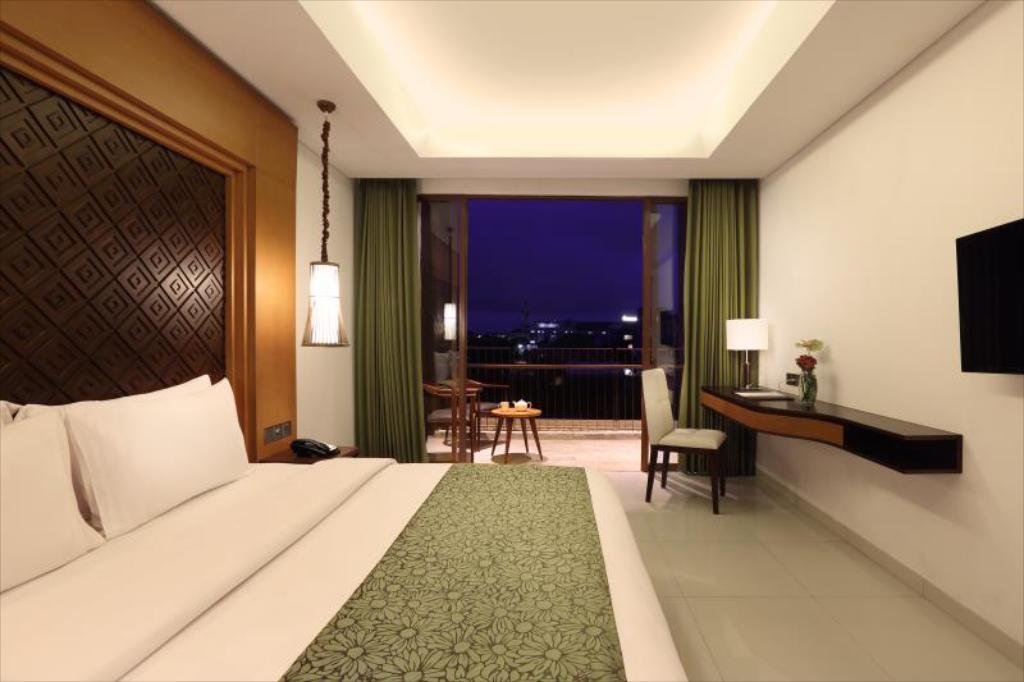 Choice of Rooms and Rates for Staying at the Golden Tulip Jineng Resort
The hotel provides a total of 190 rooms to the guests. The rooms are divided into 3 classes, namely deluxe rooms, suites, and the most luxurious and expensive, the presidential suite. However, these rooms are again divided based on capacity and the view that can be seen from inside the room.
Deluxe room, can be obtained with a choice of single bed or queen bed. The hotel also provides rooms with direct access to the swimming pool or pool views. Likewise, the suite rooms are available with views of the city, swimming pool, or direct access to the pool.
Regardless of which room you occupy, the atmosphere inside features an open and spacious design. Moreover, the hotel uses a combination of wood textures which gives a warmer atmosphere. The use of natural materials as an interior also makes guests feel more at home while in the room.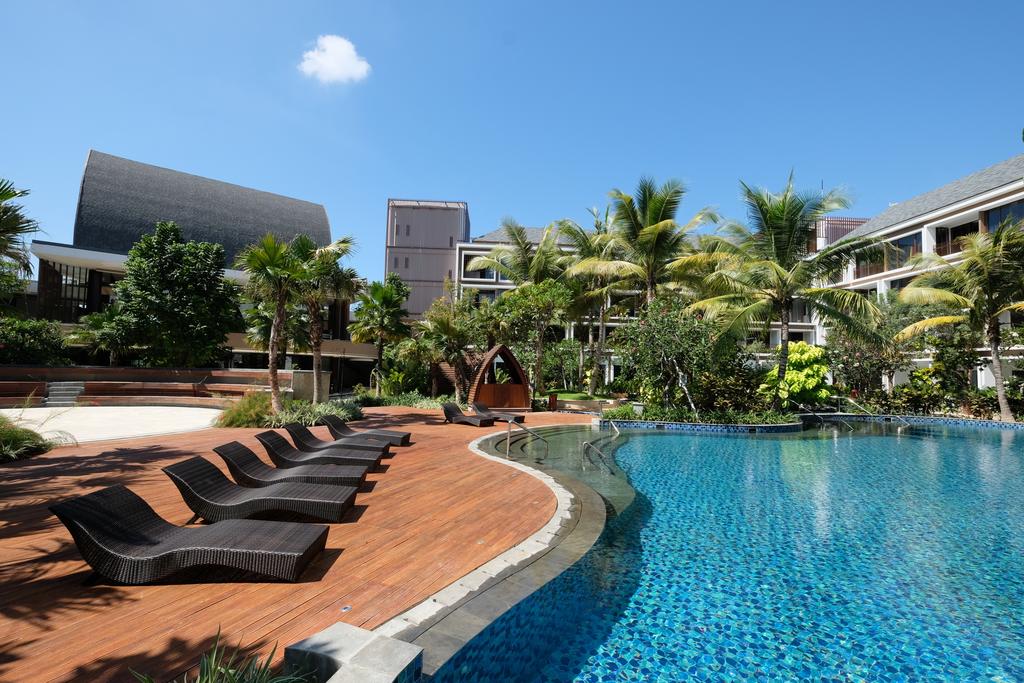 Regarding the stay rates they charge, it's not too expensive. In fact, it is quite competitive for a luxury 4-star hotel range. Deluxe rooms are the cheapest option, available for IDR 800,000 per night. Meanwhile, a suite room can be occupied at a cost of around IDR 1,000,000 per night.
You can find this hotel at the address Jl. Sunset Road, Kuta. From that location, close to Dewa Ruci Roundabout, about 400 meters away. Furthermore, you can also visit Kuta Square by traveling only 1.5 km. Not to forget, Ngurah Rai International Airport, is only about 3 km from this luxury hotel.