Vacationing in Bali will be a pleasant moment. There is a lot of beauty and excitement when visiting this island. Starting from local tourists to foreign tourists so admire its beauty. Starting from its natural beauty, the uniqueness of its culture which is still preserved to this day, everything can be enjoyed to your heart's content.
The island of Bali is rich in tourist attractions, ranging from natural tourism, cultural tourism, culinary tourism and various other interesting places. Of all the existing tourist attractions, nature tourism is the most popular. Many places that show the beauty of the island of Bali, one of which is Gamat Bay Nusa Penida.
Gamat Bay Tourist Attractions Nusa Penida
The attraction of Gamat Bay is because it has natural beauty under the sea so that the ideal recreation or activity for this area is snorkeling and diving. Of course, tourists can schedule sightseeing tours on the island of Nusa Penida Klungkung, both for snorkeling and diving tours, making Gamat Bay as the main destination. In the waters of Gamat Bay live stingrays, sharks, large pelagics, turtles and beautiful sunfish, so this place is ideal for diving.
The sea water in the natural tourist destination of Gamat Bay is clear, so that the underwater atmosphere of Gamat Bay becomes more pleasant, coral mounds, steep rocks and cave-shaped rock crevices become a paradise for small fish to live and take shelter. Gamat Bay has a fairly strong underwater current, so that tourists who want to dive or dive in this place are more experienced, including the need for a guide or guide to accompany, so that visitor tourism becomes safer and more comfortable. Tourists who are beginners are not advised to take a dive tour in this place.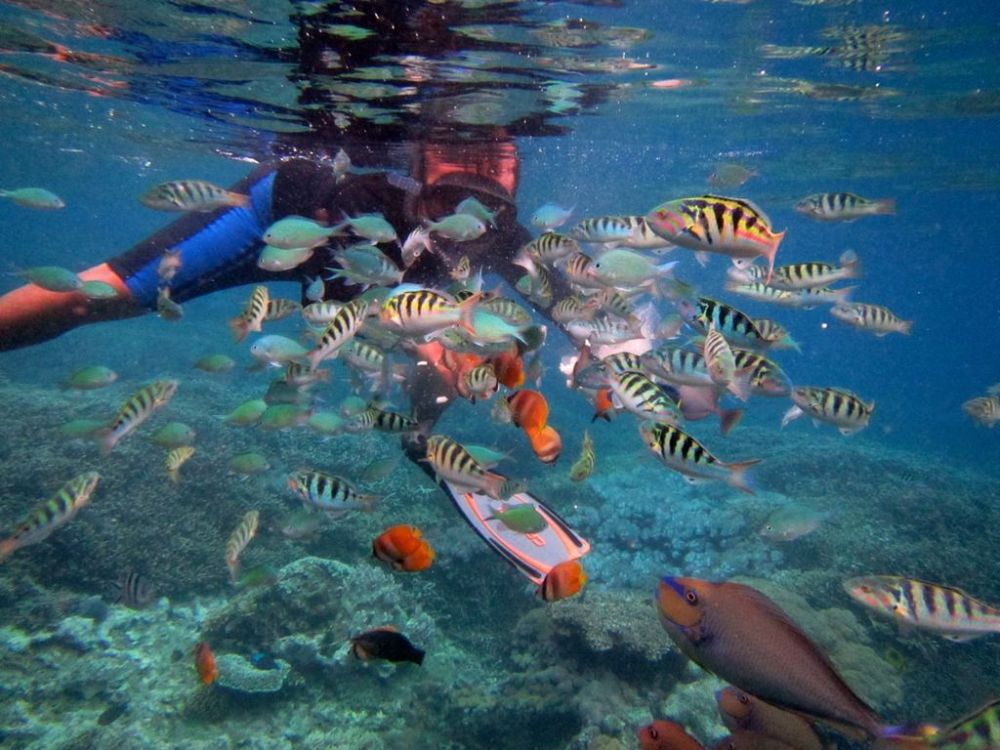 The Popularity of Gamat Bay Nusa Penida
As is known to enjoy the beauty of the underwater world of Bali. then Nusa Penida will be the most special destination, its underwater world is famous and popular. Nusa Penida Island is located in the Nusa Penida sub-district, Klungkung regency – Bali, this island has several tourist spots with excellent underwater views, such as those served in Gamat Bay, this place is a beach on the Nusa Penida island of Klungkung with soft and clean sand, and The colorful coral around it adds to the beauty of the beach and the most special is of course the underwater scenery.
The name of the Gamat Bay tourist attraction is indeed not very popular on the island of Nusa Penida Bali, but of course it is different from those who like marine tourism and enjoy enjoying the beauty of the underwater world, so there will be more and more tourist attractions. popular for them, because of what is served in the lower waters. The ocean on the Gamat beach will be able to provide another treat, when tourists are on vacation in the Nusa Penida island area. Arrange tour events on the island of Nusa Penida, Bali so that tourists can visit these tourist attractions.