Bali island is one of many great places to visit in the world. The beautiful nature and surroundings together with its cultural and historical stuff are one of the best collaborations that made Bali so unique. Not only for romance, but this beautiful Island could also be a destination for families.
Child-friendly lodging is different from ordinary hotels. In it, you can find various supporting facilities that can provide a sense of calm and comfort for children. It's just that, hotels like this are usually set rates above average. However, if you go to Bali, there is one child-friendly hotel that you can consider, it is Euphoria Hotel Kuta.
The comfort while staying at Euphoria Hotel Bali is caused by many factors. This hotel not only provides useful facilities for family tourists. It also accommodates the needs of other tourists. Plus, its strategic location makes Euphoria Hotel the perfect starting location for exploring various tourist destinations in Bali.
A Comfortable Atmosphere That Makes Children Feel Calm at Euphoria Hotel Bali
You will get the impression of a child-friendly hotel when you look at the exterior design of the building. The manager does use an unusual exterior design, by taking advantage of the use of cheerful paint colors. Moreover, there are also facilities in the form of a children's club that have various types of exciting and fun games.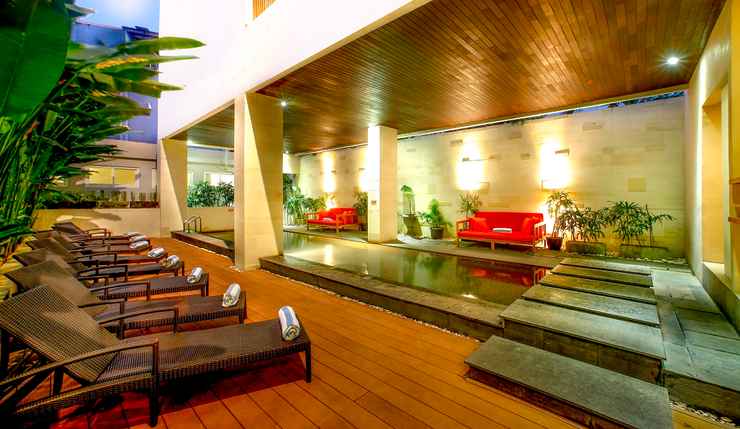 As already mentioned, the hotel does not only provide comfort to children. They also provide similar conveniences for other visitors. As proof, you can find an indoor swimming pool that can be used at any time. In addition, you can also take advantage of the fitness center room with various gymnasium equipment in it.
It is not enough to stop there, the hotel also provides easy access to halal menus for guests. The way of serving food here can also be found in a variety of styles, from traditional, American, Asian, or continental. Not to forget, guests can also stay connected to their social media accounts by providing free internet access via a WiFi network.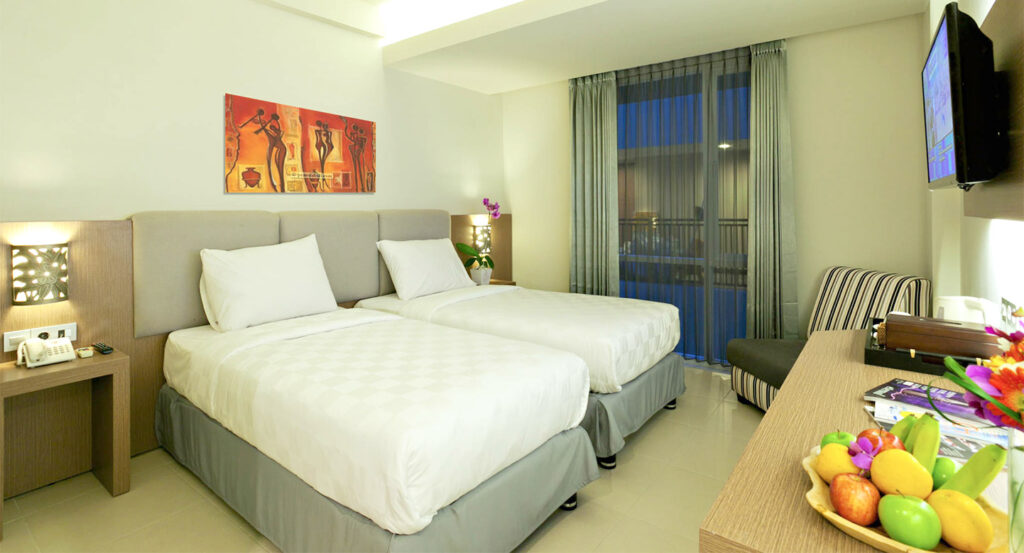 Choice of Rooms and Affordable Stay Rates at Euphoria Hotel Kuta
The Euphoria Hotel does not provide so many room options that can be used as a room to stay. They only offer a choice of superior rooms with double or twin beds. This room is quite spacious, about 21 square meters, and can be occupied by paying rates in the range of IDR 300 thousand per night.
Euphoria Hotel's superior rooms have sufficient facilities to provide a comfortable feeling for the guests. You will find facilities in the form of a safe, a seating area, a bathroom shower, a flat-screen TV, or a soundproof room. For guests who vacation with children, you can also find options for connecting rooms with children's rooms.
Location of Euphoria Hotel Kuta
Euphoria Hotel has an address at Patih Jelantik Street Number 11 to 12, Legian, Bali. This location makes it easy for the guests of the Euphoria Hotel to explore the Kuta area and its surroundings. Euphoria Hotel provides access to just a 5-minute walk to Kuta Central Park. Meanwhile, I Gusti Ngurah Rai International Airport can be reached by driving for 15 minutes.