Vacationing to Bali is one of the activities that feels mandatory. Because Bali is one of the global tourist destinations from Indonesia which has amazing natural beauty. It's not only natural beauty but also cultural uniqueness and so many fun activities to do.
One of the fun activities that can be done is to visit various kinds of tourist objects that are really enchanting and enjoying the night at a luxury hotel. This is not impossible to obtain when tourists are already in Bali. There are so many luxury hotels that can be a place to make a beautiful resting moment, such as at the Courtyard Hotel Nusa Dua.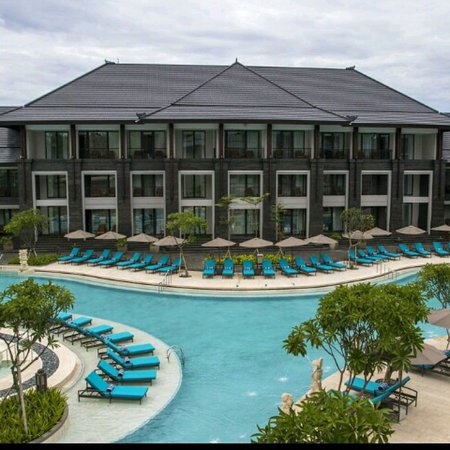 The Luxury Courtyard Hotel
Hotel Courtyard Nusa Dua is a hotel that provides 5-star accommodation. This means that this hotel is included in the luxury hotel category with all the luxurious facilities provided. This hotel has a location that is a favorite of tourists. Where the atmosphere created in this hotel is very romantic, so this hotel is suitable for a honeymoon vacation.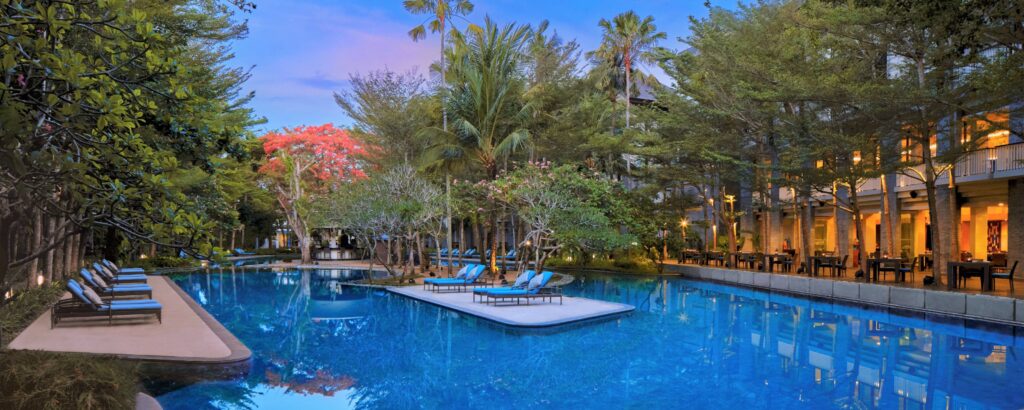 Elegant Atmosphere with Courtyard Hotel
This hotel has a building architecture made like a European ballroom which is very modern and artistic. This architecture is in a classic and elegant style which is its main attraction. Entering the inside of the resort building, dominated by white with a touch of Saphire blue.
The location of the hotel itself is near the beach and on top of a cliff jutting into the sea. This makes the sound of the waves crashing so that it gives a calm and comforting impression. The staff at this hotel are also professional staff who will always help guests with all their needs during their stay.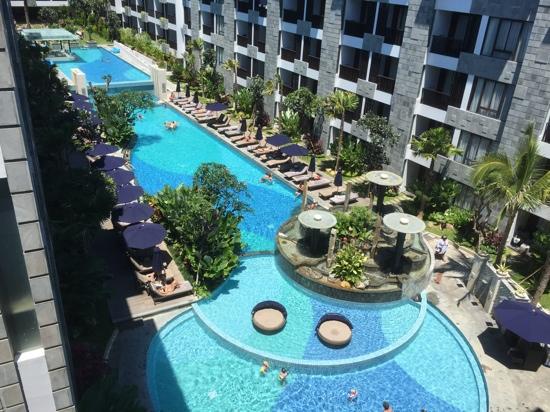 The Luxury Courtyard Hotel Facilities
The hotel is also equipped with some luxurious facilities. Momo Café is one of the luxurious facilities owned by the Courtyard Hotel. Where this café serves international dishes with a lobby lounge and a bar in the pool area which is an ideal place to enjoy food and drinks. There is also a private beach club with a bar and sun deck.
Next is the Courtyard Spa, which is a spa that serves various treatments. Starting from head to toe treatment. There is a sports venue complete with fitness equipment and a personal trainer. Or those who want to relax can take a yoga class.
Large swimming pool. The concept of an infinity pool is also available for guests who want to enjoy swimming with satisfaction. There are many trees around it and there are sun loungers and umbrellas. There are many activities that guests can do during their stay, including nightlife, golf courses, bicycle rental, beaches, and also booking travel ticket services.
While activities that can be done by children, one of them is a children's playground, children's pool, to an indoor play area. Other outdoor facilities that you can enjoy include a garden, a terrace, a private beach area and others.
Courtyard Hotel Room Types and Rates
For each room provided by the Courtyard Hotel, prices start from IDR 1,125,000 per night with luxurious facilities. The Courtyard Hotel Nusa Dua has 246 rooms, all of which are air-conditioned and equipped with a TV, iPod dock, coffee and tea maker, safe, and others. The private marble bathroom comes with a rain shower, separate bathtub, bathrobes, and free toiletries.
Location
Tourism area Lot SW1, Nusa Dua.