When the holiday period arrives, the island of Bali will be crowded with many tourists, ranging from local tourists to foreign tourists. Many tourists want to enjoy a variety of beauty and uniqueness in Bali. Starting from natural tourism, cultural tourism, culinary tourism, and much more. The tourists who come to Bali will not be disappointed, but will get the best holiday experience.
The island of Bali has many interesting and popular tourist objects, ranging from tourist attractions, culture, culinary, and even various historical places. The island of Bali also has many interesting entertainment places that can be visited. One of them is the Commune Beach Club.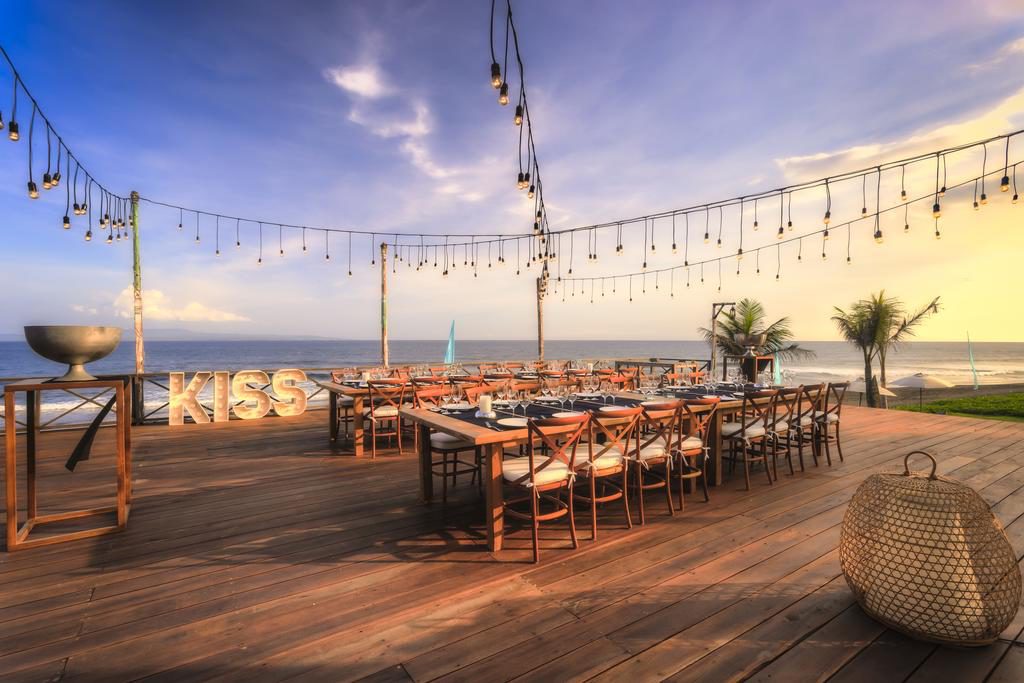 The View At Commune Beach Club
Beach Club is one of the favorite destinations while on vacation in Bali. Various beach clubs spread across Bali. Komune Beach Club Gianyar which is one of the beach clubs in the Gianyar area is one of them. The tourists can choose this Commune Beach Club for tourists to visit while on vacation. Komune Beach Club Gianyar is located in the Komune Resort & Beach Club area. For tourists who do not stay at the Komune Hotel, tourists can only spend their vacation time at the beach club. almost the same as other beach clubs in Bali, tourists can relax while accompanied by the surrounding natural scenery.
Komune Beach Club is close to Keramas Beach, where Keramas Beach has exotic black sand. Tourists can enjoy the beauty of the ocean stretch of Keramas Beach while feeling the fresh breeze. Under the blue sky Tourists can relax and lie down on the existing daybed. Sunbathing while listening to music, or wanting to spend time reading books, tourists can do here. At Komune Beach Club, tourists can't see the sunset, but that doesn't reduce the fun that is here.
The Fun Activities At Commune Beach Club
It will be even more exciting, if the tourists enjoy the freshness of the water from the existing swimming pool. Komune Beach Club has a fairly large and impressive area. The green area is filled with neat short grass areas and there are coconut trees and other trees, making the area at Komune Beach Club feel so beautiful. Spending a relaxing time at Komune Beach Club will not fill the pockets of tourists. You could say this beach club is a cheap beach club. Tourists are not set a certain price for entrance tickets.
However, to be able to lay down on the existing daybeds, tourists need to pay IDR 250,000 per daybed. This price alone can also be exchanged for existing food and drinks. Unlike other beach clubs which usually have towel facilities, to be able to rent towels, tourists need to pay around IDR 35,000. Relaxing on a daybed with under the shaded pyungs tourists can also order food and drinks to complete the tourists' relaxing time.
Delicious Food at Komune Beach Club
Some delicious dishes that tourists can enjoy here, such as Crumbed Fish & Chips, burgers, pizza, various choices of pasta, fillet steak, and many more. To refresh the tourists' day, there are various cocktails, iced coffee and others.
The food and drinks here are not so expensive but the taste is still satisfying the tourists' tongue. Priced at around IDR 50,000, tourists can complement casual tourists with delicious menus.
Bringing the family, of course, the children, will certainly make them feel at home and don't even want to go home. Komune Beach Club is perfect for a family vacation destination or a vacation with friends. Surely a vacation here will be fun.
Location
Komune Resort & Beach Club on Jalan Pantai Keramas, Medahan, Gianyar.