The beauty and uniqueness of the island of Bali is an attraction for tourists. So many local tourists and foreign tourists who come to Bali to have fun. Therefore, this island gets the title "Paradise on Earth". Especially during the holidays, there will be many tourists visiting Bali to make unforgettable beautiful memories.
The island of Bali has many popular tourist attractions and must be visited. Every tourist spot that exists must show natural beauty, cultural uniqueness, to other interesting things. Just like when you visit Belangan Beach.
The Beauty of Belangan Beach
This beach is not inferior to famous beaches such as Kuta Beach, Sanur Beach, Jimbaran Beach, or Nusa Dua Beach. With a background of rows of neatly lined coconut trees, the sand on this beach is clean but quite rough and not too fine. If you set foot on the white sandy Balangan Beach, the white sand will not stick to your feet. The waves here are quite high and elongated, making it an ideal place for surfing lovers.
In addition to relaxing, playing in the sand, and swimming, tourists stop here to sunbathe and watch the beautiful sunset. In fact, because of the beauty that is presented, the scenery on this beach can also be used as a place for pre-wedding photos. No less romantic with other prewedding locations in Bali.
This beach which has a fairly calm and quiet atmosphere has the characteristics of its beautiful cliffs. The existence of cliffs overgrown with coral trees does give a distinct impression on this Balangan Beach. As a tourist attraction, Balangan Beach has toilet facilities, food and beverage stalls, cafes, long chairs and beach umbrellas as well as adequate parking. There are also several inns here that offer a quiet natural feel and away from the crowds. If you want to enjoy the Balangan Beach area to the fullest, maybe you can choose one of the inns here.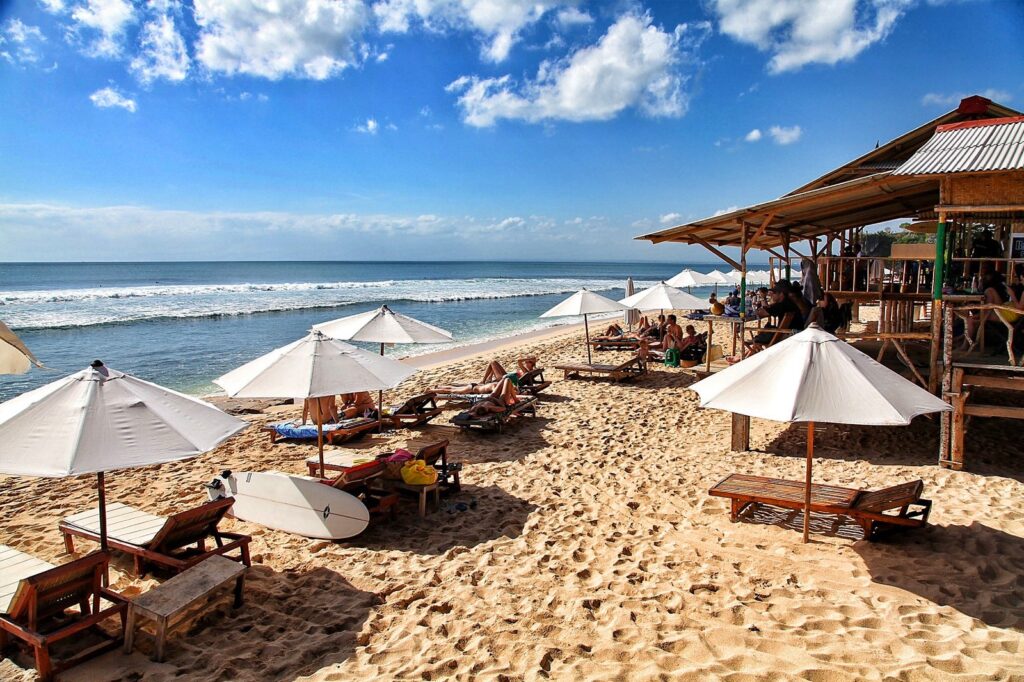 Location and Accessibility
Visitors are required to pay a ticket of IDR 2,000 per motorbike, or IDR 5,000 per car. There is no entry ticket, but there may already be a parking ticket. After parking the vehicle, you have to go down quite steep stairs, because Balangan Beach is behind a cliff. The beauty of this beach is perfectly hidden hidden by the existence of these cliffs.
Balangan Beach is one of the beaches among a row of beautiful beaches in the Uluwatu area of ​​Bali, and the location is not too difficult to reach. This beach is also located near Dreamland beach.
From the airport it only takes 15 minutes by motorbike. Ease of access does make this place visited by many tourists. About 2 km after GWK you will find a crossroads, you go straight to Balangan Beach. After arriving about 5 km, right at the end of the road, you will be treated to an amazing expanse of blue sea.