Vacationing in Bali is a moment that many tourists look forward to when the holidays arrive. Many local and foreign tourists spend their vacation time capturing unforgettable moments in Bali.
Local tourists and foreign tourists who have a vacation in Bali have many popular tourist attractions that must be visited. Starting from nature tourism, cultural tourism, and various other entertainment venues. As in this Kerobokan Traditional Village, there is Batu Belig Beach which has stunning natural beauty.

The Enchantment of the Beauty of Batu Belig Beach
Of the several beautiful beaches in Bali, one of them is Batu Belig Bali Beach with its undeniable beauty. No wonder this tourist attraction is a favorite location for tourists to visit. No wonder Bali is often referred to as an island that has extraordinary tourist attractions. Its beautiful scenery stretches from the coast to the mountains. The name is indeed not as famous as Kuta Beach, but this beach in the Kerobokan area is actually able to seduce tourists to visit. Its allure is stunning with the display of natural beauty and a beach atmosphere that no other beach has.
Panoramic beauty will appear at dusk. The sun's rays slowly sinking on the western horizon is the moment most awaited by tourists when they come to Batu Belig Beach Bali. Because at this time the painted panorama looks very beautiful to the eye. Visitors who come usually spend time on the beach while sunbathing relaxing looking at the sea views, walking along the shoreline, swimming, playing kites with the children or even riding horses along the stretch of beach sand. Even horseback riding is a popular activity that is often practiced here.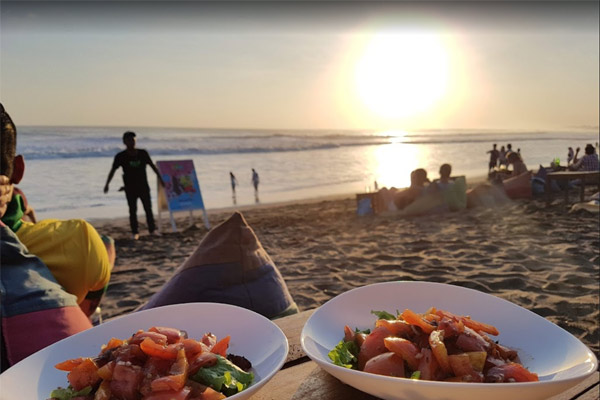 The Interesting Things to Do at Batu Belig Beach
Children who visit this beach can freely play in the sand. They can even play ball in this beach area. The soft and thick sand won't hurt you when you fall. So that parents who watch their children play need not worry. Even though its location is not far from Kuta, Batu Belig beach is an alternative destination for tourists who want to feel a quieter feel from the hustle and bustle of the city. This is because the atmosphere is calm unlike Kuta Beach which is very crowded with visitors.
As a favorite tourist attraction that is always visited by tourists, Batu Belig Beach Bali already has adequate tourism support facilities. Among them there are inns and cafes that provide food and drinks. If you want to buy souvenirs, visitors can buy them at the souvenir sellers that line the roadside. Goods sold include Balinese sarongs, beach clothes, or Balinese clothes.
Several cafes that provide seating on the beach are usually chosen by tourists to spend time waiting for the sunset. If you feel tired, visitors can also use massage services from the local community. With various existing facilities, visitors will not feel bored when visiting Batu Belig beach.
Location
Kerobokan Traditional Village, North Kuta District, Badung Regency.