Bali is one of the most awaited tourist destinations for tourists. Both local and foreign tourists. With all the beauty and uniqueness that has made many tourists amazed.
Many fun things can be found in Bali. One of them is down a tourist area in Bali while enjoying beer. The area is Kuta which has a lot of tourists hanging around spending their vacation time. The tourists can immediately come to visit the Bali Beer Cycle.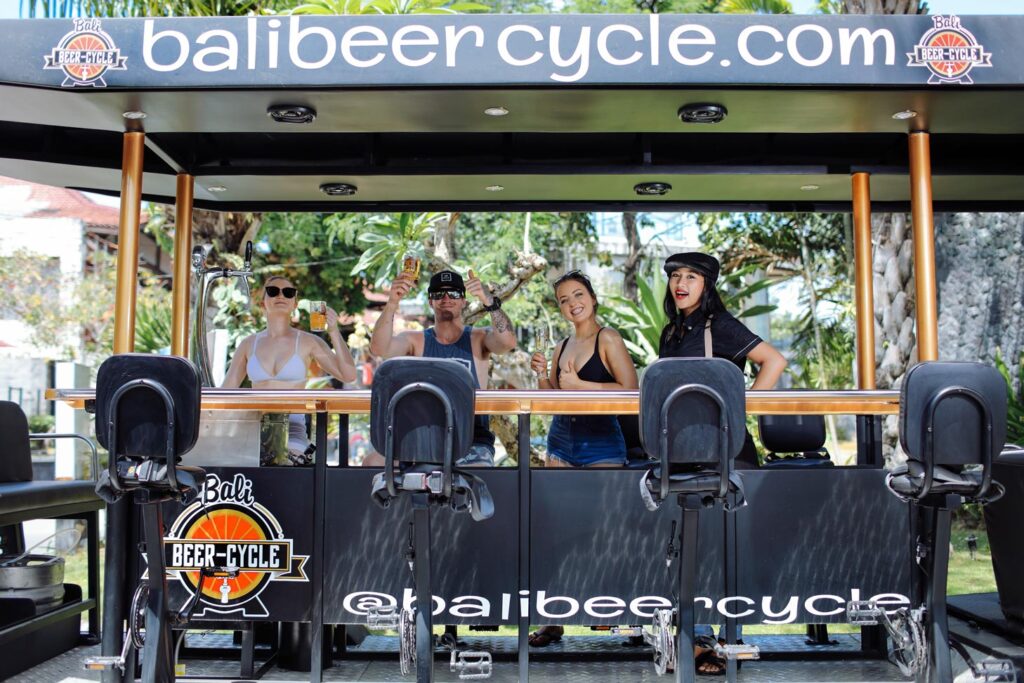 The Uniqueness of Bali Beer Cycle
Bali Beer Cycle is a tourist attraction in the form of a vehicle that will take tourists around the Kuta area while enjoying a beer. Surely you can imagine the excitement where tourists can enjoy a beer with the closest people such as friends, couples, and even family.
Bali Beer Cycle has 2 types of vehicles that have unique names. Namely Ketut and Wayan. Where the Ketut vehicle can accommodate as many as 10 passengers at certain hours. It is operating every hour at 11.30 am, 2.00 pm, 4.30 pm and 7.00 pm, whereas the Wayan vehicle can accommodate up to 13 people and operates at 12.00 pm, 2.30 pm, 5.00 pm, and 7.30 pm.
Another unique thing about this Bali Beer Cycle is the design of the vehicle itself, where the tourist can pedal the existing pedals on each seat. The pedal is of course just an ornament so that tourists can enjoy the sensation of pedaling a vehicle. For every tourist who wants to rent for the event must make a reservation in the range that is rather far away. Because the available slots are also limited and only 4 fleets are available each day.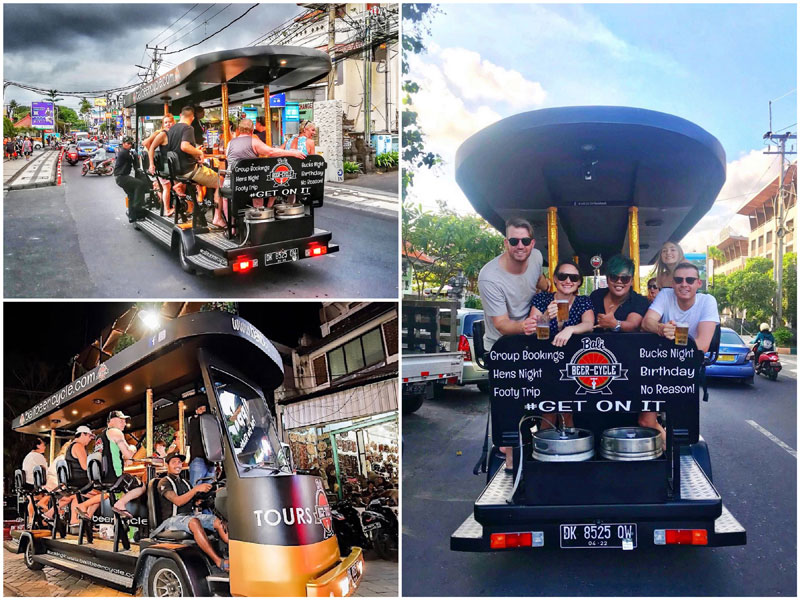 The Excitement of Bali Beer Cycle
Of course, Bali Beer Cycle is very fun to do so this attraction is a must to try! The tourists can enjoy the atmosphere of the beauty of Bali for 2 hours. Surely it will be enough to be able to have fun on this Beer Cycle. In addition, Bali Beer Cycle also serves bookings for private events with family or friends. Usually, Bali Beer Cycle is the most rented for birthday parties or single parties.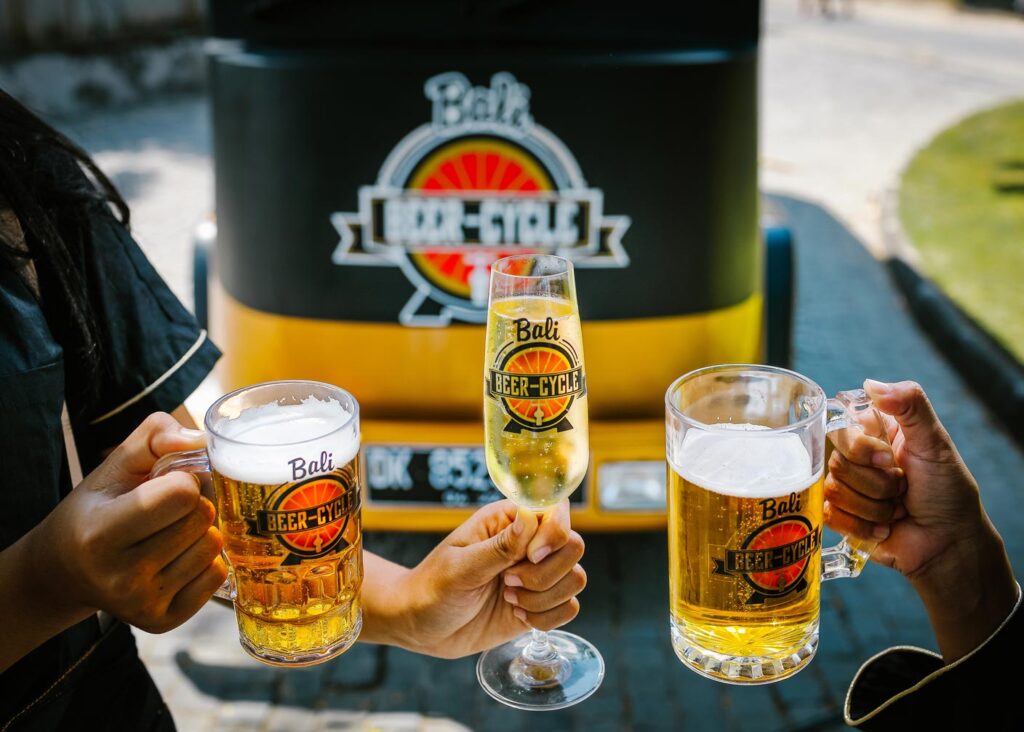 Menu Prices at Bali Beer Cycle
In addition to the uniqueness of the Bali Beer Cycle that attracts many tourists, this attraction also provides beer with guaranteed quality. Like beer from Champagne, Smirnoff, and Captain Morgan. In addition, the waiter who works is very friendly and familiar with the guests.
Tourists who do not want to drink beer but still want to enjoy the sensation can order other beverage menus such as soft drinks or mineral water. Bali Beer Cycle also provides some snacks such as french fries, nuts and others.
For the menu available, there are several package options with their respective prices.
– Beer Package (Freeflow Beer, Smirnoff Ice / Apple): IDR 590,000 / person.
– Champagne Package (Freeflow Champagne / Wine): IDR 700,000 / person.
– Cider Package (Freeflow Beer, Smirnoff Ice / Apple, Strongbow Cider): IDR 650,000 / person.
– Non Drinking Package (Freeflow water & Soft Drinks): IDR 300,000 / person.
Location
Jl. Kartika Plaza, Kuta, Badung Regency.
Open Hours
Every day from 10 am to 11 pm.