Bali is a tourist destination visited by many tourists. Both local and foreign tourists. Because many things are available that can enjoy by every tourist. Supported by many interesting attractions and the best places that can be found to spend vacation time.
Bali is famous for its natural beauty, especially the beach. Many beaches in Bali that can be used as a place to surf. For tourists who want to find a place to surf with a different atmosphere, Armada Flow House is the answer.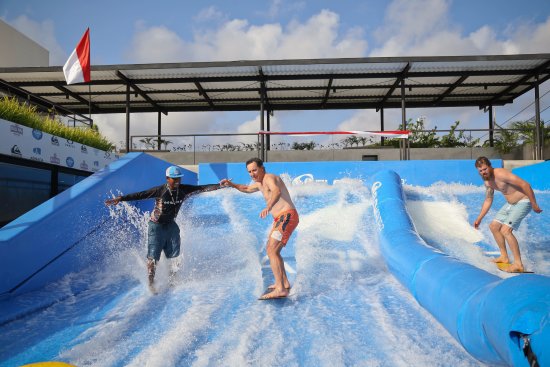 The Excitement of Activities at Armada Flow House
Armada House Bali is the best place to visit. The place where the new sport that simulates surfing on flat waves; imagine snowboarding without the snow, or wakeboarding without a boat is possible. This place is more than just a place to surf. This provides even more fun, unique experiences.
Armada Flow House offers fun flow riding action and a relaxed dining spot in Kuta. This place is also designed to have a flow rider feature where visitors can do surfing exercises or even show off surfing skills. So that children can also be in this place and do surfing exercises.
This place is also suitable for family holidays because Armada Flow House is not limited to flow riding sports but also provides food & beverage, retail service, even great music to complete the unique atmosphere. The non-riders will enjoy watching the water enthusiasts perform their tricks along with fantastic food by Armada Flow House bar & restaurant. This place serves a variety of Asian and Western foods ranging from comfort baked fried rice to fusion specialty pizza puffs, satisfying the taste buds of all. Whether it is a light snack before a party or a hearty meal to get you pumped up for your flow boarding session, Armada Flow House Bali has it all.
This place can accommodate up to 300 pax. So, celebrate the event and bystanders will be stocked beyond belief. Besides this place also provides a place for private events or parties in the style at the most vibrant 'go spot' venue in Bali. At sunset, visitors can watch live bands and groovy beats at the decks.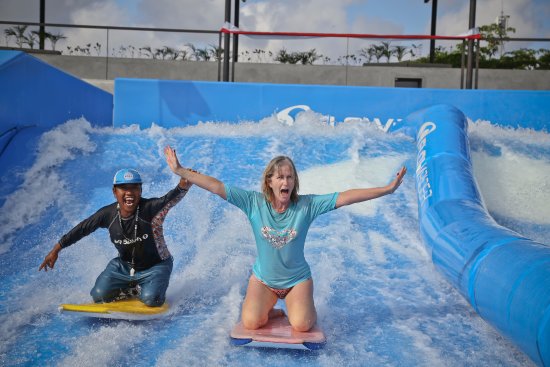 Accommodation Prices in Armada Flow House
Armada Flow House has two board options namely bodyboard and flow board. The tourists only need to choose the type of board they want. Where each type of board has a choice flow level such as the effort level which is ideal for adults and children alike with prices starting at IDR 300,000 per hour.
In addition to the generated waves, Armada Flow House Bali features ample seating for enjoying classic poolside favorites. For IDR 35,000. Visitors can enjoy dishes by choosing the cut, the sauce, and the topping. The main menu in this place is a mix of Asian and western flavors with prices for fried rice, salads, and pizza starting at IDR 35,000. This place also has cocktails start from IDR. 50,000.
Location
Jl. Dewi Sri No.72, Legian, Kuta, Badung Regency.
Open Hours
Monday – Thursday 11:00 – 00:00
Friday – Sunday 11:00 – 02:00