Visiting various exciting and popular tourist attractions in Bali is a very exciting activity to play. All the beauty and uniqueness that exists in Alam Puisi Villa will give you peace when staying at the Villa. The natural atmosphere at Alam Puisi Villa Ubud is accompanied by complete and luxurious facilities. You can enjoy all the facilities available freely. That way, the holiday experience to Ubud Bali can feel very optimal. Moreover, Alam Puisi Villa has a strategic location, allowing you to explore Ubud easily.
Relaxing Atmosphere in Alam Puisi Villa
While in this 4-star Ubud hotel, you can find various facilities. For food, the hotel provides Tepi Sawah Poetry Restaurant. This restaurant allows you to eat a menu with additional treats in the form of views of rice fields that stretch wide.
There are many menu choices that you can get at this Poetry Edge Sawah Restaurant, ranging from western, Asian, vegetarian, to vegan menus which are prepared raw. Apart from that, the restaurant also provides cooking lessons that allow you to learn how to cook Balinese food.
In addition, this hotel also has spa and yoga services. Doing yoga here will feel so relaxing, surrounded by green rice fields. Moreover, the yoga area provided by Alam Poetry Villa Ubud has a large size, can accommodate as many as 100 people at a time.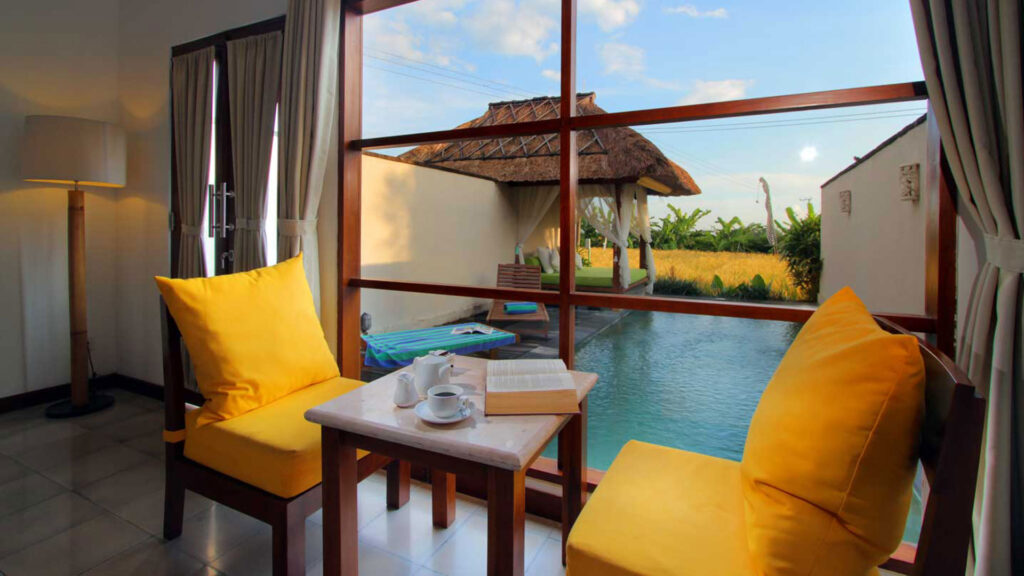 The Best Accommodation In Alam Puisi Villa Ubud
This 4-star equivalent accommodation has a very limited number of villas. In total there are 27 villas that you can live in. Although there are not many of them, the facilities that you can find in each villa make you feel comfortable and feel at home for long.
There are 3 choices of villas that you can find if you want to spend the night at Alam Puisi Villa Ubud. The choice of villas are one bedroom villas, family villas and suite villas. These three choices of luxury villas are accompanied by a private pool in it. That way, you can spend time relaxing while swimming to your heart's content.
The stay rates set by the villa manager are also not too burdensome. For example, you can get a one bedroom villa at a cost of IDR 1 million per night. This villa offers a large area, reaching 100 square meters. Inside, you can find facilities such as a flat-screen TV, safe, work desk, mini bar or terrace area.
Location and Accessibility
You can find this inn at the address Banjar Sembuwuk which is part of the administrative area of Pejeng Village in Ubud. There are several popular tourist attractions that you can find not far from Alam Puisi Villa. These places include Naka Contemporary Art, Puser Tasik Temple, Ubud Botanical Gardens, and Bali Forest Fish.
With its many advantages, this hotel is the right choice for tourists who like a quiet atmosphere. Especially those who admit that they prefer to live close to nature.